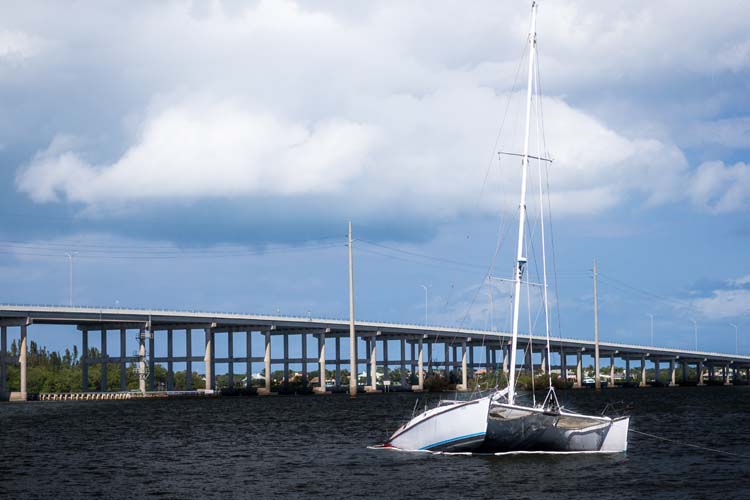 Picture taken May 30, 2018.
VERO BEACH — A partially sunken boat that caught fire after it struck power lines three months ago burst into flames a second time over the weekend, authorities said.
The cause of the second fire was not immediately known. The vessel already had extensive fire damage from the previous incident.
Indian River County Fire Rescue crews responded to the blaze about 10 p.m. Saturday at the abandoned vessel,  just south of the 17th Street bridge. The 35-foot long catamaran was fully engulfed in flames when fire rescue boat units arrived, Fire Rescue spokesman Cory Richter said.
"It's the same catamaran that hit the wires months ago," Richter said. "The (owner) was supposed to remove it."
Fire rescue crews extinguished the flames within two hours. The state fire marshal will go to the scene Wednesday to investigate the cause of the blaze, Richter said.
In late May, the Florida Fish and Wildlife Conservation Commission declared the boat a "derelict vessel" and said the owner will be criminally charged for abandoning it. The boat caused a brief beachside power outage in April after it broke loose from being tied to an island dock and struck power lines nearby.
FWC refused to identify the boat's owner, but previously said that he was in the Bahamas.