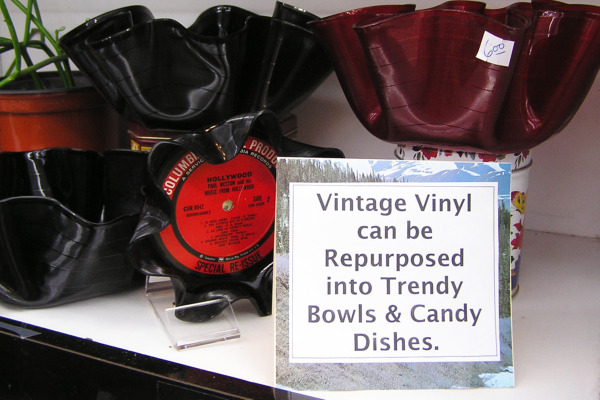 INDIAN RIVER COUNTY — Looking for some clever ways to re-use old items?
Then stop by either of The Humane Society of Vero Beach and Indian River County's (HSVB & IRC) two thrift shops between April 19-23rd to see how a variety of donations have been refurbished and "re-purposed" for Earth Day. "Re-purposing is the ability to reuse something differently than it was intended," explains Humane Society Thrift Shop Manager Annette Barcus. "We hope visitors will stop by our Vero Beach and Sebastian thrift shops to see how our volunteers have repurposed items so that we can do our part during Earth Day."
So exactly what items have Humane Society volunteers re-purposed?
According to Barcus, volunteers have turned old LP records into candy dishes, t-shirts into necklaces, ties and jeans into purses, and earrings into bejeweled magnets.
Barcus adds that Earth Day is also the perfect time to "recycle" by donating gently used items to the Thrift Shops.
Merchandise such as china, glassware, furniture and clothing can be sold to help raise funds for Humane Society services while donations of gently used blankets, sheets and towels are sent directly to the shelter to help with animal care.
"By supporting the Humane Society's Thrift Shops you're helping to save the animals and the planet," she says.
The Humane Society's Vero Beach Thrift Shop is located at the corner of 44th Avenue and Route 60 (next to Big Lots), while the Sebastian Thrift Shop can be found at 441 Sebastian Blvd. (CR 512).
Both thrift shops regularly seek volunteers. If you would like more information about volunteering or have items to donate, please call the Humane Society's Vero Beach Thrift Shop at (772) 567-2044 or the Sebastian Thrift Shop at (772) 388-0323