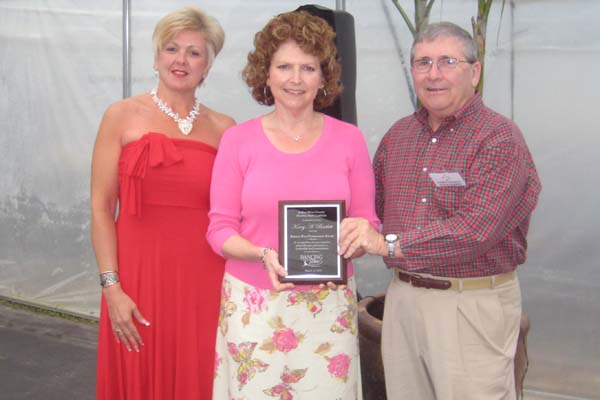 VERO BEACH – The Indian River County Healthy Start Coalition is pleased to honor this year's Dancing with Vero's Stars participants and to recognize two more dancers for their contributions to the March 13th fundraising event.
For her superior philanthropic performance, leadership and commitment to excellence the Coalition presented the Shining Star Fundraiser Award to Kerry A. Bartlett who danced with Oleg Dimitrov of Royal Ballroom. Bartlett, Executive Director, Indian River Community Foundation, was the high fundraiser with more than $20,000 raised during the competition for Healthy Start Coalition.
In recognition of his superior dance performance and top dance score Dan Crisafulli, Managing Director, Rock City Gardens, was given the Divine Dancer Award.  Crisafulli and his partner, Asya Dimitrov of Royal Ballroom, combined two dances within their performance, the Rumba and Paso Doble.
In recognition of their commitment to fundraising and enthusiastic dance performances dancers Awilda Rivera and Joe Tessier, Brenda Lloyd and Harry Sark, Cheryl Gerstner and Bob Kane, Tony Della Porta and Patti Rooney all received 'Star' awards.
The mirrored ball trophies went to Grand Prize winner, Rebecca F. Emmons, Attorney, Stewart, Evans, Stewart and Emmons, P.A. with her instructor Joseph Wynes of Desire to Dance.  First runner up was David W. Busch of Southern Eagle Distributing with instructor Shari Tessier of the 14th Avenue Dance Studio.  Second Runner up was Annamarie LaBella, Event Director for Grand Harbor Club and her instructor James Martin of the 14th Avenue Dance Studio.
The Healthy Start Coalition is an Indian River County non-profit that provides pregnancy and postpartum services that support a healthier future for moms, babies and the whole family. Proceeds from Dancing with Vero's Stars will benefit their programs and services.
For more information call 772-563-9118.