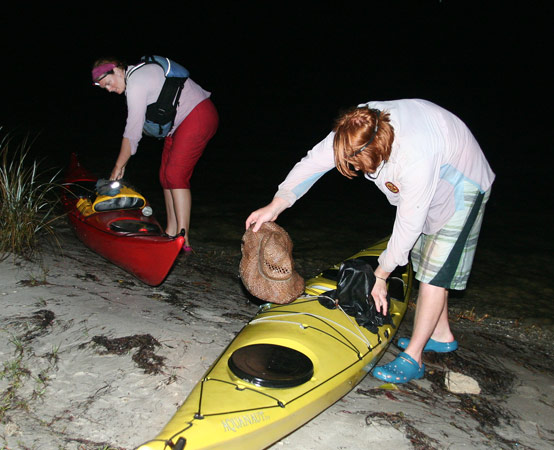 SEBASTIAN – They pulled their kayaks onto the sandy beach on the south side of the Sebastian bridge where US 1 crosses the St. Sebastian River Tuesday evening, exhausted and damp.
"These shorter days are killing me," kayaker Dan Cox said while he and his wife, Bethany, hauled his kayak up the steep slope of the hill to the waiting car.
"You packed minimalistically," said Kristen Beck, who greeted the young couple.
"I feel we packed the kitchen sink," replied Bethany Cox. The three stuffed their bags into the Pontiac Vibe and strapped the pair of kayaks to the vehicle's roof before heading to Beck's home.
The Coxes had sent out an e-mail a month ago to all the kayak businesses along the east coast of Florida, hoping to find someone willing to offer up his or her shop's floor for the night.
"You were the first to respond," Bethany told Kristen.
Kristen and her husband, Mike, own Kayaks Etc. in Sebastian and Vero Beach.
"I'm so envious," Kristen said of the couple, who decided to kayak the Atlantic seaboard, from Lubec, Maine, to the southernmost point of Key West.
"That's so cool," Kristen recalled to Dan and Bethany of the e-mail she had received from them.
Kristen added that she has always wanted to participate in such an adventure, but she can't exactly step away from her business to do so.
The Coxes started their trek on Sept. 2, 2008, in Lubec and holed up in Portland, Maine, for the winter. By May 2, 2009, the couple set off again and made it to their native Raleigh, N.C., by August, where they stayed the month to catch up with friends and family.
"It's weird how much stuff piles up," Dan said of all the details they had to take care of while home – like making sure the car still ran.
Bethany likes to say that they've been traveling for the last 15 months – counting their stay in Portland as part of the adventure.
In actuality, they've been paddling for about seven months and have about one more month left before heading home.
Dan, 23, and Bethany, 26, have been married just 20 months – only five of which were not spent on the journey.
The couple has had its moments – wondering if they should have ever started this kayaking endeavor.
"Maybe it'll be a good thing in the long run," Dan said of testing the marriage on the waters so early on.
Bethany said that it has been extremely stressful from time to time and she tends to blame Dan when things don't go as planned.
"It was my idea, so if anything goes bad, it falls on me," Dan said.
Through the challenges of the trek, Dan has learned at least one thing of his wife.
"You're pretty tough," he told Bethany. "Really tough."
"He's really selfless," Bethany said of Dan after taking a moment to think about it.
Dan has towed her kayak when she's too tired to paddle any longer. He helps her get into her kayak and helps pull her to shore when landing. Dan also does the dishes when they have to camp.
"I haven't done any dishes," Bethany said.
Kristen said that she just wanted to help fellow kayakers when she opened her home to Dan and Bethany Cox.
"We just want to be part of the kayaking community," she said.
They have more than 300 miles left to kayak before reaching Key West. Kristen was going to drop them off at Riverview Park in Sebastian, but the kayakers decided to launch from the bridge where Kristen picked them up.
Those who wish to offer words of encouragement or a place to stay for the night along the coast can e-mail the Coxes at dbkayak@dbkayak.com. Keep up with their journey by visiting DBKayak.com.