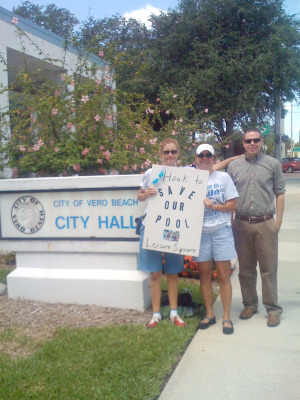 VERO BEACH — Despite drops in revenue due to the economic downturn, City of Vero Beach pension contributions continue to soar and most city council members appear poised to approve them.
Vero Beach City Council member Debra Fromang objected to the pension increases during the first day of budget hearings on Wednesday after City Manager Jim Gabbard explained the severity of the City's financial situation.
Finance Director Steve Maillet said the city is doing its best not to have to cut services in order to balance the budget in the face of an almost $2 million shortfall. "Sustainability is the key word here," Gabbard said. "We're shutting down fountains and closing the pools and people don't like it."
Council members discussed using funds from the Fourth of July celebration to keep the Royal Palm Pointe fountain going.  Councilmember Bill Fish brought up the subject of telephone bills.  "Long distance calls are expensive. Every department has a lot of money for telephone costs," said Fish.
But Fromang dismissed Fish's observation.  "You can talk all you want about telephone bills and pencil erasers, but budget cuts need to be made where they count," Fromang said.
Illustrated below are proposed pension contributions for city employees in the following offices in the 2009-2010 budget compared to the amount contributed just two years ago:
Office
FY 07-08
FY 09-10
% Increase
City Manager
$25,356
$42,872
69
City Clerk
$16,450
$31,626
92
City Attorney
$79,592
$114,919
44
Human Resources
$23,015
$39,167
70
Risk Management
$26,371
$46,284
75