Vero Beach International Tennis Open – A $25,000 Women's USTA Pro Circuit Event
January 20, 2020

-

January 26, 2020

$15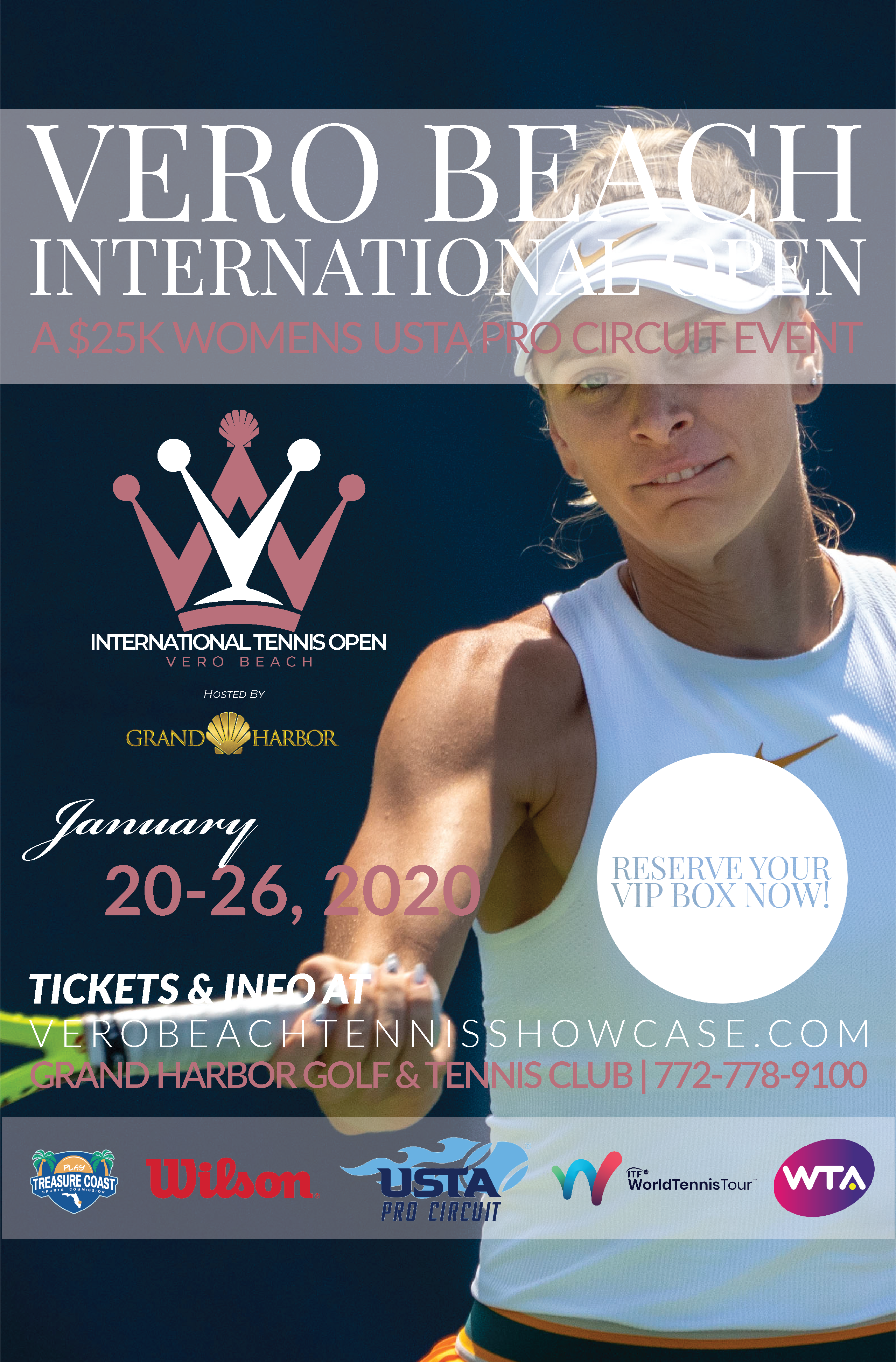 Grand Harbor Golf & Beach Club is proud to present the Vero Beach International Tennis Open – A $25,000 Women's USTA Pro Circuit Event will be held January 20-26, 2020 and will feature touring professionals on the USTA Pro Circuit and WTA Tour that are ranked from 150 to 350 in the world.
The return of the USTA Pro Circuit to Grand Harbor is significant as this year's tournament offers $25,000 in Prize Money to the field. Players will compete in a 32 player singles draw, and a 16 team doubles draw. The Vero Beach International Open will begin with qualifying on Monday, January 20, 2020 and will culminate with the Singles Final to be held on Sunday, January 26, 2020. The full event schedule can be found by visiting VeroBeachTennisShowcase.com.
Tickets for the Grand Harbor College Cup are $10 for a Daily Pass and $25 for a Weekend Pass which includes all three days of the event. Tickets for the Vero Beach International Open USTA Pro Circuit Event are $15 for a Daily GA Pass, $85 for a Tournament GA Pass, and $175 for a Tournament Reserved Pass which offers a covered, Reserved Seat for all Tournament sessions. Advance ticket purchases can be made at VeroBeachTennisShowcase.com. Fans can follow the latest updates from the Vero Beach Tennis Showcase on Facebook and Instagram by following @verobeachtennisshowcase and on Twitter by following @verotennisopen.
Grand Harbor Golf & Beach Club and the city of Vero Beach have a rich history in supporting professional tennis. The last time that the USTA Women's Pro Circuit visited Vero Beach was in 2014 at the Vero Beach Tennis Club. The 2014 event featured six players that have so far gone on to achieve career-high world rankings of 58 or better and was won by Laura Seigemund of Germany, who reached a career-high of 27 in the world in 2016. The second round of qualifying in 2014 featured a 16-year-old Naomi Osaka of Japan, against a 15-year-old American, Sofia Kenin. Over the last 15 months, Osaka has gone on to achieve the World Number 1 Ranking, won the very dramatic 2018 US Open by beating Serena Williams, and triumphed at the 2019 Australian Open. Kenin has recently been voted the 2019 Most-Improved Player on the WTA Tour as she won three WTA Titles this season and competed as an alternate at the 2019 WTA Finals in Shenzhen, China, which prompted her to rise to a career-high number 12 in the world.