TIME CORRECTION: Gainesville Brass Quintet and Art Reception
January 26, 2020 @ 5:00 pm

-

7:00 pm

$10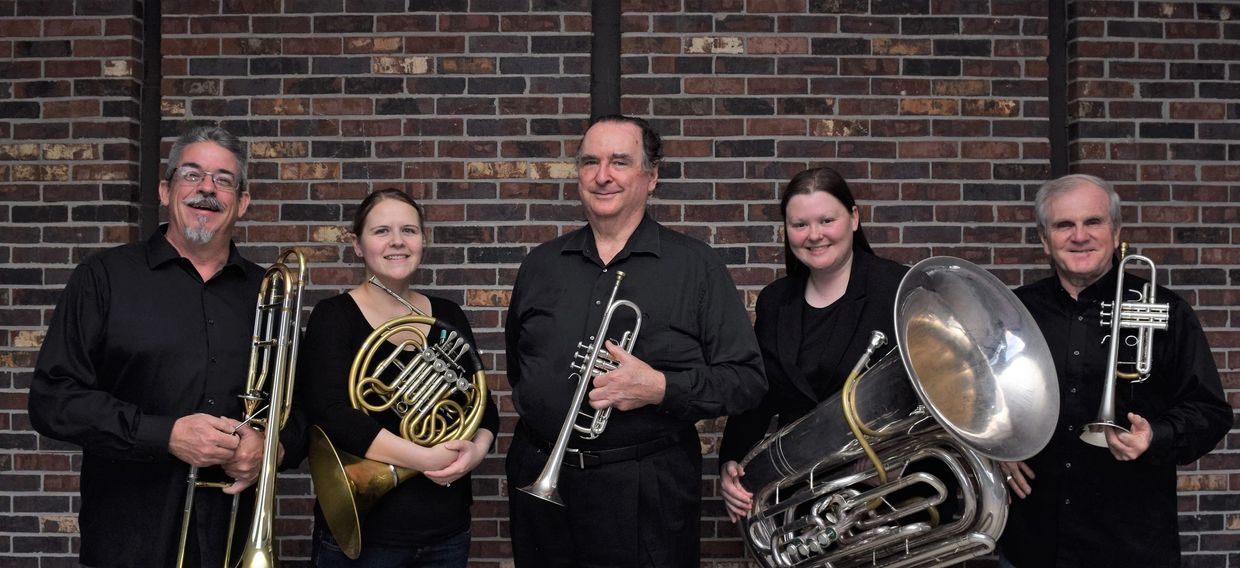 This new information reflects a change in the concert time to 6pm and corrects the previously advertised time of 4pm. The art show will remain from 5-6pm. Please adjust the events calendar accordingly.
December 12, 2019, Vero Beach – The Music and Arts department at First Presbyterian Church will present an opening reception for the 3rd Anniversary installment of artwork in The Galleries at First Pres, featuring local artists Richard Fisher, Mags Hobbs, and Linda Relis, on Sunday, January 26, 2020, from 5:00pm to 6:00pm. A concert by the Gainesville Brass Quintet will follow at 6:00pm in the sanctuary. Light refreshments will be provided during the Art reception. The church is located at 520 Royal Palm Boulevard, Vero Beach. This event is free to the community; a $10 donation is suggested for the concert.
The Gainesville Brass Quintet is comprised of Joseph Jamerson, Clifford Newton, Miranda Morris, Charles Propper, and Robin Sisk. Organized in 1985, the quintet has performed throughout the North and Central Florida regions. They play a wide variety of music ranging from baroque Canzoni to modern transcriptions of pop and jazz tunes as well as a wide selection of the modern brass literature. While each member of the group performs extensively with other musical organizations, the brass quintet medium presents a special challenge to explore the almost limitless styles and tonal qualities capable of this unique chamber group.
Additional to the concert, there will be an opening reception for the 3rd Anniversary exhibition of The Galleries at First Pres. This show will feature local artists Richard Fisher, Margaret "Mags" Hobbs, and Linda Relis. The reception will be held throughout the campus of First Presbyterian Church after the concert, from 5:00 to 6:00pm, and light refreshments will be provided.
Since the early 1950s, Richard Fisher has been continually involved with visual arts. He received a Bachelor of Arts from Pennsylvania State University and a Master of Arts degree from Columbia University. He spent 22 years teaching textile/surface design graphics for the industry at the Fashion Institute of Technology (State University of New York) in New York City. In the 1970s, Fisher began to develop his own unique approach to art and the creative processes. At the core of this work are drawing meditations, images rising from the unconscious mind. With the advent of sophisticated computer and print technology, he shifted from paint and brush to light/energy and digital art on the computer.
British-born, award-winning artist Margaret (Mags) Hobbs is a graduate of the Royal Leamington Spa, College of Art, UK. After graduation, she took the time to raise two sons and to support her husband David's motor racing career. Simultaneously, she created a successful, custom-designed quilt company. In 2009, Mags and her husband moved to Vero Beach where she began to paint seriously. Her exuberant and color-luscious paintings explore mixed media and line in a sophisticated style which disguises her finely-honed drawing skills. She uses every tool in her box to create a range of painting from realistic to abstract which reflects her sunny outlook on the world. Having trekked extensively through the Himalayas she wrote a book about her experiences titled, "Better to Journey." She has received awards for her paintings from the Vero Beach Art Club, the A.E. Backus Museum, and the Marsh Island Art Show along with many private commissions.
A native of Brooklyn, NY, Linda Relis started painting at a young age after accompanying her mother to her oil painting class. After graduating from high school, Linda attended The School of Visual Arts and the New York School of Interior Design as well as taking numerous workshops with well-known artists. "I started focusing on portraiture and figurative work, but a chance meeting with the renowned animal artist, Robert Bateman, reignited my love of animals and nature". Linda was inducted into the Society of Animal Artists in 2001. Many of her oil paintings are in the State of Florida's Permanent Collection of Public Art as well as numerous private and corporate collections throughout the United States.
For more information, please contact Ginger Lagemann, Music and Arts Information Coordinator, at (772) 562-9088 or ginger@firstpresvero.org.