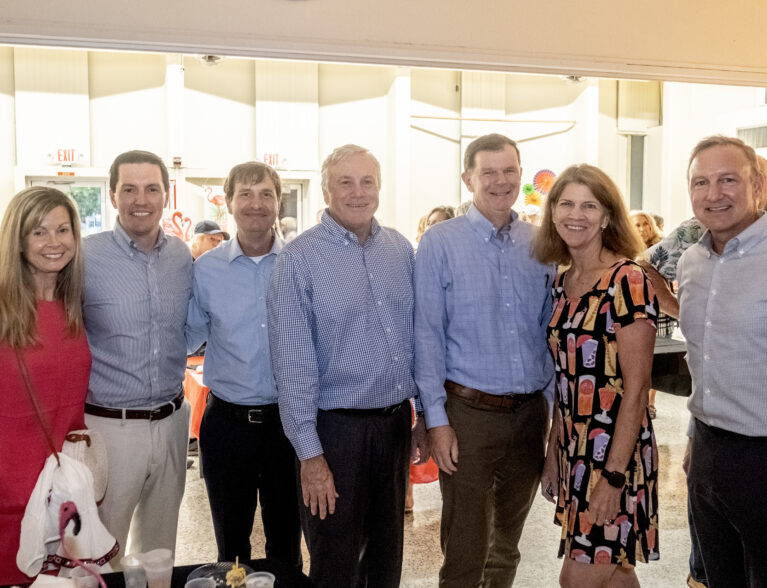 The Exchange Club of Vero Beach shook things up once again with its second annual Sangarita Challenge to support the mission and programs of the nonprofit.
"Exchange, America's service club, is a group of men and women working together to make our communities better places to live through programs of service in Americanism, community service, youth activities and its national project, the prevention of child abuse. Funds for the club's charitable gifts and scholarships are raised through fundraising efforts," explained Brian Leonard, event co-chair with Candy Caldwell.
Flamboyant fuchsia flamingos sat atop tables at the Community Center to inspire guests as they went on a flavorful culinary adventure with the help of six local restaurants. American Icon Brewery, Armani's Cucina, BigShots Golf, Blue Agave, Casa Amigos and Cobalt tempted passersby with specialty Sangrias, Margaritas and small plate appetizers, each hoping to garner the most votes in the Voters' Choice challenge for the title of "Best."
Attendees sipped and sampled, savoring the decision to determine which of the spirits and nibbles were their favorites, before they topped the evening off with dancing, raffles and auctions.
In the end, BigShots Golf earned the title of Best Margarita, having catered to everyone's palate by offering two Margarita varieties. For the traditionalists, their refreshing citrus-based Hole in One Margarita featured tequila, Grand Marnier, orange juice and sour mix.
The slightly more adventurous opted for the Spicy Mango Margarita, made with tequila, lime juice and a surprisingly complementary fusion of mango and jalapeno.
American Icon Brewery was deemed to have poured the Best Sangria. Its Betty White, made with Mezzacorona wine, lemon, lime, orange and mint, was a refreshing, fruity delight.
For the second year in a row, Armani's Cucina took home the award for the Best Small Plate: a juicy grilled peach with mascarpone and goat cheese, prosciutto, honey and balsamic drizzle, paired with a stuffed bacon-wrapped date.
Best Overall went to Cobalt, which offered a classic Sangria and a Jaguar Warrior Margarita, which mixologists created using Cobalt's Single Barrel Tres Agave Anejo Tequila, blood orange juice, lime juice and hibiscus simple syrup. Both drinks were ideally suited for their chorizo and potato empanada.
The Vero Beach Exchange Club, one of five in the county, has served the community for more than 60 years, focused on making it a better place to live. The club annually distributes some $35,000 in scholarships to local high school students and partakes of service projects such as packing and distributing bags of hygiene products to the homeless.
"We raise funds to give back to the community and support various other groups. We live and work in this community. If the community supports you, you need to support the community," said Leonard.
The club will again partner with the Vero Beach High School Band to sell Christmas trees near the Cleveland Clinic Indian River Hospital. In addition to their annual Valentine's Dinner Dance in February, they will host the Florida District Exchange meeting at Dodgertown in May.
Meetings are held at noon every Tuesday at Vincent's Italian Restaurant on Miracle Mile. For more information, visit ExchangeClubofVeroBeach.com.
Photos by Joshua Kodis