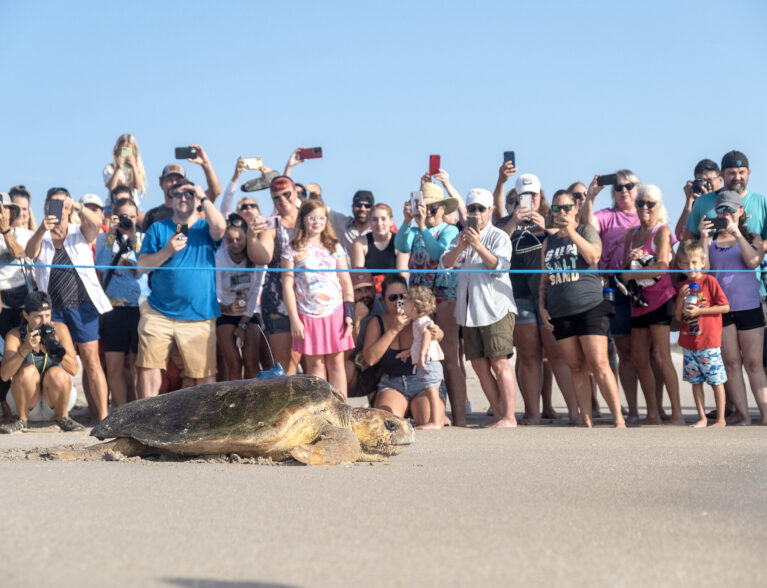 Zee, a sub-adult green sea turtle, along with adult loggerheads Marigold Puddlefoot, Kelpy, Madame Leota and Harriet are representatives of a phenomenal sea turtle conservation success story locally. Watched by onlookers as they reentered the ocean near the Barrier Island Center at the Archie Carr National Wildlife Refuge and from Disney's Vero Beach Resort, the five are among an overall field of 22 'sprinters' in the Sea Turtle Conservancy Tour de Turtles Marathon.
Thanks in large part to the efforts of the Endangered Species Act, which celebrates its 50th anniversary in December 2023, and such organizations as Sea Turtle Conservancy and, locally, Coastal Connections, the number of nesting sea turtles on our beaches this summer has far exceeded expectations.
During last year's official nesting season, March 1 to Oct. 31, these threatened sea turtles had already set records. As they usually return to their nesting beach every other or every third year, the anticipation was that this would be an average year.
Yet, as of Sept. 8 (nesting season continues through Oct. 31), the 20.5 miles of mostly uninhabited beaches at Archie Carr, deemed by U.S. Fish & Wildlife as one of the most productive loggerhead nesting sites in the world, there have been 41 leatherback, 18,540 loggerhead and an astounding 25,346 green nests, plus one Kemps Ridley nest. Last year's totals were 101, 17,854 and 12,511.
As of Sept. 8, along the 22.4 miles of Indian River County beaches, there have been 27 leatherback, 8,639 loggerhead and 4,100 green sea turtle nests. Last year saw an unusually high 101 leatherback nests, plus 7,431 loggerhead and 1,823 green nests.
Tour de Turtles is one way conservationists are drawing attention to the plight of these magnificent creatures. Each summer since 2008, four sea turtle species – leatherback, loggerhead, green and hawksbill – are outfitted with small satellite transmitters to track their migration from nesting beaches to foraging grounds.
The goal is to raise funds and awareness to combat various threats to their existence, including boat strikes, coastal lighting, plastics, longline fisheries, sea walls and coastal armoring, beach erosion, water pollution and oil spills, climate change, and the turtle egg, shell and meat trade.
Marigold and Kelpy were sponsored by Gideon's Bakehouse and Sea Life Aquarium, respectively. Zee, named in memory of Midshipman Third Class Justin Zemser, was a last-minute addition to TDT. Having ingested a loose fishing net, Zee was rescued by the UCF Marine Turtle Research Group from the Sebastian Inlet and rehabilitated at the Brevard Zoo Sea Turtle Healing Center. All three joined TDT from Archie Carr NWR.
Madame Leota and Harriet joined TDT the day before at Disney's Vero Beach Resort, sponsored by the Disney Cruise Line and Disney Conservation Fund, which has directed more than $5.1 million to sea turtle conservation efforts around the world.
Some of these lovely ladies, such as little Marcia, a 50-pound juvenile green sea turtle, stay relatively close to home, while others paddle for thousands of miles. Marcia, released July 14 from Marathon Key, has only gone about 56 miles, whereas Disney's Leota and Harriet, released July 29, have each gone more than 930. The farthest to date is Centennia, a leatherback released April 25 from Jupiter Island, that has traveled 3,112 miles and is now headed out to sea having last visited Newfoundland and Prince Edward Island.
The public is invited to follow their paths, support their causes, and take part in various activities at TourDeTurtles.org. For more information, visit ConserveTurtles.org or Coastal-
connections.org.
Photos by Joshua Kodis