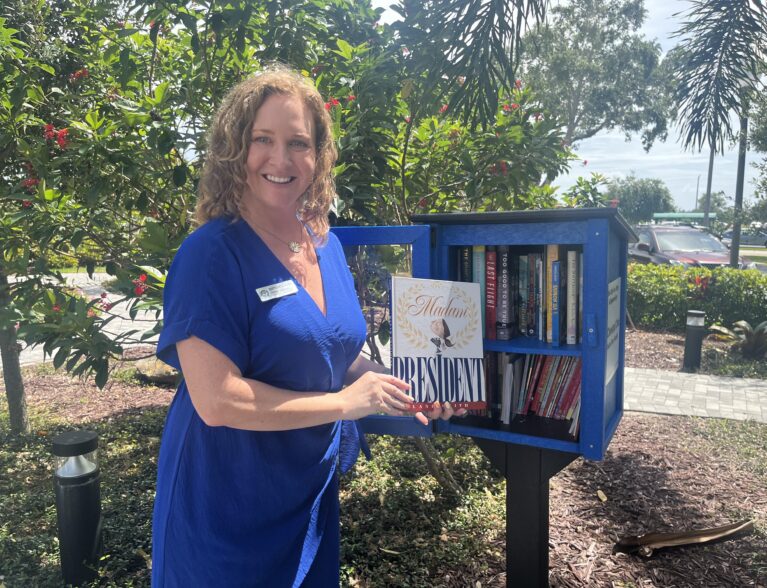 INDIAN RIVER COUNTY — Readers looking to relieve the anxiety of their doctor's appointment, and those visiting the hospital, can ease their minds with free novels while at Cleveland Clinic Indian River Hospital. Now, children – along with adults – can pick up the books at the Little Free Library, located in the Alma Lee Loy Garden near the hospital's main entrance.
"It's heartwarming to think of the children and adults who will access this Little Free Library. It might be during a moment of grief, anxiousness or a celebration," said Meredith Egan, CEO of United Way of Indian River County. "But a book – when they walk through those doors or out of those doors to go home – can transport them to another place, provide a moment of comfort or even a necessary distraction."
Book lovers who don't have a medical appointment can also pick up the novels at the small, blue book-exchange box.
"This is a pay it forward program. A child takes a book home. The child can return the same book or another book," Dr. David Peter said Friday during the unveiling of The Little Free Library box. "This increases access to free books. This is a way the community can share resources."
Little Free Libraries and book drives continue to spread across the globe as volunteers work tirelessly to promote early literacy and expand book access. The free library box at the hospital was installed June 14 through a partnership with Cleveland Clinic Indian River Hospital, The Learning Alliance and United Way of Indian River County.
Representatives from Cleveland Clinic Indian River Hospital, The Learning Alliance and United Way of Indian River County unveil a Little Free Library box, just outside of the hospital's main entrance. #VeroNews pic.twitter.com/reh45Zch7O

— Nicholas Samuel (@JournalistNickS) July 28, 2023
The new Little Free Library – which has children's and adult books – is one of several located throughout Indian River County. The books were donated by caregivers at Cleveland Clinic Indian River Hospital and collected during a book drive held last year at the facility.
"Early learning is so important. The love of books starts early. That can't be fostered without access to books," Egan said. "One of the most successful ways to improve reading in achievement of children is to increase their access to books, especially at home. If children can't read, they can't learn. If they can't learn, they can't succeed."
The Little Free Library – a worldwide initiative – makes free books accessible to everyone regardless of age, background or economic status. The book-sharing box at the hospital is open 24 hours a day, seven days a week.
Marie O'Brien, director of advocacy for The Learning Alliance, stressed the importance of literacy and how it can shape one's future.
"If you can't read, your life gets harder. Literacy is the number one predictor of individual success and community prosperity," O'Brien said. O'Brien also quoted a study from Yale University that stated literacy was the number one indicator of adult health.
"Deep reading brings the ability to have emotional intelligence and compassion," O'Brien said. "These are considered survival skills. That's what helps people to live longer."
O'Brien is also the facilitator of Moonshot Community Action Network, a local nonprofit focused on having 90 percent of students reading on grade level by the end of third grade. The organization – which has the distinctive, spaced themed Moonshot Rocket Bus – is known for hosting family-fun reading and educational events.
O'Brien pointed out that reading scores for Indian River County students have recently improved.
"Indian River County is now seventh in the state for third-grade reading. Prior to that, in 2019, we were 31st in the state," O'Brien said. "We are making a lot of strides. We're doing much better. It's because of the commitment of the community."
The books, O'Brien said, have the power to heal, connect and transform lives. Peter pointed out that improving one's literacy does not end in childhood.
"Nearly nine out of ten adults lack the skills needed to adequately manage their healthcare and prevent diseases," said Peter while quoting statistics from the National Assessment of Adult Literacy. "Poor literacy has been directly linked to poor health outcomes, higher rates of hospitalization, less use of preventative services, minimal prescription and care plan compliance, and mortality."
Peter said children and adults become better readers and increase their comprehension when reading a variety of texts, especially for leisure.
"The Little Free Library may encourage readers to expand outside their favorite book types and genres by giving them an opportunity to read a book they may not have otherwise chosen – because it's free," Peter said.
Just north in Brevard County, community organizers are holding several book giveaways under an initiative called The Little Black Book Drive. The campaign aims to give free books on Black history, STEM, adventure, mystery and science fiction to Space Coast youth.
Whether a young reader or older, the free libraries will help to positively transform lives, one book at a time, Egan said.
"Books have the power to take us to different worlds, to broaden our horizons, and to inspire us to dream beyond our current circumstances," Egan said. "They spark curiosity, ignite the imagination and foster a love of learning that knows no bounds."
A list of local Little Free Libraries can be found on the United Way of Indian River County website.
Photos by Nick Samuel