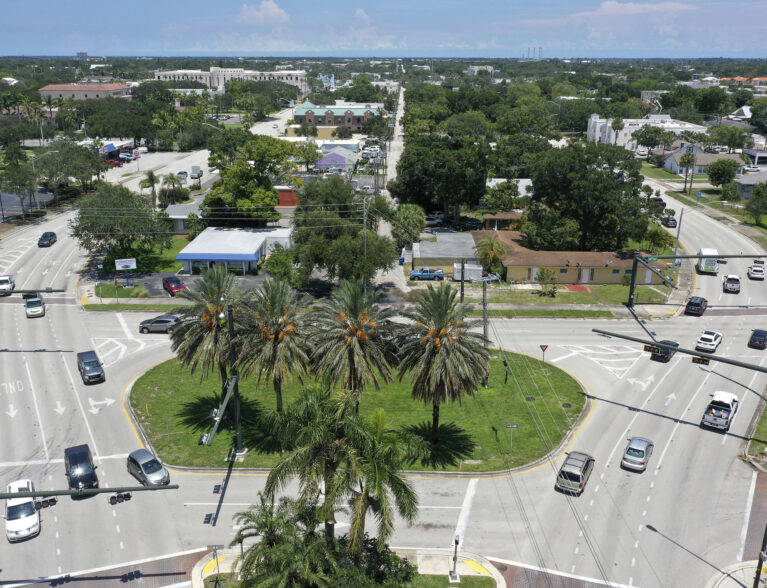 All of a sudden, the Vero Beach City Council – a panel that historically has moved at the speed of erosion, especially when confronted with major decisions – is in a hurry.
Three of the council's five members, in fact, are determined to hastily push through an ill-conceived plan to reduce lanes on the Twin Pairs, claiming the change is necessary for the vitalization of Vero's downtown.
I use the word "vitalization" instead of their word, "revitalization," because hardly anyone alive can remember a time when Vero's old downtown was buzzing with shoppers.
And it doesn't seem to matter that, if adopted by the council and approved by the Florida Department of Transportation, the proposed lane reconfiguration along one of the busiest and most strategic stretches of State Road 60 in Vero Beach almost certainly will create a traffic nightmare likely to haunt our fast-growing county for the foreseeable future.
The three council members fiercely advocating for this project – newcomers Linda Moore and John Carroll, along with second-termer Rey Neville – believe the lane reduction would make the downtown area more walkable and inviting, and they insist the time for change is now.
That's why the crucial first phase of the ongoing, city-commissioned traffic study was conducted during our offseason, rather than during the busy winter months when our roads are most crowded.
That's why the council's lane-reduction proponents refuse to postpone taking action on the Twin Pairs until the city develops its much-hyped "downtown master plan," which might not recommend such drastic measures.
That's why there will be no Three Corners-like referendum to allow city voters to decide the fate of a section of State Road 60 that has been a source of community debate for years.
Figuratively speaking, these three council members are holding a gun to Vero Beach's head, using FDOT's road-resurfacing schedule – and the city's unwillingness to pay for such a costly project – to justify the reckless pace at which this decision is being made.
FDOT, which is scheduled to repave State Road 60 during fiscal year 2026-27 as part of an every-20-years cycle, has given the city until the end of this year to present its final plan for the Twin Pairs, so the agency's engineers can begin the design phase of the $6.7 million project in 2024.
If the city doesn't formally request the lane reconfiguration, FDOT will simply stay with the wiser and more responsible Twin Pairs plan submitted by a previous council, which recognized the obvious repercussions of removing lanes of traffic at a time when the county's population was surging.
The previous council chose to approve other less-intrusive traffic-calming measures: reducing the speed limit, installing on-demand crosswalks at key intersections, narrowing existing lanes to demand greater caution, and adding bike lanes.
Those measures, though, were never implemented – because after Moore and Carroll were elected in November, they teamed with Neville to dump the previous council's plan and try to ram through a lane-reduction project their predecessors all rejected.
Why push so hard now?
The council's three lane reductionists, two of whom have downtown workplaces, know this is their last chance.
They know that 20 years from now, when FDOT will be planning its next State Road 60 repaving project, the county's population will have exceeded 200,000, with almost all of the growth having occurred to the west of Vero Beach's city limits.
They know that, unless our primary mode of transportation advances beyond the automobile or another major east-west corridor is built, we'll need those three lanes they want to eliminate.
They know such a proposal, offered under those conditions, would go nowhere.
So it's now or never.
It's already easy, however, to envision the traffic congestion the proposed Twin Pairs bottleneck would create – especially during our busy season's daytime hours, when we can expect to endure lengthy backups along the remaining lanes and experience frustrating wait times at downtown traffic signals.
The impending arrival of Brightline's high-speed passenger trains zipping through downtown 32 times each day, along with an inevitable increase in freight-train traffic, will only make a bad situation worse.
Indeed, it's difficult to believe anything close to a majority of our community's residents, even those who live in the city, would support such a shortsighted plan.
"That's what the public hearings are for," Vero Beach City manager Monte Falls said. "We'll find out whether the community wants this."
But will we?
And will it really matter?
We know Moore and the other lane-reduction proponents will mobilize their base and make sure their supporters are heard during the City Council's town-hall-style public hearings, which are required by FDOT and will be held later this year.
They might be able to fill the council chamber with dozens of backers eager to make the case that slowing and stopping traffic along the Twin Pairs will prompt more motorists to look around and say, "Hey, we're downtown. Let's get out and take a look around."
We don't know how many lane-reduction opponents will show up – because, other than residents of adjacent neighborhoods that will be directly impacted by motorists searching for alternate routes to avoid the downtown traffic jams, most of them won't be nearly as motivated.
That doesn't mean those opposed to the lane reduction don't greatly outnumber those who support it. Remember: Thousands of county residents use State Road 60 to travel through the city.
Not everyone is paying attention, however, and if this plan becomes reality, many residents won't realize the damage that was done until they're inconvenienced, which would be too late.
"I talk to a lot of people in my restaurant, and the vast majority of them want us to do this," said Moore, the vice mayor and co-owner of the Kilted Mermaid craft beer and wine bar in downtown Vero. "I haven't talked to anyone who doesn't want it."
First-term council member Tracey Zudans, on the other hand, said, "Everybody I've spoken to was against it," adding that the only support she has heard for the lane reduction has come from the dais and activists promoting the project.
The man in the middle, Mayor John Cotugno, said he wants to let the process play out.
That's why he voted to approve both phases of the ongoing Twin Pairs traffic study being conducted by engineers in the Vero Beach office of Kimley-Horn & Associates, which told the council last week the roadway's current infrastructure has the capacity to accommodate the reduction.
For what it's worth, though: Cotugno said he doesn't agree with the practice of overriding a previous council's decision unless it resulted in an obvious and egregious mistake, but he knows he can't overrule the majority.
"I can't kill it," Cotugno said, referring to the Twin Pairs saga as a "zombie" because it never dies. "Even if I vote against it, it's going to happen, unless FDOT rejects it because of community input."
He's right.
Unless strong community opposition convinces FDOT to scrap the plan, three council members – who in their most recent elections received a combined 5,636 votes in a city with 17,000 residents – will decide the fate of a lane-reduction project that will significantly impact a growing county with a population of 167,000.
That should trouble you.
So should this: Nobody is talking about the obvious what-if scenario.
What are the city's options if this flawed plan is approved, the Twin Pairs is reduced to two lanes in each direction and we get the traffic debacle most of us expect?
They're not good.
"If the project were done and we wanted to change it? FDOT probably would tell us they'll modify it when they come back to resurface the road again," Falls said. "That means either the city would have to pay to fix it, or we just live with it for 20 years."
The council's lane reductionists, who have embraced a we-know-better approach, seem willing to take that chance, believing this project is pivotal in the city's efforts to breathe life into the downtown.
"I'm not going to worry about something that's not likely to happen," Moore said of the potential traffic mess the reconfiguration of State Road 60 through downtown might create.
She noted that the current Twin Pairs traffic study is the third commissioned by the city in recent years, adding that none has found reducing lanes to be detrimental.
To be sure, Kimley-Horn's study didn't recommend the lane reduction, either. It merely concluded that the roadway's infrastructure has the capacity to absorb our projected traffic increases through 2045.
That's no guarantee, though.
Nobody could have projected the dramatic growth in the county's population during the past three years, when the COVID-19 pandemic brought thousands of new residents to our community, and such spikes could happen multiple times over the next 20 years.
This, however, you can predict: The traffic congestion created by the Twin Pairs bottlenecks will drive people away from downtown, as motorists try to avoid the backups.
For those wondering: There's still a chance the lane-reduction plan won't get to FDOT.
The council seats currently held by Cotugno and Neville will be on the ballot in November, so it's possible the lane reductionists could find themselves in the minority – with time for another vote.
"If this council votes to approve the lane reconfiguration and then we get somebody else up there?" Zudans said. "I would definitely bring this back up.
"There's no reason to rush this through," she added. "When you make decisions in a rush, you miss something. And if we miss on this, the entire community is going to be affected."