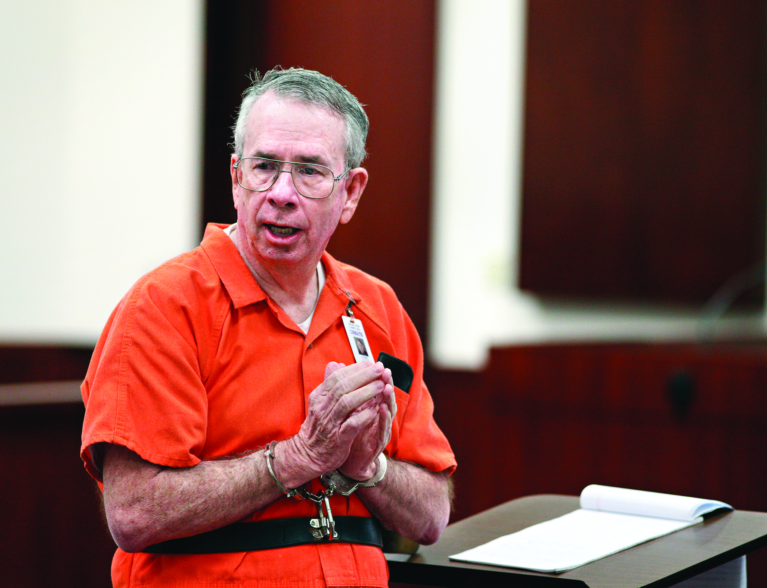 Convicted fraudster and disbarred attorney Ira Hatch, 76, died on May 31 in state prison while serving a 30-year sentence for stealing more than $4 million from 700 clients of his law firm and from his Vero Beach company Coastal Escrow.
A former Castaway Cove resident who famously enticed escrow clients of the barrier island's elite real estate professionals with lavish cocktail parties, Hatch was arrested in January 2008 after shuttering Coastal Escrow over Labor Day weekend 2007, leaving home buyers, attorneys, brokers and estates wondering where all the money they entrusted to him had gone.
Following an eight-week criminal trial during the summer of 2010, Hatch hastily changed his plea while the jury was out deliberating. Convicted on first-degree felony charges, Hatch was sentenced to serve at least 85 percent of a 30-year sentence, minus 21 months credit for time served.
Retired assistant state attorney Lev Evans, who prosecuted the case with co-counsel Ryan Butler, said the Hatch case was one of the most complex financial crimes he'd worked on in his career and definitely the longest trial.
Numerous victims testified in court to losing their life savings, which they had left with Hatch for safe keeping pending the purchase of a home. Realtors also lost hundreds of thousands of dollars in rental deposits they'd placed with Coastal Escrow.
When the market was booming, Hatch was able to replace the money he was stealing with funds from new depositors. But when the real estate and mortgage markets crashed, the scheme began to unravel. Withdrawals outnumbered new deposits and soon the accounts were drained.
Longtime husband of Marjorie Hatch – who was deeply involved in the business yet not charged with any crimes – Ira Hatch quietly divorced his wife from jail while awaiting trial, signing over all of the couple's assets to her while taking on all of their liabilities.
After Ira reported to state prison, Marjorie Hatch sold their waterfront home on Winding River Road – which as the couple's homestead, had been exempt from seizure – for $1.06 million in September 2011 and left the Vero Beach area to live in Gainesville.
According to Alachua County property records, Marjorie still owns the five-bedroom, three-bath, 3,100-square-foot home she purchased in September 2011 in Gainesville's Ridgemont subdivision.
While their father was siphoning off clients' money to pay for the Hatch family's lavish lifestyle, son Rory Hatch was attending Rice University and daughter Danielle Hatch (now Eisenmenger) was studying at the University of Florida Levin College of Law.
Records show upwards of $200,000 per year from client deposits ended up in the accounts that Hatch used to pay his mortgage, the lease payments on family members' BMWs, and his children's college tuition.
Meanwhile victims lost tens of thousands, even hundreds of thousands, of dollars.
Vero Beach civil attorney Louis B. "Buck" Vocelle represented clients who sought recompense for losses, including one family who had deposited more than $1 million from an estate into Hatch's escrow account while probate was being settled.
Vocelle would not comment on Hatch's death, but said he stands by his victim impact statement for Hatch's sentencing, an except of which was published in Vero Beach 32963 in 2010.
"Because of Mr. Hatch's status as a lawyer, he was able to convince Vero Beach's most respected realtors … to place their escrow deposits in his escrow company," Vocelle wrote.
His victims assumed that since Hatch was an attorney, there was some measure of regulation of the trust accounts, which allowed Hatch to steal wantonly, he said.
"I realize that the Court may have a concern that if a 30-year sentence is imposed, Mr. Hatch will ultimately die in prison," Vocelle wrote. "If it is any consolation to the Court, I am in agreement with those victims whom I represent, who are also my friends and colleagues, that if Mr. Hatch's sentence is ultimately cut short as the result of premature or untimely death, we will not complain; nor should the Court."
No cause of death was provided in the letter certain victims received from the Florida Department of Corrections.