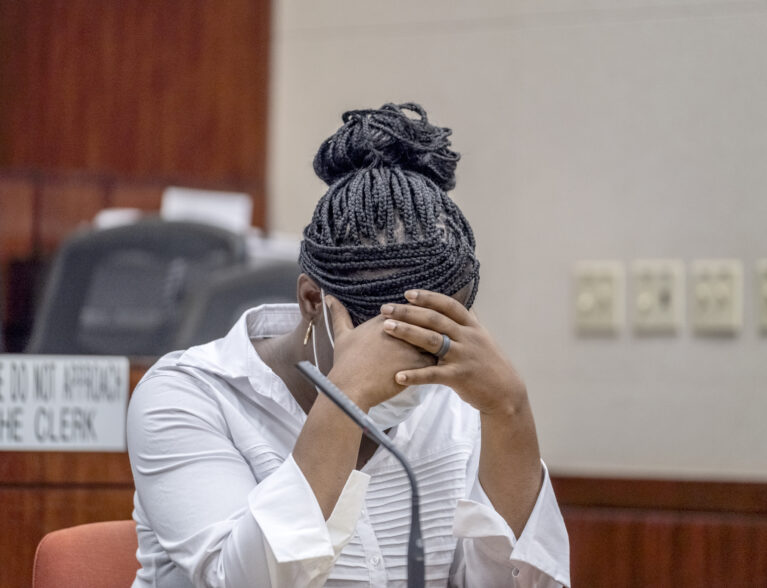 With her sister serving 14 years in state prison for her part in stealing more than a half-million from an elderly John's Island couple and their banks, 35-year-old former nursing assistant Sophia Monae Shepherd took a plea deal on Monday just as jury selection had begun for her criminal trial.
Shepherd, also known as Sophia Brown, agreed to plead no contest to two felony charges, to serve eight years in state prison and to pay back $20,000 to the victims' family, and $150,000 to American Express for the luxury items, trips and services she charged to the platinum card belonging to Michelina Martinelli and her late husband Alfred.
The two octogenarians were in the sisters' care as Shepherd and McGee were hired on as CNAs to work in the Martinelli home.
McGee and Shepherd had access to the Martinellis' credit cards to purchase needed items for the couple's care and health. In addition to those essentials, they charged clothing, jewelry, shoes, electronics, casino junkets to South Florida, cruises, a trip to New York City, a hotel stay at The Plaza, the rental of a Rolls Royce and even cosmetic surgery.
Indian River Shores Public Safety officers seized a roomful of ill-gotten merchandise from McGee and Shepherd, including televisions, Apple watches, and dozens of pairs of high-priced sneakers, many still in the box.
Court records show that over a nine-month period, Shepherd stole more than $200,000 from the Martinellis on top of the more than $300,000 her sister Chiquita Lashae McGee is serving time for stealing.
Shores Deputy Chief Mark Shaw, who oversaw the investigation, praised the detectives' perseverance in building a strong case that led to two pleas. "Exploitation of the elderly in our community will not be tolerated and we will leave no stone unturned in order for justice to be served," Shaw said.
Despite the severity of the felony charges they were facing, both McGee and Shepherd were released on bail and had been out free since their 2018 arrests. Accommodations were made so they could volunteer at their children's schools while under community control pre-trial release. Even after entering her plea, Shepherd is still free while awaiting sentencing.
Judge Robert Meadows scheduled a sentencing hearing for Sept. 14 and ordered a routine pre-sentencing investigation, which will tell him what Shepherd's recommended sentence would be had she gone to trial and been convicted, based upon various details of her life and her lack of prior criminal history. The maximum sentence for the two felony counts in her plea is 45 years in prison.
Meadows is not duty bound to follow the sentence that Shepherd, her defense attorney and the prosecutor negotiated, but if he hands down a harsher sentence, Shepherd can withdraw her plea and take her chances with a jury trial.
Seventy-five potential jurors had been called up for the case, which has received a decent amount of publicity since the sisters were arrested in 2018. Just a few minutes into jury selection, the proceedings stopped, the jurors were escorted out and the attorneys notified Meadows of the change of plea.