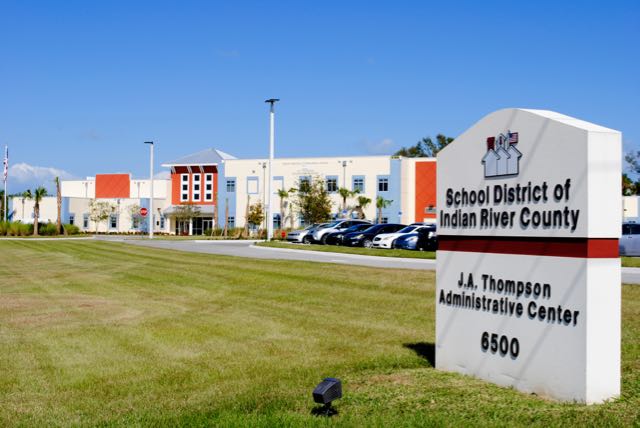 Vice Chair Teri Barenborg is usually able to maintain a poker face and mask what she's thinking during the public-comment segment of School Board meetings, even when the offerings are nonsensical or mean-spirited.
Not this time.
There, at the podium, was local Moms For Liberty leader Jennifer Pippin, arguing that there was no need for the board to replace its racial equity policy – because there was no real racism in our school district.
Pippin's proof?
She cited the fact that five Black high school students excelled academically the past two years; that a Black student was chosen to be Sebastian River High School's homecoming queen last fall; and that a Black student was Vero Beach High School's prom queen this year.
She also noted that Black and white students sit together in school cafeterias and at graduation ceremonies, and they compete together on sports teams.
"We don't have a racist student problem in this district," Pippin said. "We have an adult-racist, liberal-assumption problem."
Barenborg's jaw dropped.
Several others in the parade of speakers had embarrassed themselves earlier with remarks disparaging the School Board's efforts to give disadvantaged Black students a reasonable chance to succeed academically.
One Moms backer inanely criticized the board's extensive and laudable work in partnering with the NAACP to address the remaining issues stemming from a 1967 federal court desegregation order that continues to taint our community.
But Pippin's assertion – and the cherry-picked examples of Black students' successes and popularity she used to support it – was as asinine as it was misleading.
"I couldn't believe what I was hearing," Barenborg said of the discourse during the special-call meeting two weeks ago, when the School Board repealed its three-year-old racial equity policy and replaced with a more generically worded policy that didn't include race-related terminology forbidden by a new state law.
No one, though, should've been surprised.
This is the new normal for school board meetings, here and across America, where public education – the last bastion of nonpartisan governance – is becoming a political battlefield.
Next year, in fact, Florida residents will be asked to vote on a proposed constitutional amendment that would allow partisan school board elections. If passed, the state's public education system, which is supposed to embrace the best interests of our children, will be all about the best interests of political parties.
But that's where we are.
Anyone who has attended a school board meeting here the past three years can attest to the polarization that fills the chamber, including on the dais, where 3-2 votes can be expected on the most compelling issues.
The public-comment phases, though, create the most tension, division and, sometimes, venom – something that doesn't happen at other governmental meetings in our community.
Yes, County Commission and City Council meetings can get contentious – but the episodes are rare, and the harshness of the rhetoric spewed doesn't compare to the us-against-them nastiness expressed at too many School Board meetings.
Board Chair Peggy Jones does all she can to maintain civility, urging everyone in the sometimes-crowded room to be courteous and respectful, but not everyone abides – particularly when the agenda includes a topic on the Moms' radar.
This one didn't.
This special-call meeting had nothing to do with masks, or school library books, or parental rights. Or any of the other culture-war issues in the Moms' playbook.
This May 24 meeting invited no controversy, called simply to repeal one policy – because the state required such action – and replace it with another. It started at 8 a.m. and shouldn't have lasted more than 20 minutes.
More than an hour later, however, the meeting was still going, as Pippin and her cohorts opposed the "Safe, Respectful and Inclusive Education Policy" proposed by Jones.
The reasons given for their opposition were as bogus as they were hypocritical.
As for the Moms' claim that there's no need for the board to address racial equity because there's no racism in the district: Pippin might want to research the percentage of Black teachers in our public schools, or the achievement gap between white and Black students.
Oh, and don't forget that desegregation order.
Truth is, there was nothing wrong with the original racial equity policy, which was adopted in 2020 by a unanimous vote of a board that included Moms co-founder Tiffany Justice, then-chair Laura Zorc and current board member Jackie Rosario, the Moms voice on the current board.
It was well-intentioned and well-received by the local Black community.
So, knowing the policy must be repealed to comply with state law, why not – in an act of unity – replace it with something that lacks the same specificity?
Why would anyone oppose such a gesture, particularly one that hurts no one?
Why be cruel about it?
"Some of the citizen comments saddened me," Barenborg said. "I was stunned by the remarks about the desegregation order and achievement gap. It was appalling. I came home from that meeting feeling physically ill and emotionally upset. It's 2023, but sometimes it feels like it's 1967. … I mean, where are we living?"
Barenborg raised those same concerns in her remarks before the board, with both Rosario and Gene Posca not in attendance, voted 3-0 to approve the new policy.
"If I were watching this from the outside and thinking of moving here, I'd think twice," she said. "It's sad. Our kids are watching. Shame on us as adults."
She's right, of course – but don't expect anything to change until we get politics out of public education. A concocted culture war is dividing communities, fracturing families and wreaking havoc on our children's futures, and there's no end in sight.
More jaw-dropping moments are coming.