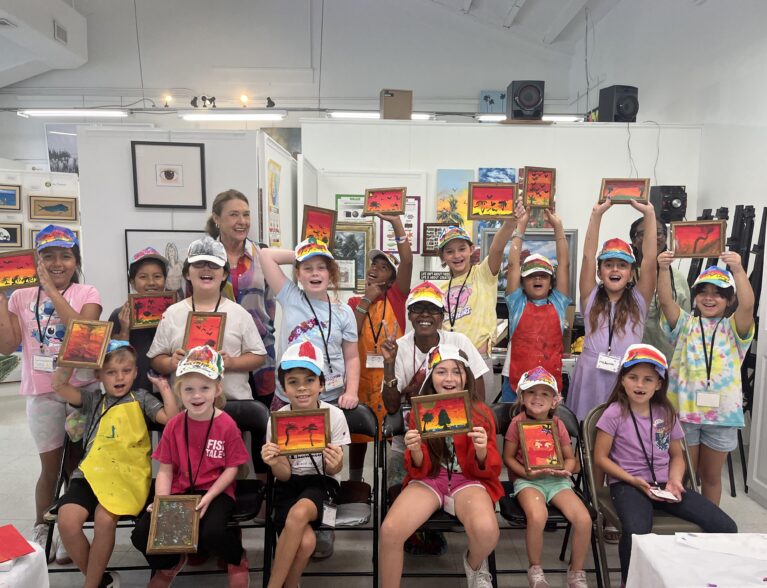 VERO BEACH — The young painters kept their focus as they mixed a vibrant array of colors to create vistas of sunsets, glowing red skies, palm trees and birds on their canvases.
The artists, ages five to 11, started off using yellow, orange and red as they carefully illustrated tropical Florida landscapes on the canvases and, uniquely, their hats. One by one, the paintings came to life. 
"Art is therapy. The (students) can release their thoughts. They were already artists before they came," said Dominique Tynes, 38, of Vero Beach, who teaches painting classes at a week-long camp at the Vero Beach Art Club. "All of them were in their element. We're in one unity. This is a good element for the community." 
Tynes, however, is no stranger to art. 
The love of painting runs through the blood of Tynes' family. Her uncle, James Gibson, was one of the original Florida Highwaymen, a group of self-taught, world-renowned Black landscape artists from Fort Pierce and Wabasso.  
In the mid-1950s, the Highwaymen began painting Florida sunsets, waterscapes, marshes and inlets. The artists traveled the state taking their pieces on the road and selling the artwork door-to-door or out of the trunks of their cars, creating a following. 
Gibson's paintings were hung in the White House, the Florida State Capitol, the Florida Supreme Court, and two can be seen in the 2002 movie Catch Me If You Can starring Tom Hanks and Leonardo DiCaprio. The Highwaymen were inducted into the Florida Artists Hall of Fame in 2004, and the next year Gibson received the Florida Ambassador Art Award.
Gibson died in 2017 at age 79. He was quoted in an interview on FloridaHighwaymenPaintings.com, where he said "the more you paint, the better you get."          
Tynes, motivated by her uncle, reiterated his statement, saying that young artists should find something that inspires them, keep going and to be their own motivation. Tynes aims to instill her passion for painting into the kids at her class, the Highwaymen Kids Camp, which was held this week. 
"The kids are very responsive. For some of them, it's their first time painting," Tynes said. "They're very excited."
This is Tynes' second year teaching the class with her assistant and niece Unique Roundtree. On Tuesday, the group of 15 students were all smiles as they held up their artwork for a group photo-op.  
"You develop the talent and add on to it," Tynes said. 
Siblings become painters in their own right
Tynes' brother, Vernon Tynes, 36, of Vero Beach, vividly remembers watching his mother doodle and his father sketch out portraits of his family members when he was growing up. Vernon Tynes said he became inspired by those moments, along with seeing Gibson create his masterpieces with the strokes of a paintbrush.
Now, Dominique and Vernon Tynes – both Vero Beach High School graduates – are full-time painters and art business owners, selling picturesque Florida landscape paintings similar to the ones originated by the Highwaymen. The siblings own Dobae Art and Vernon Tynes owns Sunset Art Studio LLC, both based in Vero Beach.
Vernon Tynes said he plays spiritual music before he starts on a painting. He said his grandmother would put on Mahalia Jackson, the American gospel singer known as the "Queen of Gospel Song" and considered one of the most influential vocalists of the 20th century. That would then set the mood.
"Our grandmother used to say when you get up, pray before you do anything else. Our mother told us the same thing," Vernon Tynes said. "We listen to spiritual music, jazz, rhythm and blues, country music, anything uplifting when painting. We listen to songs that motivate us. We listen to 104.5 The Flame a lot."  
The siblings said they were close to Gibson and motivated by him, as well as their other uncle Freddie Gibson, who was also a painter. Vernon Tynes said he got the opportunity to paint with James Gibson several times, and Freddie Gibson gave him his first invite to an art show to sell his paintings.
Vernon Tynes recalled going to James Gibson's house in 2017 in Fort Pierce and working with him to create a variety of images on different canvases. Some of the paintings included things Floridians might see looking out of a window in the state wilderness; a bird, an alligator, a woman sitting inside a white old-style Corvette and a family relaxing underneath a Poinciana tree.
Vernon Tynes said James Gibson's paintings would eventually go on to sell for $15,000 to $20,000 at auctions. Gibson's work made its way into the Rockefeller Art Collection, an ensemble of more than 1,600 art pieces collected worldwide; the gallery is based in New York.
One of Gibson's paintings, which is a rendition of an art piece by his mentor landscape artist Albert Earnest A.E. "Bean" Backus, hangs on the wall near the staircase at the Indian River County Main Library. 
The painting shows women in headwraps and colorful garb sitting by the lake beneath a brilliant orange sky, cooking food over a campfire.
"He got a chance to see his paintings do well when he was alive," Vernon Tynes said. "He was an uncle to us first, then an artist next."
The Highwaymen paintings can be found at a variety of galleries in Vero Beach, including Rennick Auctions, Manor Auctions, and Florida Art Auction. The next Highwaymen and Florida Art Show will be held from 10 a.m. to 4 p.m. July 22 at the Grant Antique Mall, located in Grant, Florida.    
Dominique Tynes hopes to instill the passion for painting into her students, as Gibson did for Tynes and Vernon. The Vero Beach Art Club also hosts weekly camps for teens in the summer, where students learn acrylic painting and how to create figure sculptures. 
"This will heal the community," Dominique Tynes said.  
More information on Dobae Art can be found here. More information on Sunset Art Studio can be found here.  
For more details on the Vero Beach Art Club, visit its website.
Photos by Nick Samuel