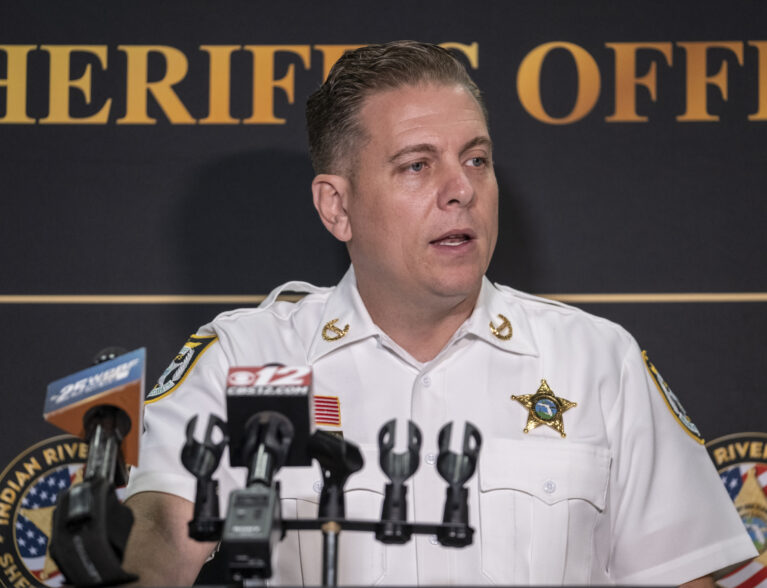 INDIAN RIVER COUNTY — An off-duty Martin Correctional Institution officer was jailed after shooting a woman Wednesday morning at Walker Woods Apartment complex before taking off in a vehicle. The man then held a gun to his head as he led St. Lucie County deputies on a low-speed pursuit heading south, Indian River County Sheriff Eric Flowers said.
The man – identified by Flowers as 31-year-old Wilner Cyprien – was eventually stopped, then shocked with a Taser by St. Lucie County deputies before being detained, Flowers said.
"The woman was arriving to her residence in Walker Woods. (Cyprien) does not live there. He was specifically waiting for her to return to the home," Flowers said during an afternoon news conference held at the Indian River County Sheriff's Office. "He fired at her when she tried to drive away."
Sheriff's officials initially said the woman was struck several times, but later clarified the vehicle was hit by multiple rounds, with one of the bullets striking the woman's left thigh. Two passengers in the woman's vehicle were not hurt, authorities said.
.@IRCSheriff Eric Flowers gives update on Wednesday shooting that left woman seriously injured. #VeroNews pic.twitter.com/TSNPcEhFrI

— Nicholas Samuel (@JournalistNickS) June 7, 2023
Flowers said deputies believe the shooting stemmed from a love-triangle, but would not release many details.
"He believed his girlfriend was cheating on him," Flowers said. "He believed shooting this person would exact revenge in this case."
The woman was flown to HCA Florida Lawnwood Hospital in Fort Pierce with non-life threatening injuries, sheriff's officials said. Further details on the woman were not released.
Cyprien was held Wednesday at the St. Lucie County Jail and faces charges of attempted first-degree murder, two counts of aggravated assault with a deadly weapon and firing a weapon into a vehicle, sheriff's officials said. Cyprien's booking photo was not available.
"He ultimately confessed to these crimes," Flowers said. It was unclear when Cyprien would be extradited to the Indian River County Jail.
The shooting
Deputies responded to reports of the shooting about 11:40 a.m. at the Walker Woods Apartment complex, located on 71st Circle in Indian River County. Flowers said Cyprien, who did not live in Indian River County, immediately drove south in a burgundy Dodge Durango.
Another person related to the case was at Cleveland Clinic Indian River Hospital and believed Cyprien might go to the hospital. This led officials to place the hospital on a precautionary lockdown that lasted a little more than an hour, Flowers said.
"He did not go to the hospital," Flowers said. Further details on the person at the hospital were not released.
Deputies put the Dodge's information into the sheriff's office license plate reader system.
St. Lucie County deputies found the Dodge about 1:30 p.m. at a park near Delaware Avenue, Flowers said. St. Lucie deputies deployed a Taser on Cyprien before detaining him.
Deputies recovered the gun used in the shooting, but details on the type were not available. It was unclear how long Cyprien was employed at Florida Department of Corrections' Martin Correctional Institution, located in Indiantown.
"It's a safe day. We're happy he's in custody and off the streets," Flowers said. "Thanks to our partners in St. Lucie County. They did a fantastic job taking him into custody."
Photos by Joshua Kodis and provided by Indian River County Sheriff's Office