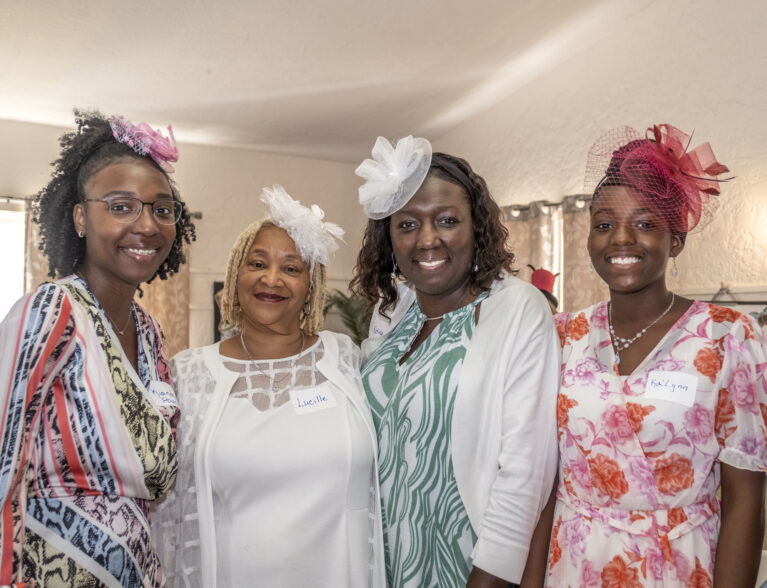 Members of the Vero Beach Women's Club and their friends gathered for the third annual Mad Hatter Tea Party at the club's downtown facility, which was built in 1915 and added to the U.S. National Register of Historic Places in February 1995. Proceeds from the event will fund Vero Beach Woman's Club Scholarships for deserving young ladies at Gifford Youth Achievement Center, to help with their college education.
Dressed in festive spring attire, including some with creatively decorated hats and perky fascinators, guests enjoyed a catered afternoon tea of delicious tea-sandwiches and sweets at tables set with vintage teacups and tablecloths. Entertainment was provided by a first-string quartet of talented Gifford Youth Orchestra musicians.
Kate Moor, VBWC vice president, spoke about GYAC, which was founded in 1998 to address the declining graduation rate among Black students. It not only accomplished that, increasing the rate from 23 percent to 90 percent, but now also fits the needs of the entire community through its varied programs and projects.
"We are so honored to be able to offer a scholarship fund for their students to be able to continue to pursue higher education. We would not be able to do that if it weren't for you being here today. So thank you so much," said Moor.
Casey Lunceford, executive director of GYO and a GYAC board member, noted that by student performances such as this at events throughout the community, their musicians learn about professional etiquette and how to present themselves to the public.
Before showing a GYAC video made to celebrate their 25th anniversary, Peggy Gibbs, GYAC director of philanthropy, said when they posted it online, one young lady recognized herself in it, and commented that she is now attending Vanderbilt University.
Gibbs said GYAC offers afterschool and summer programs that stress academics, but which also provide recreational and cultural activities. Additionally, GYAC has become a community hub through its outreach programs, food pantry and Beyond Special K for seniors.
Ka'Lynn Pound, a sixth-grader at Gifford Middle School who has attended GYAC since kindergarten, shared her experiences as a participant in academic and athletic programs.
"My experiences at GYAC have been nothing short of amazing. I have taken what I have learned from the GYAC Academic Mentoring program and applied it to my classroom assignments. In return, this has allowed me to surpass the standardized testing benchmarks by wide margins," said Pound.
"I can say I stand here today as an AP honor roll student from my first-grade year to this present time because of the mentorship I received and currently receive from GYAC. One of my most memorable moments was through the science program, when I had the pleasure to speak with an astronaut while she was in space. Through the swimming program, I became one of the best girl swimmers in the county, holding some of the fastest times ever seen in 13 levels," said Pound.
She is currently enrolled in the GYAC Youth Employability Program, designed to prepare students for future career opportunities.
"All of the staff at the Gifford Youth Achievement Center are doing a wonderful job of fulfilling their mission of developing me and my peers to reach our ultimate potential," said Pound.
The Vero Beach Women's Club was founded to provide women with a conduit to help the community, adhering to the motto of "In Unity There is Strength." Members hope to expand its reach to the next generations of women, while also raising funds to renovate the landmark building.
For more information visit VeroBeachWomensClub.org or MyGYAC.org.
Photos by Joshua Kodis