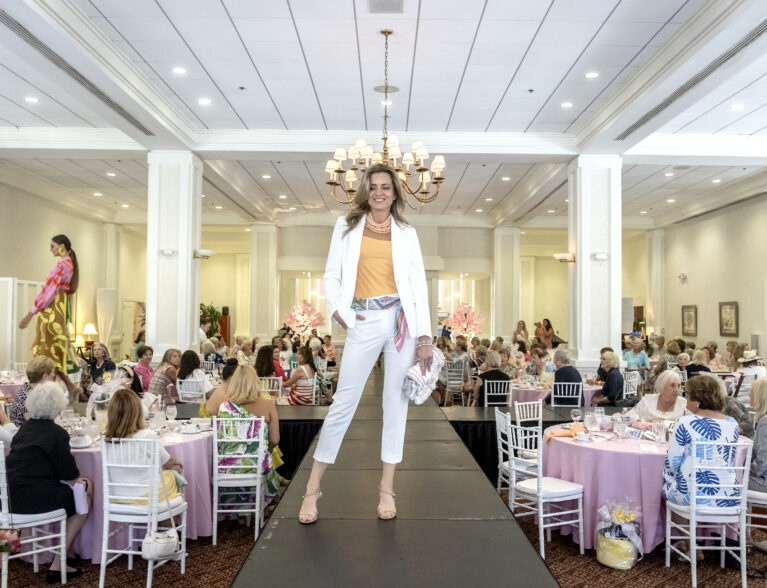 Cherry blossoms bloomed during the 24th annual Blue Ribbon Luncheon and Fashion Show, a sold-out Springtime in Paris-themed event at the Oak Harbor Club to benefit the Hibiscus Children's Center.
Wearing a vibrant bouquet of springtime colors, ladies sipped champagne and perused the impressive selection of silent-auction items and purchased raffle tickets for a chance at several spectacular items, before heading into the dining room for the luncheon.
The ladies were all anxious to get a look at this year's must-have spring and summer women's fashions from our island shops: Belle Cose, Cooper & Co., Frances Brewster, Island Cashmere, J. McLaughlin, Melange, Sara Campbell Ltd., Sassy Boutique, and Tendencies, plus a selection of men's wear from Vernon Scott.
Hibiscus Guild members had organized the event, a considerable undertaking co-chaired by Lisa Giessert and Barbara Rice, and the fashion show was produced by Sobol Fashion Productions, which brought in professional models from Miami to showcase a variety of styles from casual day wear to evening attire.
While everyone enjoyed the opportunity to view the beautiful fashions, their true intent was to support the Hibiscus Children's Center, recognizing that their own lives greatly contrast with the harsh realities of the lives of teens, ages 13 through 17, who reside at the Vero Beach Hibiscus Village.
"By your presence, each one of you shares a commitment of raising funds and raising awareness for the teens who live at the Village here in Vero Beach," said Sue Sharpe, mistress of ceremonies.
"April is Child Abuse Prevention Month. The teens who live at Hibiscus Village come from broken backgrounds of abuse, neglect and abandonment. Hibiscus Children's Center offers them a healing environment," she added, before introducing Matt Markley, Hibiscus president and CEO.
"By your attendance here today, you have heeded the clarion call that we will tolerate child abuse and neglect no longer. If we find a child in this situation, we will remove them as quickly as possible and take them to a place where they are safe, loved and nurtured," said Markley.
He commented that youth at the Village receive care every hour and every day of the year and have continual access to credentialed therapists.
"A place where today, at this very hour, 54 kids are safe, loved and cared for. A place called Hibiscus Children's Center, whose unofficial motto is 'every child, every day, for a better tomorrow.'"
Quoting Winston Churchill, Sharpe said, "We make a living by what we get, but we make a life by what we give," before introducing guest speaker, Leanne Kelleher, chef/owner of the Tides, one of Vero's top restaurants, who offers her time for a Culinary Program at the Village.
"Our speaker gives of herself every day. You may know her best by her superb meals," said Sharpe.
Kelleher quipped that the last time she was on a runway, it was to model the latest in flower girl apparel 50 years ago. She noted that despite the difficulties of trying to take time away from running a bustling restaurant, her work with the children at Hibiscus brings her great joy.
"I was blessed with a family and lots of support. My mom and dad would do anything they could for me. These kids don't have that. In some cases, they don't even know what their birthday is," says Kelleher.
"They're going to age out, and they're going to have to go out and get jobs. If you can cook, you can make money, and if you can make money, you can take care of yourself."
For more information, visit HibiscusChildrensCenter.org.
Photos by Joshua Kodis