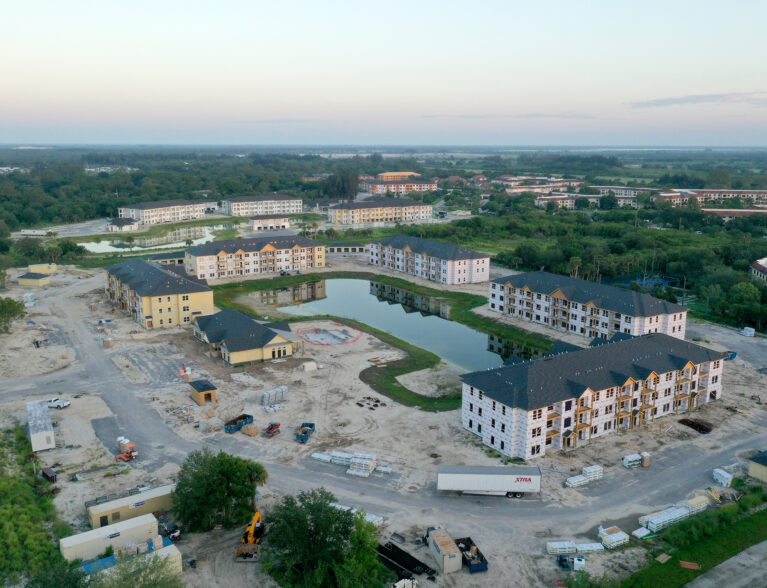 Eighteen huge new apartment buildings have sprung up, seemingly overnight, along a stretch of State Road 60 west of the mall that was pastureland and forest until very recently – part of the ongoing push of new development rapidly filling in the space between Vero Beach and Interstate 95.
Divided between two major apartment complexes, the buildings will contain 473 1-, 2- and 3-bedroom units ranging in size from 500 to 2,000 square feet. Rents will range between $1,800 and $4,000 a month, and both communities have begun "pre-leasing" ahead of anticipated summer openings, according to their websites.
It appears coincidental that these two big upscale rental projects – The Griffon and Aspire Vero Beach – are being built almost next door to each other at the same time by different developers, but county officials say the new rental homes fit in well with the county's plans for the route 60 corridor and fulfill an important housing need.
As the projects were getting underway in 2021, then Indian River County Development Director Phil Matson commented that "new upscale rental developments [along Route 60] are filling a need for professionals such as travelling nurses, doctors, teachers and other professionals, who stay in an area for months at a time."
Located a mile east of I-95 at 7700 20th St. (State Road 60), The Griffon – a 297-unit luxury townhome development – sits on a 49-acre, 2-parcel site between Indian River Estates to the east and a small single-family residential community to the west, and extends north from State Road 60 to 26th Street.
Purchased in July 2021 from the estate of Sassan Kassab for $2.9 million by Griffon Residential LLC, the undeveloped property was cleared later that year. With main access off of 26th Street, The Griffon North wraps around a portion of Indian River Estates. The Griffon South main entrance is off of State Road 60; a roadway curving through the two-section development connects the entrances.
The developer, Crest Residential, is a multifamily development and investment company based in Birmingham, Alabama, which is "focused on ground-up development and acquisition opportunities," according to its website, "with projects throughout the southeast and Texas, including similar communities in St. Augustine and New Smyrna and one in development in Destin." The company said it has a "combined history of more than 6,300 units and a total investment of $800 million."
The Griffon is a West Indies-style community offering 13 floor plans from 553 square feet to 1,909 square feet in 1-, 2-, and 3-bedroom units, as well as options for carriage houses and townhomes.
Amenities at the gated community include a "resort-style saltwater pool with sun ledges and private poolside cabanas; poolside entertainment deck with outdoor grilling kitchen and fire pits; cardio and flex gym with Peloton bikes + HIIT studio with on demand fitness classes; resident lounge featuring beer on tap and coffee/espresso bar; luxurious pet spa with tile wash bays and grooming station; bike workshop and storage; electric car charging stations; and complimentary car wash center.
Proctor Construction of Vero Beach is the general contractor.
Pre-leasing at The Griffon is underway now, with 1-, 2- and 3-bedroom units renting for $1,710 to $,3,745 per month according griffonverobeach.com. Move-ins are set for July.
Originally known as The Mason Vero Beach, the second new apartment community is now called Aspire Vero Beach, where six three-story buildings with 176 units sit on 21.99 acres at 7590 20th St. (State Road 60).
A prior residential development called Vero Grove Estates was planned for the site two decades ago; however, in 2003, before that project could get off the ground, a plume of contaminated soil was discovered on the property, dating back to its "historical use as citrus grove," according to county documents.
That problem was resolved with a Site Rehabilitation Completion Order from The Florida Department of Environmental Protection dated Feb. 24, 2021, and current project developer Waypoint Residential began grading later that year. At that time, according to Waypoint Account Executive Teddy Burnette, the first units were expected to be delivered by the third quarter of 2023, and that schedule appears to be on track.
According to its website, aspireverobeach.com, 1-, 2- and 3-bedroom units between 685 and 1,321 square feet are pre-leasing now with rents ranging between $1,825 and $2,705. Check the website for most current availability.
Also coming along the same dynamic stretch of state highway at the 74th Avenue intersection is a 4,650-square-foot 7-Eleven with a 16-pump gas station and all the newest 7-Eleven amenities.
When the 7-Eleven site plan application was filed on Nov. 2, 2020, it listed as the owner of the 3-acre property Buildex Inc., a Vero Beach-based company with local businessman George Beuttell named as president, and Blackfin Partners Investments Inc. of Palm Beach Gardens as project developer.
With the addition of these two luxury rental complexes and the bright new 7-Eleven, Matson's vision for Vero's long-term corridor growth is taking a big step forward: "We strive for mixed uses along Vero's corridors, punctuating residential corridors with carefully chosen commercial entities, to avoid the unattractive mile-after-mile of gas stations and strip malls that areas to the south face," Matson told Vero Beach 32963 last year.
Photos by Joshua Kodis