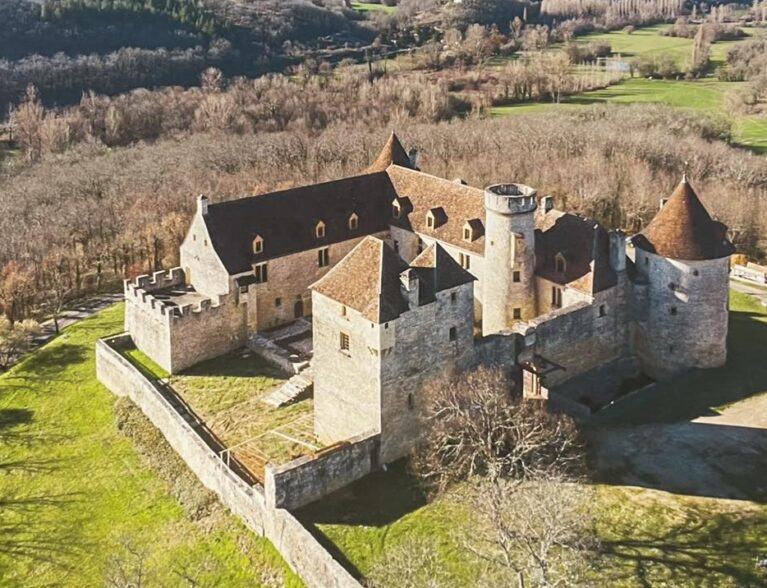 INDIAN RIVER COUNTY — John Manchec's escape from jail would start off with a doctor's visit, followed by a group of accomplices freeing the man from a corrections vehicle and driving him to an undisclosed location. Then, Manchec – a multimillionaire with several resources including a private plane and a yacht – would flee to his three-floor medieval luxury hotel in France, deputies said.
But the elaborate plan never came to fruition. Now Manchec, 78, who was already behind bars on 49 counts of possession of child pornography following a Dec. 2014 arrest, faces two additional charges of attempt to escape and failure to appear.
"(Manchec) is a multi-millionaire with multiple homes in the United States, France and the British Virgin Islands. His assets include his airplane, a 140-foot yacht as well as the castle (renovated into a hotel) in France," Indian River County sheriff's officials said in a statement. "Detectives strongly believe that Manchec intended to use these assets to help facilitate and finance his escape."
Manchec is also a business owner on the Treasure Coast. Aero Shade Technologies, Inc., an aerospace company located in Fort Pierce, listed Manchec as president of the business on its website.
Four other people behind the botched escape strategy were Byron Harvey, 48, of Vero Beach; Kristen Maso De Moya, 26; Benjamin Bashton, 67, of Vero Beach and Kerry Shephard, 39, of Vero Beach.
All four were charged with criminal conspiracy. Harvey faces an additional charge of unlawful use of a two-way communications device.
Manchec, Harvey and Shephard were each held Tuesday at the Indian River County Jail without bond, jail records show. Bashton was released from the county jail on $50,000 bond.
Maso De Moya was held at the St. Lucie County Jail on $15,000 bond.
Previous escape
Manchec was already on deputies' radar after he was released on bond following his 2014 arrest and then fled the country to avoid prosecution.
Manchec missed his court appearance in April 2017 and later was spotted in Dec. 2020 as a fugitive in the Dominican Republic, reports show. U.S. Customs and Border Patrol agents detained Manchec and brought him back to the U.S.
New escape plan foiled
Indian River County sheriff's Criminal Investigation Division detectives launched the two-month probe in early April after learning of the new escape plan. Through interviews and reviewing messages in the jail mail system, deputies learned Manchec paid Harvey's bond so Harvey could be released from jail and devise the escape plan in return for payment.
Manchec then put Harvey, Bashton and Maso De Moya on the payroll for Aero Shade Technologies. It was unclear if Shephard was also working at the aerospace company.
Deputies said the group planned to schedule a colonoscopy treatment appointment for Manchec. Then, the accomplices would stop the sheriff's corrections vehicle as it arrived at the medical facility, use pepper spray on the deputies inside and free Manchec, sheriff's officials said.
"Shephard would notify Harvey that Manchec was leaving the jail thereby putting the plan in motion. The plan was to intercept the IRCSO Corrections transport vehicle as it arrived at the medical facility," deputies said. "Harvey and an accomplice would assault the corrections deputies, free Manchec and flee to an undisclosed location. Multiple vehicles include a truck and van that was paid for by Manchec to facilitate the escape."
Deputies said they believed Manchec intended to travel to France – his birthplace – to the Chateau De Pechrigal, a luxury hotel owned by Aero Shade Technologies. The hotel was initially a medieval castle built between the 14th and 15th centuries, according to worldwide luxury properties website Hidde-James.
Manchec acquired the 108-acre property in the late 90s.
Manchec's private plane is based in south Florida, deputies said. Deputies said Manchec has dual citizenship in France and the U.S.
Deputies arrested Manchec, Harvey, Maso De Moya, Bashton and Shephard. Manchec was due in court July 12, while Harvey, Bashton and Shephard have court dates on July 6, records show.
Court information for Maso De Moya was not available.
"Manchec will remain a guest of the Indian River County Jail until he can be held accountable for all of his criminal acts," sheriff's officials said.