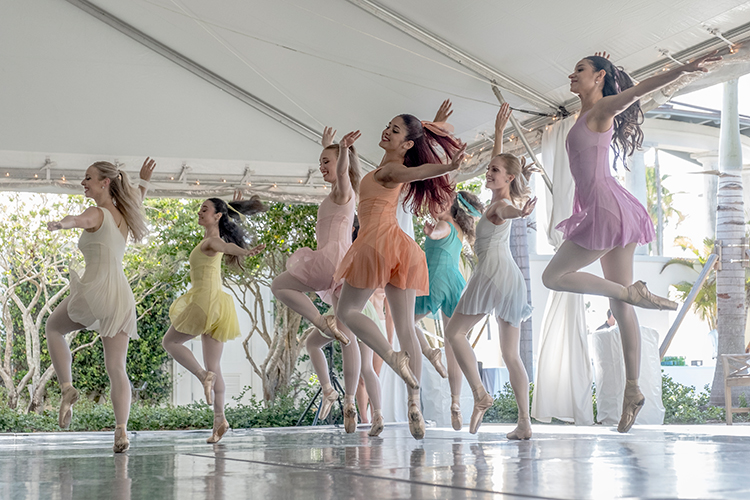 Ballet Vero Beach performers danced their way into the hearts of admirers at Ballet at the Pergola, a special outdoor performance at the Windsor community.
Welcoming everyone, Stacey Lewis, Windsor resident and BVB board member, thanked Windsor for its annual financial support, and Jane Smalley, Windsor marketing director, for introducing its residents to Vero's cultural arts organizations, before introducing Adam Schnell, BVB founding artistic director and CEO.
Commenting that BVB is celebrating its 10th anniversary season, Schnell said it was due to the philanthropic support of communities like Windsor.
The first of four dances performed, "Hang On, No Need to Be Lonely," was choreographed in 2016 by BVB ballet master Camila Rodriguez and danced with joy and humor by the troupe to "Pink Martini."
Between pieces, Schnell spoke about BVB and its relationships with other organizations, including the Vero Beach Museum of Art, where they recently performed a dance interpretation of the remarkable Rolling Sculpture: Streamlined Art Deco Automobiles and Motorcycles exhibition.
Schnell explained that Rodriquez had incorporated the lines of the automobiles and the rhythms of Igor Stravinsky, who had been prolific during that era, to choreograph "Fleeting Lines," which he soloed at its VBMA premier and at Windsor.
Schnell said BVB is examining how to push its repertoire even further and they have plans to expand its company next year and deepen their partnerships with Dimensions Dance Theater of Miami. And next season they plan to introduce the very first work by world famous choreographer Christopher Wheeldon, 2022 Tony Award winner for "MJ the Musical."
"Also, we are starting what is either going to be a two- or three-year relationship with the Martha Graham Contemporary Dance Company to celebrate the Martha Graham Centennial. So we're upping the bar," said Schnell.
Introducing the next piece, he said "Sylvia Pas De Deux" was originally choreographed by George Balanchine for legendary dancers Andre Eglevsky and Maria Tallchief. "Excerpt from Sylvia Pas De Deux," the dance performed, was staged by Eglevsky's daughter, Marina Eglevsky, who had been in the studio when Balanchine choreographed it for her father and Tallchief.
Katherine Eppink and Anders Southerland elegantly danced the showpiece that Marina Eglevsky called "one of the most beautiful of Balanchine's pas de deux."
"This last piece is particularly important to me. It is the choreography of probably my greatest mentor and certainly my greatest ballet teacher," said Schnell, referencing Samuel Kurkjian, the first resident choreographer of Boston Ballet, and founder of the Boston Repertory Ballet.
"But what he is most remembered for is devoting decades of his life to teaching at Walnut Hill School for the Arts, where I went, outside of Boston, and also the Boston Conservatory," said Schnell, recalling with a chuckle, Kurkjian teaching that "ballet is never about getting into an ugly position."
"He really is a singular influence on my life and therefore a singular influence on Ballet Vero Beach," said Schnell.
"Since we first thought about Ballet at the Pergola, I have dreamed to be able to show this to you in this setting," said Schnell of the final piece, "Debussy Suite" or "In Summer Wind," choreographed by Kurkjian to music by Claude Debussy and danced by the troupe.
"Thank you for coming here and showing us such beauty, such elegance and such energy.
My only request was that there was a tutu, so thank you for that," said Smalley with a smile, again thanking Windsor and its residents for their continued support.
Photos by Joshua Kodis