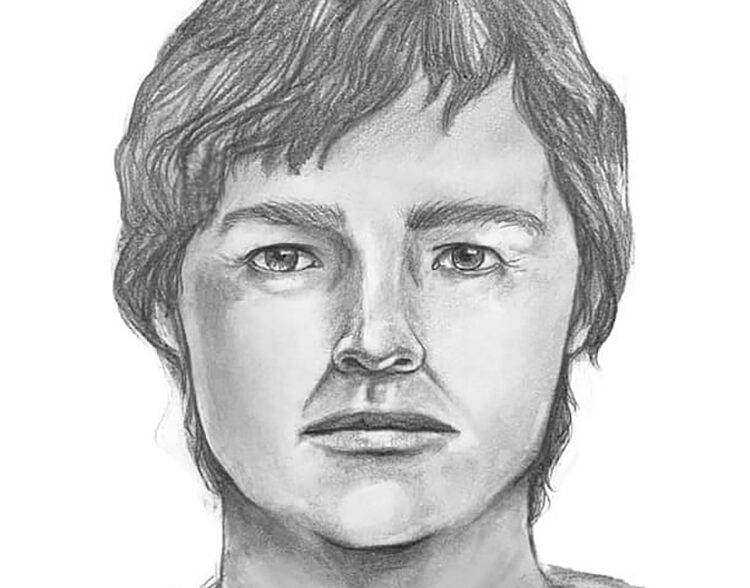 INDIAN RIVER COUNTY — Assunta "Susy" Tomassi, the woman who went missing five years ago and whose remains were discovered near a mangrove lined riverbank in March, suffered a gunshot wound that contributed to her death, sheriff's officials said. Tuesday, Indian River County sheriff's deputies released a sketch of a man they described as a person of interest in Tomassi's 2018 disappearance – one of the county's most enduring mysteries in recent years.
Sheriff's officials continue to search for leads in what Sheriff Eric Flowers says has transitioned from a missing persons case to a homicide investigation. Sheriff's Detective Phil Daugherty began leading the case after Tomassi's remains were found.
"At this point we have not ruled out anybody in this case," Flowers said during a news conference at the Indian River County Sheriff's Office. "Anybody attached to this case is a suspect."
.@IRCSheriff Eric Flowers talks about person of interest in Assunta Susy Tomassi homicide case. #VeroNews pic.twitter.com/Use7prI9GB

— Nicholas Samuel (@JournalistNickS) May 9, 2023
It was unclear if the bullet wound was the ultimate cause of death for Tomassi, whose skeletal remains were found by a fisherman March 3 deep inside the mangroves. The remains of the mother and grandmother were located near the Oslo Boat Ramp.
Within a month after Tomassi's remains were found, an unidentified woman came forward and told deputies a man had approached her in a white pickup truck near South Vero Square and tried to lure her into the vehicle.
The incident happened several months before Tomassi's March 16, 2018 disappearance. The area is the same location where Tomassi was last seen on surveillance video getting into the passenger side of a similar vehicle – also a white pickup truck – before the driver sped off.
"The citizen described the male as white, approximately 30-to-40 years old, medium build with almost shoulder-length brown hair," sheriff's officials said in a statement. "The citizen was able to recall details of the male and a sketch was completed."
Flowers said deputies worked with Palm Beach County officials to create the sketch.
Deputies asked that anyone with information on the man depicted in the sketch should contact the sheriff's tip line at 772-978-6259. Callers can remain anonymous and possibly be eligible for a cash reward by contacting Treasure Coast Crime Stoppers at 1-800-273-TIPS or tcwatch.org.
Tomassi's disappearance
Tomassi, who suffered from Dementia, was 73 when she walked away from the Quilted Giraffe, an upscale cuisine restaurant she owned with her husband Patrick. Tomassi was known to walk to the South Vero Square shopping mall before going to the Family Dollar store.
The woman told Patrick Tomassi she was going to go outside to read a book or smoke, which was common for her, deputies previously said. Tomassi left about 5 p.m.
Tomassi did not have a cell phone at the time of her disappearance, according to an FBI missing persons alert issued last June. The woman was last seen wearing a black jacket, a blue and white striped shirt, black pants, gold shoes and a Black Coach purse.
Patrick Tomassi, who realized his wife was missing about 40 minutes later, began searching inside stores in the shopping plaza for the woman. Patrick Tomassi combed the path toward their Fort Pierce home for any sign of Susy Tomassi and then called 911.
Tomassi's disappearance launched an extensive search by sheriff's deputies and neighborhood organizations. The search spanned throughout Florida and other states on the east coast.
Sheriff's officials posted an alert on social media asking the public for help in locating the woman. Deputies used patrol and K-9 units, a helicopter, SWAT team, agricultural and marine units and all-terrain vehicles to try to find Tomassi.
Patrick Tomassi eventually closed the Quilted Giraffe – just north of South Vero Square – following an auction in August 2018. He had owned the eatery for more than seven years.
The Tomassi's were married for 37 years and have four children. Patrick Tomassi previously described his wife as a woman who was always nice to everyone she met.
The white truck
More than a year after Tomassi's disappearance, deputies released a grainy surveillance video that showed Tomassi getting into the passenger side of a white pickup truck near Oslo Road at South Vero Square. Sheriff's officials said the driver then headed eastbound toward the Oslo Boat Ramp, made a U-turn and drove westbound toward U.S. 1 at a high rate of speed.
"You can tell (from the video) that the driver called her over," Flowers said. "Hopefully someone can identify (the driver)."
Tomassi got into the truck near the plaza exit. The camera footage – obtained from behind the Publix Super Market at South Vero Square – is about 150 yards from the plaza exit, sheriff's officials previously said.
Deryl Loar, who was sheriff at the time of the video release, previously said the footage was too grainy to depict the make, model and license plate of the truck. Sheriff's officials have since tried to identify the truck driver.
Video provided by Indian River County Sheriff's Office
Tomassi's remains found
Earlier this year, investigators got a break in the case. A fisherman discovered a skull March 3 deep inside the mangroves about 150 yards north of the Oslo Boat Ramp and called 911. Deputies responded, found more human remains and jewelry they said belonged to Tomassi.
"We recovered a number of items that belonged to Tomassi," Flowers said.
The medical examiner's office confirmed the remains belonged to Tomassi, Flowers said. The sheriff said Tomassi was struck by a bullet, but did not release where it pierced her body.
It was unclear if the area where Tomassi's remains were located is the same place where she was shot. Sheriff's officials hope the latest reveals will urge those with knowledge on the case to come forward.
"We're hoping people come forward with tips so we can bring justice to Mrs. Tomassi," Flowers said.
Photos by Joshua Kodis