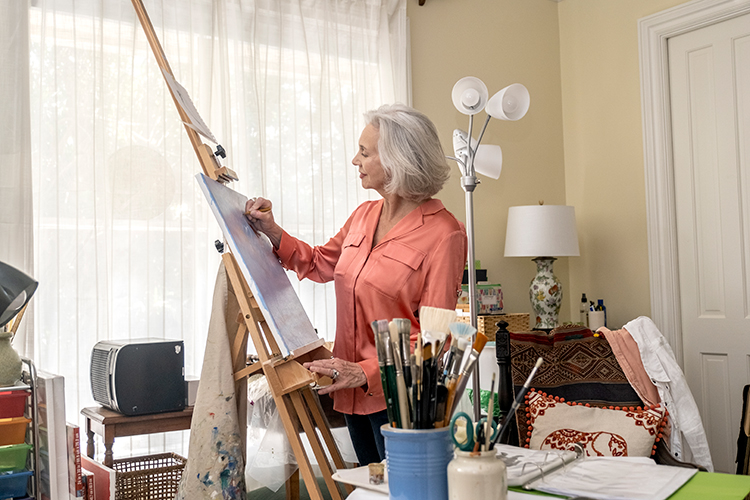 Originally from Toledo, Ohio, artist Pamela Brown Siddall was raised by a creative and cultured family, who exposed her to art, theater and music at an early age. It became, she says, a "very important" part of her life. She often visited the Toledo Museum of Art, which she says is the fourth largest attended museum in the country.
Her father, an architect by profession, was also an accomplished watercolorist. Siddall says that as a child, she became fascinated with his artwork and learned to draw and paint under his tutelage.
"I feel the process of art is what I find compelling," says Siddall. "So many of the small things in life are so special. I do want to encourage the viewer to be enthralled with the simple things, because they make up our lives."
Siddall advocates seeking joy in the everyday, such as observing the lushness of foliage and grasses, noticing how trees are dappled and highlighted by the sun, or how sunlight slips through to a particular leaf, or seeing the ocean's watery presence on a sandy beach.
"A piece of a landscape can be stunning," says Siddall, whose works are clearly reflective of her passion for nature. "Water is such a reflective body; it sort of magnifies everything."
After an early life filled with a varied but always creative career, for the past 10 years Siddall has focused on her artwork. She now paints predominately in oil, although she is also practiced in acrylic, watercolor and mixed media. Siddall says her preferred subject matters are seascapes, landscapes, commissioned pet portraits and still life.
That last category in particular is where she delights in zeroing in on the minutiae of selected images that might otherwise be missed without close scrutiny.
For example, Siddall might ask the viewer to peer closely at the detailed aspects of objects in an artwork, such as examining the onion skins in her painting "Beautiful Bulbs," a closeup of multiple onions, or the realistic seeds in her "Melon Compote."
Her seascape and landscape paintings are often ethereal, such as a beautifully softened sky shrouded in a heavy mist or fog. The result is a peaceful scene that takes the viewer down a winding dirt path or on a walk along the water's edge. And her paintings of animal portraits clearly depict their personalities.
Siddall obtained a degree in fine arts at Bowling Green State University in Ohio – her father was the architect of the school – and after graduation she was hired by an architect to work as a draftsman. However, after marrying and becoming pregnant, she was told that she needed to quit work. She reminisces that women of her generation were groomed to marry and give dinner parties, not have a career, but she saw it otherwise.
"I was an entrepreneur at heart and went back to work when my daughter was 2," says Siddall.
After working for an interior designer, she and a friend soon opened an ad agency, which lasted for some years. With her background in art, however, they turned their sights on designing gift wrapping paper, after not finding any they liked.
"There was nothing out there. Starting at the top, we decided to go big or go home. Our first client was Neiman Marcus, and we got a lot of attention – not only nationally, but internationally," she recalls, adding that their business included the manufacture of the paper.
They attended multiple gift shows, gaining additional attention and new orders from other companies.
"It was exhausting and demanding," says Siddall, adding that it was especially busy during peak shipping season in the fall.
"That was a wild, wild ride. We were young and full of energy. A lot of travel and all-nighters. It was an amazing adventure for two young women."
She remembers going at 4 a.m. to freezing cold loading docks to unload deliveries and then getting on a plane the next day to meet with clients or participate in trade shows in other cities. At one point, Siddall also owned a retail store, The Blue Dog, which offered home design and accent furnishings, some of which she designed.
"Then one day I came home after a very tiring day and, passing through the kitchen, I heard laughter and giggles. Walking into the family room, I saw my two children with their nanny, sipping hot chocolate sitting in front of a crackling fire," says Siddall.
"It was my 'aha' moment, and something snapped in me. I said to myself, something's wrong with this picture, and something has to change."
The family left Ohio and moved to Michigan, where they lived on a lake for some 18 years.
Siddall and husband John Johnston Macionis purchased a home in Vero Beach about 25 years ago and were snowbirds for 10 years before moving here permanently. Macionis is a leading author of sociology textbooks that are translated worldwide, some in their 16th or 18th editions.
Siddall is a member of the Circle at the Vero Beach Museum of Art, a philanthropic arm of the museum, and occasionally participates in shows such as the Quail Valley Charities Art Show.
Siddall now has a network of clients in Vero Beach who keep her busy with commissions. Her current projects are large ones – two 5-foot by 5-foot commissioned paintings, plus a recently completed a 4-foot by 6-foot commissioned piece.
Photos by Joshua Kodis