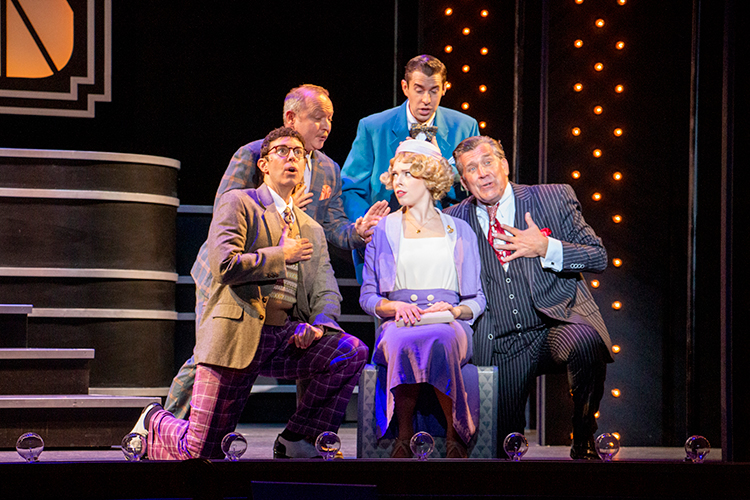 Riverside Theatre brings entertainment galore to the stage in its exhilarating production of the "42nd Street." You'll barely be able to catch your breath at this fast-paced, high-spirited production.
This, of course, is the 1980 American musical based on the famous 1933 Busby Berkeley movie. The storyline, by librettists Michael Stewart and Mark Bramble, is simple, sweet and predictable.
Set during the Great Depression, "42nd Street" revolves around bright-eyed ingenue Peggy Sawyer and big-name Broadway producer Julian Marsh. Toting her suitcase, which she's brought all the way from Allentown, Penn., Sawyer literally runs into Marsh, an inciting incident that starts her rocky but quick climb to Broadway sensation.
After getting cast as a "chorine" (chorus girl) in his new show, "Pretty Lady," she accidentally bumps into leading lady Dorothy Brock. A couple of conflicts later, Sawyer is catapulted into the lead role.
The music, composed by Harry Warren with lyrics by Al Dubin, is as Broadway iconic as it gets. Big numbers, other than the title, include "We're in the Money," "Shuffle Off to Buffalo" and "The Lullaby of Broadway."
Allen D. Cornell has both directed and scenic-designed this grand production. He gives energy to the storyline, ramps up the conflict and lets the humorous parts play big. But he knows what this show is about and steps aside to let his associate director and choreographer, Patrick Boyd, take over.
And boy oh boy, an array of drop-dead, dazzling dance numbers are unleashed on this stage. Add to that top-notch singing and orchestra, led by music director/conductor Bruce Barnes, and you'll remain a happy captive to the jolly tunes for days to come.
The cast is as good as it gets with this talented bunch of hoofers, singers, actors and energy-filled professionals, who bring to stage that ineffable quality – theater heart.
Patrick Ryan Sullivan is utterly winning in the role of Julian Marsh. He brings not only that big dazzling presence of the producer, but also the heart of a man who is passionate about the theater. He has found the strength, tenderness and fun in his many varied roles, even poignant truth in comical characters in "A Tuna Christmas" and "Santaland Diaries."
Sullivan has played Julian Marsh in "42nd Street" nine other times, including on Broadway, where he also played Gaston in "Beauty and the Beast" and was a standby for three roles in "Titanic."
A fun fact about Sullivan: A decade ago, the Titusville, Fla., native had returned home to be with his late father and help out his theatrical alma mater, Titusville Playhouse. A nearby community theater, Melbourne's Henegar Center, was opening "42nd Street" and learned shortly before curtain that their lead could not make it. Sullivan stepped in at the last moment to do the role for opening night. So, yeah, heart.
It really feels like you're seeing the future of Broadway when Rachel Hafell steps on stage as Peggy Sawyer. Hafell is a total treat as the bright-eyed hopeful who finds herself sincerely drawn to Julian Marsh. Just as Sawyer is the package deal, so is Hafell.
She's sweet and filled with promise and theater passion, all tied up with such talent that she makes those high kicks and big numbers look easy. The moment she steps onto the stage you feel like applauding, as if some big star had just landed. Hafell is one to keep an eye on.
Erika Amato brings more than the usual to her role of Dorothy Brock, the difficult Broadway performer who's past her prime. But that's just the character. Amato herself is filled with stage pizazz and human touch. Amato shines in the beautiful number, "I Only Have Eyes for You." By the way, that number was created by Warren and Dubin for the 1934 movie "Dames," but added to the 1980 "42nd Street" stage musical.
Brock's suitor and show backer is Abner Dillon, played with animated glee by Ron Wisniski, who has been too long away from Riverside. Brock's real love, though, is Pat Denning, played with handsome presence by Patrick Oliver Jones, who was in productions of "42nd Street" at Bucks County Playhouse and the Goodspeed.
Lanene Charters is a ball of talented energy who has big, infectious fun as Maggie, the heart-of-gold soubrette. Her many Broadway credits include "Elf," "Big," "Titanic" and "Mamma Mia!"
Bryan Thomas Hunt stands out in his role of Billy Lawlor. While this is his Riverside debut, Hunt has performed in the best regional theaters in America. And Jessica Wockenfuss makes a wonderful Annie, the hoofer who becomes a good friend to Sawyer.
The corps in this show is the best. Leggy and showy, they make it all sizzle. The show begins with Jeremy Benton as Andy Lee, the dance captain of "Pretty Lady," leading the troupe in a series of moves. It is thrilling to watch and hear all that syncopated tap dance. Benton is a dream of a dancer, making Boyd's choreography look like a walk in the park.
This show is awash in terrific, big dance numbers. There's the shadow waltz where characters dance with shadows and huge fans. Huge numbers on big stairs in front of a train station. There's a gorgeous, sophisticated gentleman's number deeply evocative of Michael Bennett's "A Chorus Line," and a lovely lady number evocative of Las Vegas chorus lines.
A hysterical bride and groom bit is set in a sleeper car. And oh my, the big "We're in the Money" number, where gold glad dancers, complete with gold tap shoes, dance atop huge "dime" platforms.
Not a penny has been spared on the production values which are excellently in tune with Cornell's impeccable scenic design and Yael Lubetsky's lighting design. Together, they dazzle when they should and pull back to support when they need to. Add to all that a dazzling array of exquisite costumes designed by Stefanie Genda. These are plentiful and sumptuous and work in perfect harmony with Kurt Algers' wigs.
The pit orchestra, which numbers a dozen musicians, does a mountain of work. With help from sound designer Craig Beyrooti, they sound much bigger than they are. However, it would be such a treat to get a full-sized pit orchestra supporting these big shows at Riverside. Even the character Julian Marsh sides with that argument (in a way) when he alludes to the "25 musicians in that pit."
Riverside Theatre spent nearly $2.3 million on this production. That hearkens to its 2010 production for which it spent $1.25 million, making it the theater's first really big budget show.
These lavish and beautifully wrought productions are a result of Cornell's guidance to create a "patron producer program" where individuals contribute an extra donation earmarked to be used specifically toward show costs. There were 16 households that participated in the patron producer program in 2010. This year, 98 households donated.
Those numbers are revealed in every detail of this deluxe production. Go see it.
"42nd Street" runs through April 30 at Riverside Theatre, 3250 Riverside Park Dr., Vero Beach. Tickets start at $45. Performances are 7:30 p.m. Tuesdays, Wednesdays and Thursdays, 8 p.m. Fridays and Saturdays, and 2 p.m. on Wednesdays, select Thursdays, Saturdays and Sundays. Call 772-231-6990 or visit RiversideTheatre.com.
Photos provided