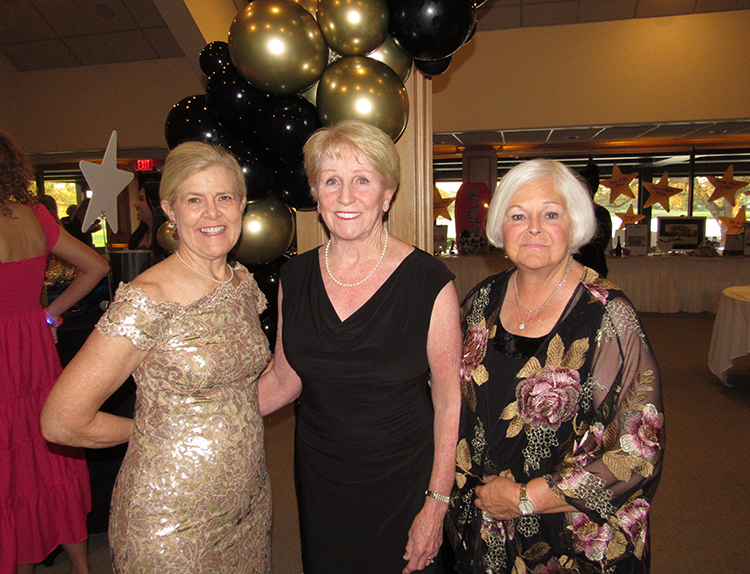 Supporters of the Hope for Families Center enjoyed a real showstopper with its recent fundraising dinner – An Evening on Broadway – at the Bent Pine Golf Club.
Co-chairs Barbara Rigby, Millie Young and Lee Albro and their hardworking committee enlisted help from students at Indian River Charter High School, who came specially dressed for the occasion in costumed attire. There was Broadway-style entertainment by vocalist Natalie Palmer, a huge assortment of auction items and the always popular Mystery Box raffle, and Chef Brian Jones and his staff put the icing on the cake with a delicious gourmet dinner.
Despite the glitz and glamour of the evening, the overreaching goal was to raise funds to support the families attempting to regain control of their lives through the Hope for Families Center, the largest homeless shelter for families on the Treasure Coast. In addition to shelter, families receive supportive services to assist them in transitioning from homelessness to sustainable permanent housing.
"Culture, connection and cultivation is an important part of HFC and moving families forward in breaking the cycle of homelessness," said Marty Mercado, HFC executive director.
"We have created a culture of supportive case management that meets our families as they walk through the door of the shelter. We work with the families on financial education, education for children, medical support, mental health support, three meals a day and security."
The connection part of the puzzle includes collaborating with other local nonprofits.
"Working with United Against Poverty helps residents to find more than just a job. It gives them the training and opportunity to find a career. Habitat for Humanity helps families understand the opportunity of homeownership. This connection with the community gives our residents resources for when they leave us," said Mercado.
"Finally, this cultivation helps families to become independent, thriving families that drive community."
A video presentation showcased the journey of a mother and her three daughters, who, as one girl described it, had gone "from house to house to house, and then hotels, just back and forth, back and forth."
The mother said they had been to every hotel in Vero Beach, including some she was reluctant to take her children to.
"We had a lot and then we lost everything. Bad choices. There was addiction involved, there was a motorcycle accident, it just was one thing after another," she said.
"Living paycheck to paycheck, hotel to hotel is no way, especially when you have kids. It's hard as a parent to see them upset and not wanting to really talk much about it."
After speaking of the embarrassment of the school bus picking them up in front of motels, one girl said, "I didn't really have much hope for anything."
Their situation changed completely after finding HFC.
"It was like we came here, and everything just fell into place; it's getting back into a routine," the mother said. "You just feel like you're alone and this is never going to change, but that changed coming here."
Today, her children are in daycare or in school, she has a good job and the family has moved into their own home, which she said was exciting for all of them.
"We were able to accomplish a lot. And again, it may not seem like that much, but to us it was huge," she said.
For more information, visit HopeForFamiliesCenter.org.
Photos by Mary Schenkel