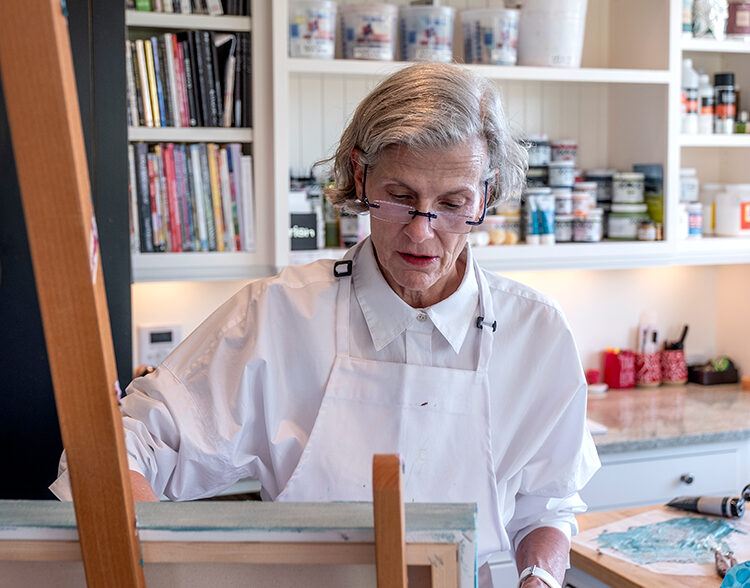 Creative expression and visual beauty have been lifelong passions for Vero Beach artist Reggie McCormack, whose studio offers an all-encompassing view of an extraordinary woman, one who creates beauty in everything she touches.
A self-described mixed-media abstract artist, her range is eclectic, and includes acrylics, oils, pastels, wax and collages.
Another favorite is encaustics, an ancient art form where oil paint is mixed with beeswax and then torched, a technique that creates multiple layers with rich depth and texture.
"I love mixed media," says McCormack. "It allows so much freedom to create a lot of interesting layers which evoke much emotion."
McCormack says she signs her work on the back, so as to not interrupt the flow of the eye and, not wanting to influence what the viewer sees, does not name her abstracts.
"Abstract art can be appreciated on many levels, considering the use of color, shape, texture, line and how these relate to one another," she explains.
"Moving in and out of a painting and connecting on a deeper level often is related to our life experiences and where we are on our journey."
She says her creativity and love of art stems from her artistic mother, who was always working on some sort of creative project. As a child growing up on the New Jersey coast, she followed suit, drawing and doodling, and dreaming of becoming an artist.
"I'm just so passionate about creating. It's in my blood. I've always felt like this. In my late
teens, it was just pouring out of me. Through all of these careers, decades in my life, they were all creative," says McCormack.
She has drawn influence from many artists, such as Picasso, for his genius in continually changing and experimenting with his art; Matisse, for his use of color and shapes; and Andy Warhol, for his pop art and graphic-like painting. She was also inspired by a quote by Maya Angelou: "Everyone born comes from the Creator trailing wisps of glory. We come from the Creator with creativity. I think each one of us is born with creativity."
Her current works are a culmination of those years of creativity and the wonderful gift she has been given.
"I am humbled by it. My love for God, my family and home ignites me and brings me great joy," says McCormack. "This joy fills my life and my studio and is mirrored in my paintings."
McCormack and husband Steve moved from Duxbury, Mass., to Vero Beach several years ago, where her artistic journey continues to evolve. Moved by nature's exquisite hues and the beauty of her surroundings, she seeks to transpose the richness of the elements onto a canvas.
"I feel we need to be happy and joyful in this world we are living in. I look at so much art that is sad, dark and depressing. Creating positive, happy art, I am sharing my joy."
She believes that while everyone has difficulties in life, if they are able to work through them, they will find love, light and beauty.
"If you don't get through the muck, that's your lens for life; you don't see clearly, you don't appreciate it," she explains.
McCormack graduated with a B.A. in English from Monmouth University in New Jersey, where she also studied studio art and art history, and spent many hours throwing on the wheel and hand building in clay.
Afterward, she spent 10 rewarding years as the in-house stylist for designer Liz Claiborne, and ran Claiborne's fashion office, producing press shows and photo shoots, and traveling with the designer.
That experience influenced her creation of fashion collages, using designer names coupled with photos of women and exciting places, and various textures. When her daughter Liz was growing up, she enjoyed working on the collages as well.
"We collaged every box we could get our hands on and just loved the process of cutting, pasting and creating together."
To add additional skills to her repertoire, she earned an associate degree in interior architecture and design at the School of Visual Arts in New York City. For the next 35 years, she ran her own company designing residential interiors, with a specialization in historic restoration in and around Boston. As with her artwork, she would approach each room differently, but they all had a thread that connected them.
While she has continued working on special projects in the design field, her main passion is her artwork.
"Every day is a different experience in the studio, connecting, letting go and loving the process, along with exploring, learning and moving beyond existing boundaries. It's a continual and exciting journey while painting from my heart and soul," she says.
McCormack is very involved with an online arts community called Art2Life, based in Marin, Calif., that involves artists from around the world, painting in a variety of styles and mediums.
"It's a wonderful way of seeing what other artists are creating and to continue learning and growing. I love keeping my finger on the pulse of the design and art world. It's such an exciting journey," she says.
McCormack describes the textures and layers in her work as reflective of those of our own life's experiences, which is what people see in art.
Quoting Vincent Van Gogh, she says, "'Paintings have a life of their own that derives from the painter's soul.' That's why it's so exciting for me. I am pulling in all of these multi-faceted pieces in my art. I am learning so much about myself and the eclecticism of all of this work, and it all marries. It just works."
Photos by Joshua Kodis