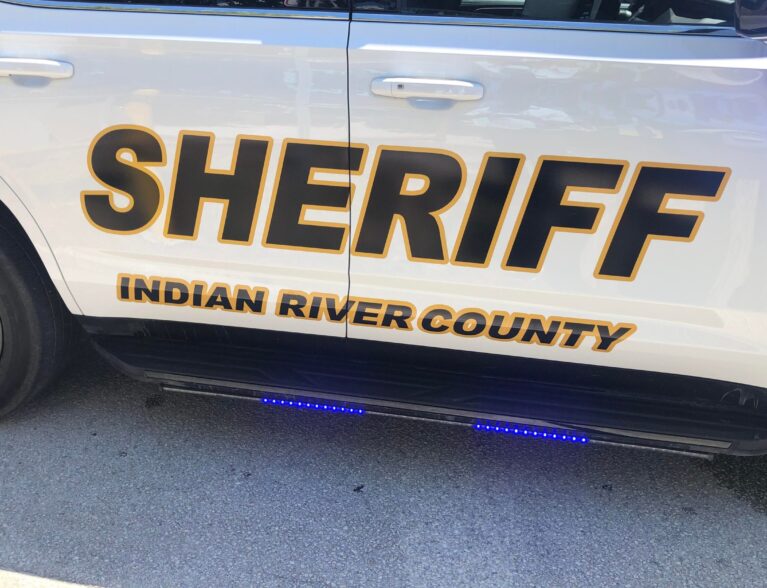 INDIAN RIVER COUNTY — A man was jailed after deputies said he crashed into a sheriff's patrol car and later caused a multi-vehicle wreck – leaving one driver seriously hurt – following a police chase Thursday. The collision involving the other vehicles happened moments later in front of Sebastian River High School, reports show.
"At the time of the crash, it was noted that Sebastian River High School was preparing for afternoon sporting events with a high volume of traffic and students along 90th Avenue," an Indian River County sheriff's deputy said in the arrest report. "The driver when taken into custody showed no remorse for his behavior and was laughing numerous times while emergency medical services was tending to other drivers."
Richard C. Harris told deputies, "that's all you got" when he was detained and notified of his charges, reports show. The driver who was injured, a man, remained at Health First's Holmes Regional Medical Center in Melbourne Friday, sheriff's officials said.
The deputy – whose vehicle Harris crashed into head-on – was not hurt, sheriff's spokesperson Kevin Jaworski said.
Harris, 20, of Fort Lauderdale, was charged with reckless driving with serious bodily injury, reckless driving, no valid driver's license, leaving the scene of an accident with property damage, aggravated fleeing and eluding and two counts of auto burglary. Harris was held Friday at the Indian River County Jail on $535,000 bond.
The incident unfolded at 3:21 p.m. Thursday when deputies responded to reports of an auto burglary at the Intergenerational Recreation Center parking lot off Oslo Road. Deputies learned one of the suspects, Harris, drove away from the area in a white two-door BMW.
The center's surveillance footage showed three individuals trying to break into about 30 vehicles in a 10-minute period in the parking lot, reports show. Deputies spoke with the victims – who were not present during the attempted burglaries – and said it did not appear that any items were taken from inside the vehicles.
A sheriff's Flock Safety License Plate Reading Camera later captured the BMW headed west on County Road 510. A deputy on patrol spotted the vehicle's driver, Harris, backing into a parking space near the baseball fields along Tulip Drive and Barber Street, reports show.
The deputy tried to position his vehicle and speak with Harris when Harris put the BMW into drive and accelerated, striking the patrol car, reports show. Harris then drove out of the parking lot and into a residential neighborhood.
The deputy followed behind Harris and attempted to conduct a traffic stop, but Harris continued driving, officials said. The deputy stopped the pursuit and allowed a sheriff's helicopter to track the vehicle after the BMW veered onto a sidewalk, nearly striking a pedestrian, reports show.
"(Harris) showed a complete disregard for the safety of motor vehicles while attempting to elude (the deputy)," sheriff's officials said. "(Harris) continued to ignore traffic laws by leaving the roadway, driving at high speeds in excess of 90 mph and weaving through traffic while no longer being actively pursued."
Deputies said Harris drove southbound on 90th Avenue.
Harris tried to abruptly make a U-turn from a turning lane in front of Sebastian River High School, deputies said. A car behind the BMW struck the vehicle, pushing the BMW into a truck that was stopped on the side of the road.
"(Harris) went off the roadway to the right. The car behind him continued forward," Jaworski said, describing how Harris' actions caused the multi-vehicle wreck. "Then (Harris) pulled out in front of the car while trying to make a U-turn."
Deputies arrested Harris and booked him into the county jail. Harris has an arraignment at 8:45 a.m. April 27, court records show.