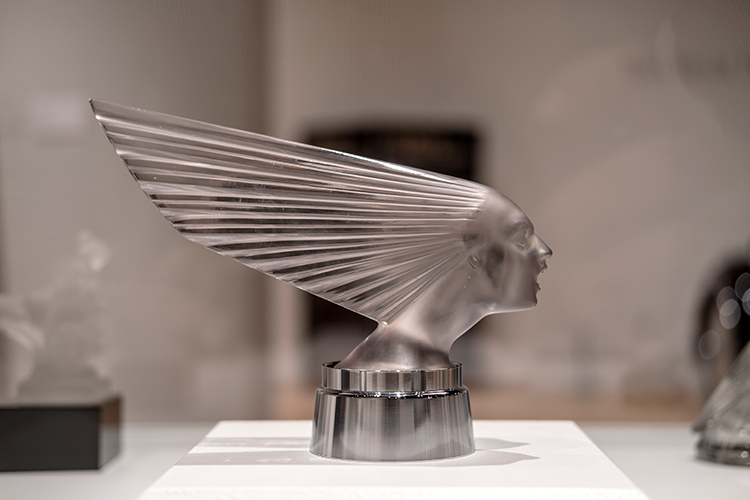 Opulence and innovation are on display at the Vero Beach Museum of Art in Rolling Sculpture: Streamlined Art Deco Automobiles and Motorcycles, featuring 22 rare automobiles and two motorcycles, most from the 1930s, on loan from private collectors and museums through April 30.
"The show is unique to Vero Beach. This is not copied anywhere, and it won't go anywhere else.
The cars just go back to the owners all over the country," says VBMA curator Anke Van Wagenberg.
Guest curator Ken Gross, former director of the Petersen Automotive Museum, says back in 1951, curator Arthur Drexler first referred to the cars as "hollow rolling sculpture" at a show at the Museum of Modern Art.
Gross shared his knowledge of the showstoppers, starting with the 1937 Delahaye 135MS, a sensuous roadster with Hermès leather interior, produced by Figoni and Falaschi for the 1937 Paris Auto Salon. Like others of the era, it was designed to appear in motion, even when standing still.
"This particular car, I think, is one of the stars of the show. There may be 11 of these and they're all hand built. It took a team of artisans about 2,100 hours to just build the aluminum body of this car," says Gross.
"It has a number of innovative ideas, besides its dramatic styling. Basically, these were an expression of taste and obviously means."
William Stout had better luck with his aircraft designs than his unusual 1936 Stout Scarab, which he envisioned as the car of the future.
"He was absolutely right, but he was 50 years ahead of his time," says Gross, likening it to today's minivan.
The 1933 Pierce Arrow Silver Arrow, one of five, competed in the Car of Tomorrow contest at the Chicago Century of Progress.
"This, for 1933, was extremely radical and streamlined. Pierce Arrow loved putting its headlights in the fenders. In this case they ran that line all the way to the rear, so it's really a dramatic looking car. With many of the cars here, functionality takes second place to style, elegance and drama."
The innovative 1938 Tatra T77a was one of the first cars tested in a wind tunnel.
"It has a kind of a dorsal fin to stabilize at 100 miles an hour on an autobahn. This is a magnificent beast," says Gross.
"Another favorite is this 1938 Talbot-Lago. They built 12 of these Teardrop Coupes in this New York style. They may look beautiful, but it's got muscle to it. You see this teardrop theme everywhere. Figoni and others thought that the teardrop was the perfect romantic form of this era."
Ettore Bugatti only built some 12,000 cars "but they were glorious," says Gross. The elegant 1929 Bugatti Type 46 Semi-Profile, designed by his son Jean, boasts an elephant hide interior.
"Not unusual for Bugatti and not unusual for that era."
Rust Heinz, of the Heinz 57 family, developed the 1938 Phantom Corsair as a prototype. It appeared as the Flying Wombat in "The Young at Heart" with Douglas Fairbanks Jr.
"There wasn't anything like it at the time and there really hasn't been anything like it since. It's just such a wonderful, sensuous bundle of a car. Sadly, he was killed in an automobile accident [at age 25], not in this car," says Gross. "Who knows what might have happened if he hadn't perished."
The 1938 Panhard & Levassor Type X81 Dynamic Sedan, one of three, offered perfect peripheral vision and the choice of steering wheels on the left, right or center.
"It's like an exercise in deco. Just all the elegance. I see something new every time I see it."
Gross says Chrysler was ahead of its time with its 1941 Chrysler Thunderbolt – no grill, a disappearing metal top, and headlights behind doors. The war halted its development, but some design cues appeared in post-war Chryslers.
Harley Earl developed a whole new look for General Motors with the 1938 Buick Y-Job Roadster.
"Earl wanted cars that were exciting, and after this car was developed, General Motors used a number of these cues. It doesn't look low to our eyes, but these little 14-inch wheels were long before anyone did anything like that."
Of the 1934 Packard Twelve Model 1106, one of four, Gross says, "This, to me, is just a wonderful, handsome car. Someone spent a lot of time crafting this to make a statement."
Interestingly, the car has had three owners. The couple who owned it 42 years ago now live in Stuart, and attended the recent VBMA Gala, excited to see it for the first time in four decades.
The 1930 Ruxton Model C Sedan, one of the first front-wheel drive cars built in America, has a reversed three-speed transaxle. It allowed a lower silhouette, dramatized by no running boards, and an unusual, graded color scheme.
The remarkably aerodynamic 1938 Hispano-Suiza H6B "Xenia," one of one, was created by aircraft designer Jean Andreau and commissioned by World War I fighter ace Andre Dubonnet, of the aperitif family.
With its panoramic windshield, curved glass windows and cantilevered doors, "it really looks like an airplane. When you rolled up in this car, you were somebody special."
The car was thought lost when the Germans invaded France in World War II and appropriated valuables, but it had been hidden. It reappeared at a 1946 auto show, to the delight of the populace.
The 1937 Mercedes-Benz 540K Special Roadster was one of about 20, most owned by Nazi bigwigs.
"This car is all about arrogance. It's got horns that could be perfectly suited for a diesel train. Only the very, very wealthy had cars like this," says Gross. It also has a shortwave radio, with preset dials to European cities.
This car, however, was owned by a lady who escaped the Nazis twice with her brother, mother and the car, first to France and when that was invaded to America. Decades later, she put the car in storage and returned to Europe, dying there with little money. The car was sold to pay the storage.
"To me it's very touching that she kept the car all that time. It was one of her joys and that's why she kept it," says Gross.
The public called the 1939 Graham Combination Coupe the "Shark Nose," because of its severely angled grill. Despite its wonderful design and conservative price, it was too outré and didn't sell well.
A wealthy, intrepid flyer and aircraft designer, Gabriel Voisin used aircraft principals in his 1934 Voisin Type C27 Aerosport.
"He wanted to make his own statement, so his cars look like nothing else. I think they're fabulous looking."
Built as a medium-priced car, the 1937 Lincoln-Zephyr Coupe literally saved the company.
"Lincoln was slowly collapsing because the cars were considered just too expensive and not exciting enough. The car itself is wonderful. It's got curves and angles in a very pleasing way."
Built across town from one another, the 1934 Chrysler Imperial Model CV Airflow Coupe and 1934 Bendix SWC Sedan did not fare as well.
"The two designers didn't communicate, didn't know one another, and yet there's some remarkable similarities," says Gross. Among them, unfortunately, was little interest.
Weighing in at almost 3.5 tons, Gross calls the singular 1925/1934 Rolls-Royce Phantom Aerodynamic Coupe the ultimate Rolls Royce (chassis and engine 1925/body 1934).
"This is a very unusual car, even for a Rolls Royce. The car just makes a statement."
Initially made for a wealthy American woman who never took possession, a Belgium coachbuilder built the dramatic "round door" body.
Amazingly, the magnificent car was found in a New Jersey junkyard, abandoned. Gross says a great number of cars went to the scrapyard during WWII, recycled for their aluminum, steel and rubber.
A catalog produced by Gross is available in the gift shop. For more information, visit VBMuseum.org.
Photos by Joshua Kodis