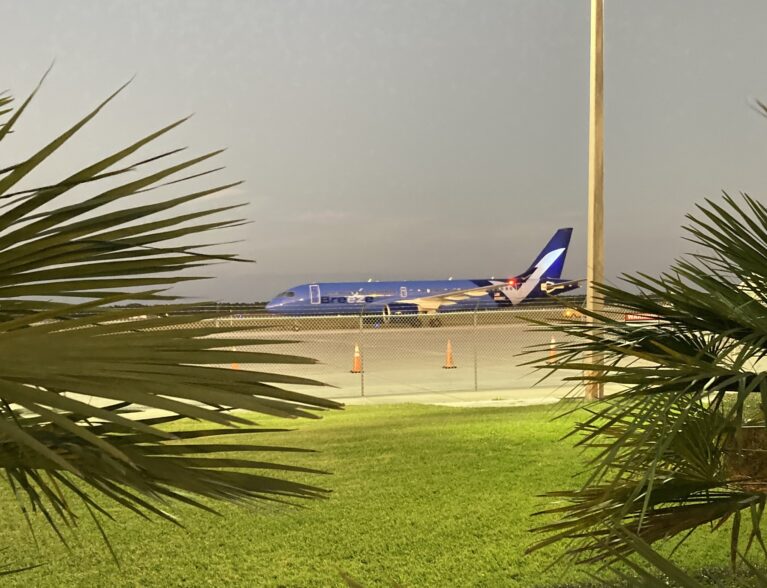 VERO BEACH – Although the official inauguration of the Breeze Airways regular passenger service to the Northeast wasn't scheduled until Friday afternoon, the first Breeze Airbus jet carrying some 120 passengers from Hartford, Connecticut, actually touched down at the Vero Beach Regional Airport around 6:15 p.m. at dusk Thursday.
The plane turned right around and left back to Bradley Field, the international airport serving the Hartford and Springfield, Massachusetts, metropolitan areas, about 45 minutes later with the first outbound passengers from Vero Beach.
No dignitaries were on hand for Breeze's first arrival in Vero Beach, but Vicki Matteson, member services manager of the Indian River County Chamber of Commerce, was present to greet arriving passengers and present each with a "goodie bag" containing a Vero Beach map and a Chamber of Commerce tourism guide.
"We're so excited to have passenger airline service back for Vero Beach," Matteson said. "I'll be here tomorrow again for the official inauguration doing the same thing."
On Friday afternoon, the inauguration celebration will start at 3:30 p.m. at the airport. One of Breeze's slightly smaller Embraer Brazilian-made jets is expected to arrive at Vero Beach Regional Airport from Westchester County in the northern suburbs of New York City at 4:15 p.m. to leave again for Westchester with a connection to Norfolk about a half-hour later.
The first passengers off the plane from Hartford all said the trip from the Northeast had been "a great flight." Most were heavily bundled up from the cold weather they left behind up North and immediately felt Vero's 80-degree warmth envelop them, causing them to shred layers of clothes.
"Nice plane," said one man who traveled in first class. "And it's great to be able to come to Vero Beach directly instead of having to fly to Orlando and deal with all the parking hassles there."
All praised the airline's staff – the airline wants to be "nicest" airline in the sky – and the on-time departures and arrivals.
The daughter of a retired schoolteacher coming to visit her father in Vero Beach traveled first class for the first time in her life on the incoming Breeze flight. "This is fantastic," her father said. "What the heck! We're celebrating."