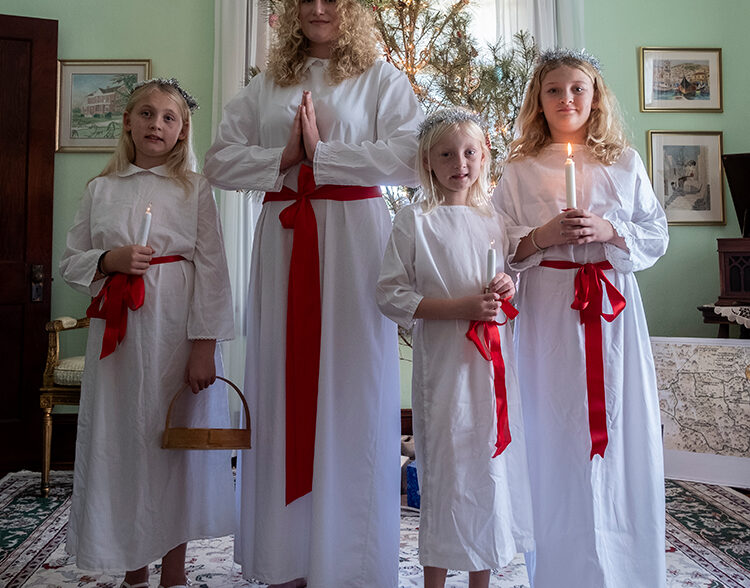 The Indian River County Historical Society brought light to the world at the start of the Christmas season during its annual Fika and St. Lucia Holiday Celebration at the historic Hallstrom House. The Swedish festival of lights is celebrated widely in Norway, Sweden and Denmark in honor of St. Lucia, a young girl who was martyred in 304.
The event builds upon the heritage of Axel Hallstrom, the Swedish immigrant who built the historic house in 1909 and planted a pineapple plantation on his homestead.
The century-old property was bequeathed by his daughter Ruth to the Historical Society in 1999, who restored it to its former glory, making it the perfect setting for the celebration. The house and farmstead are listed on the National Register of Historic Places.
Attendees of the St. Lucia celebration had the opportunity to take a walk back in time while awaiting the start of the festivities, viewing a collection of the family's photographs, documents, clothes, furniture and memorabilia which have been lovingly preserved and are displayed in the home.
During Fika, people make time to share a cup of coffee and have something to eat with friends, and guests at the event were able to participate in that aspect of Scandinavian culture, nibbling on traditional holiday treats while gathered on the patio outside the carriage house.
Scandinavian Christmas decorations made of straw adorned the sand pine Christmas tree in the home's parlor, the same type of tree that early pioneers used for their own holiday celebrations. The sand pine grows along the Sand Ridge, which runs along the coast not far from the Hallstrom House.
In a longstanding family tradition, Mollie McCain, posing as St. Lucia, descended the stairs of the Hallstrom House wearing a wreath of lingonberry branches with seven lighted candles upon her head, followed by a procession of handmaidens.
The Hallstrom House is open for tours from 1 p.m. to 4 p.m. Tuesday through Thursday. For more information, visit IRCHistorical.org.
Photos by Joshua Kodis