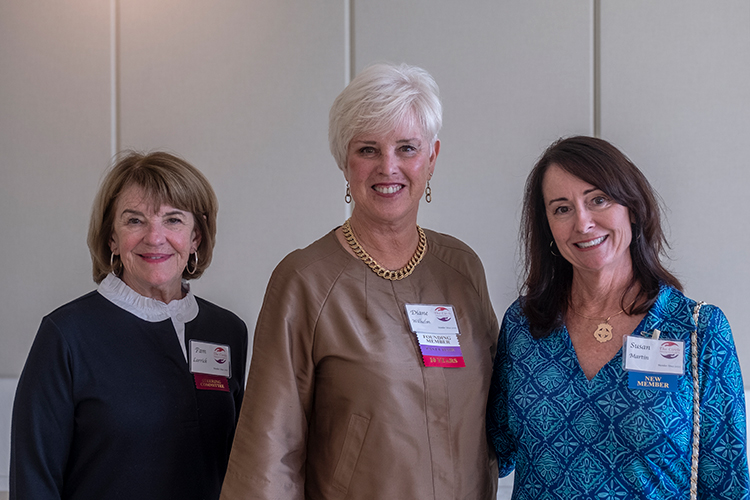 The ladies of the Circle, a philanthropic group of women whose contributions help fund the community enrichment initiatives of the Vero Beach Museum of Art, kicked off their season with a reception held in the Bill and Laura Buck Atrium. Circle members contribute a minimum of $325 annually and vote to determine which programs will be funded.
Welcoming everyone, Susie Kintner, Circle co-chair with Trudy Powers Hoffman, provided a glimpse of their five-year plan, goals and vision.
"Our overall strategy is to preserve the specialness of this Circle. We love that we're all together, we love that we know each other's names, and we love that we care about each other. And then we want to grow our membership as well. We have a long goal. At the end of the five years, we're hoping to raise $100,000, and that's going to take increased membership as we go along," said Kintner.
"Key to this will be tapping into the personal passions that you all have for each of the programs here at the museum, and your special talents that can be applied to support our programs."
Robyn Orzel, development director/associate executive director, presented an overview of the programs under consideration for funding.
"The Circle has the greatest impact on the sustainability and growth of our education programs over the past 13 years. You have collectively gifted over $416,000 in 13 years. That's amazing," said Orzel.
"You continue to invest in the museum and the arts, and the impact that you have is immeasurable."
She said that while COVID is not completely behind us, most everyone has embraced returning to live participation with a renewed energy.
"There's something to be said about seeing smiling young faces and hearing their laughter as they create their own works of art, and I have to say, this was missing for far too long."
She said last year, the Circle voted to fund the Alzheimer and Parkinson Association Partnership, which includes Music and Movement in the Moment and Artful Engagement; and to partially fund Museum Explorations, which provides museum tours, art kits and engagement opportunities to students. Additionally, the Pre-K at the VBMA program, targeting students at local Title 1 schools, was funded by an anonymous Circle member.
Other initiatives under consideration are a grouping of family-oriented programs including the Children's Art Festival and Holidays at the Museum, and an expanded version of the Veterans' Art Class program.
They want to expand Museum Explorations, a relationship with the school district, to include transportation and a full day of professional development for 1,500 teachers, and offer Museum Explorations on the Go at the annual Steam Fest at the IG Center. They would like to hire additional employees to fully staff the Children's Art Zone and to enhance its current interactives and wish to expand the A-Plus Art program for special needs children and adults.
New proposals include a weekly Gallery and Studio program for home school students and their parents, and offering greater opportunities to address overall diversity, inclusivity and accessibility, regardless of socioeconomic barriers.
"Again, you're going to be hearing more details about these programs in January when the education staff presents to you. We want to thank you again for your generosity and your commitment to the museum and to the arts in Indian River County," said Orzel.
For more information, visit VBMuseum.org.
Photos by Joshua Kodis