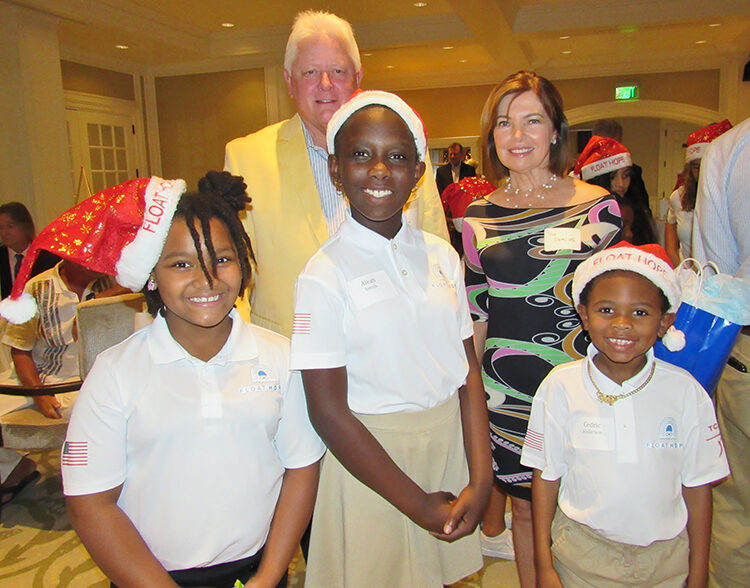 Wearing Christmas hats and ear-to-ear grins, young participants in Float Hope of Indian River County marched with confidence into the large dining room of the John's Island Club where they greeted and thanked their benefactors.
Float Hope is a nonprofit founded by Jeffrey Powers, CEO, to give children from low-income families free swimming lessons. Of the 150 children currently in the program, 100 are from the Boys and Girls Club and 50 are from the Gifford Youth Achievement Center. With rare exceptions, none previously knew how to swim.
As guests enjoyed cocktails and passed hors d'oeuvres, they watched a video montage of the swimmers at swim meets, swim practices and a Halloween parade, so that they might get a better feel for the program.
"We started seven years ago, and we've taught about 3,000 kids how to swim," said Powers, explaining that students range from about age 6 to 14.
Float Hope head coaches Scott Barlow and Holly McClain also coach the Treasure Coast Swim Team (a USA swim team), and, respectively, the teams at Sebastian River High School and Vero Beach High School.
Powers says their goal is not to create great swimmers, although that's a plus, but rather to give the gift of swimming to children as a life skill. The sport can also open them up to a wider group of friends, give them a greater sense of confidence at school and, if they stick with it, college scholarship opportunities.
Pointing to the bright and bubbly youngsters roaming the room, Powers said, "When these kids first came to me, they didn't know how to swim, they looked down at their shoes, they were afraid to have a conversation. Half of these kids swam this year for the first time."
Last summer, to reach even more children, they created a Minnows Swim program, where they taught an additional 100 children with 12 instructors. About half have stayed with the program.
"If we can get better funding, next summer I'd like to do 500 kids," said Powers. "Each year the clubs get new kids and none of them know how to swim."
Florida ranks among the top five states in the nation in terms of death by drowning, roughly half of those children.
"It's a very sad statistic. If you were to go around the county, you'll find 95 percent of the kids don't know how to swim," Powers said. "And the county does nothing about it."
Float Hope trains students at the North County Aquatic Center and the Gifford Aquatic Center, and Powers said his long-term goal is to lobby for an even larger pool in South County, for people who can't access the others.
Additionally, he would like to see the school district make swimming a requirement in grade school and an intramural sport in middle and high school.
A new Senate Bill 1028 "requires public schools to provide parents with information on the important role water safety education courses and swimming lessons play in saving lives," and to post where water safety courses and swimming lessons are available. Options on the SDIRC site are limited at best.
"Nobody is doing anything about it," said Powers. "This is all grassroots. I can count my lucky stars that the John's Island community and a small community outside the gates has made it happen."
For more information, visit FloatHopeNow.org.
Photos by Mary Schenkel