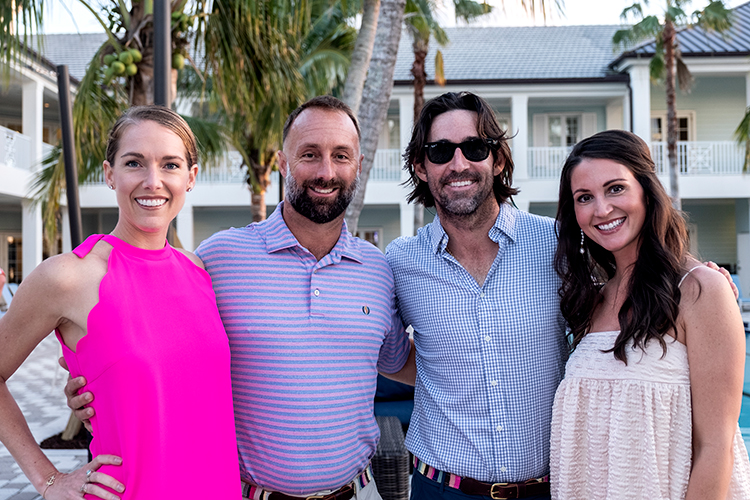 There's no place like home, according to country music star Jake Owen, who returned to his hometown of Vero Beach to host his 12th annual Flamingo Weekend. Once again, he brought some of his country music friends to join him in raising money for the Jake Owen Foundation.
Proceeds from each of the weekend's events will provide financial assistance to youth organizations and charities in Indian River County and, nationwide, through the St. Jude Children's Research Hospital in Memphis, for children battling cancer and other childhood diseases.
"I've been on the road a lot this year and this is a great way to end it all," said Owen.
"Arriving here this week after spending Thanksgiving with my family and celebrating my granddaddy's 100th birthday, and then seeing my friends and supporters at the golfers' reception at Quail Valley River Club, I realized that my whole family, my lifelong friends, my whole life, is right here in Vero Beach."
The Flamingo Jam held at the Corporate Air Hangar was the highlight of the Flamingo Weekend.
Fans from all around the country came to hear Owen and his friends sing their hearts out for charity. This year Owen, who introduced each guest with heartfelt accolades and tributes before they performed, brought along former Alabama lead singer Randy Owen, fellow country icon Tracy Lawrence and tour mate Travis Denning, an Opry NextStage recipient, to perform with him.
Owen wowed his rapt audience with a few of his favorite hits and, of course, brought the hometown crowd to its feet with "Beachin'," written about our own Vero Beach.
"This man, Randy Owen, has raised over $1 billion – yes, I said $1 billion – for St. Jude Children's Hospital," Jake Owen exclaimed, before Randy kept the crowd dancing and swaying to "Mountain Music" and ''Feels so Right."
PGA pro golfer John Daly, better known for his tournament titles than his singing prowess, proved he is a master at both after joining Jake on stage to close out the show.
"When I moved to Nashville, I didn't know that I would do anything other than sing songs and play my guitar," said Owen.
"I didn't know that I would be given a voice to raise awareness, much less round up people like y'all. Now I know that if there is anything I'm good at, it's bringing people together. I'm so happy to see everyone here, the entertainers, the golfers, the fans and the whole community giving back to those in need," he added.
"I've been so lucky. My music career has been great, but my biggest joys in life are raising my two daughters and giving back to others through the Jake Owen Foundation. What kind of person you are and what you do with your life is what really matters."
In addition to the Flamingo Jam, Owen and his golfing buddies had teed off to play in the Flamingo Golf Classic at Quail Valley Golf Club. Some of the brightest rising talent in Nashville were introduced during a Flamingo Songwriter Series held at Waldos and the Vero Beach Hotel and Spa, and a Flamingo Fishing Classic on Sunday at Riverside Café closed things out.
The Jake Owen Foundation, established in 2010, is committed to helping people in the places they call home, raising nearly $5 million for charitable causes and other nonprofit organizations to date.
Funding is primarily generated though the Jake Owen Benefit Concert, Songwriters Showcase and Flamingo Golf Classic held annually in Vero Beach.
Photos by Joshua Kodis and Brittany Norair