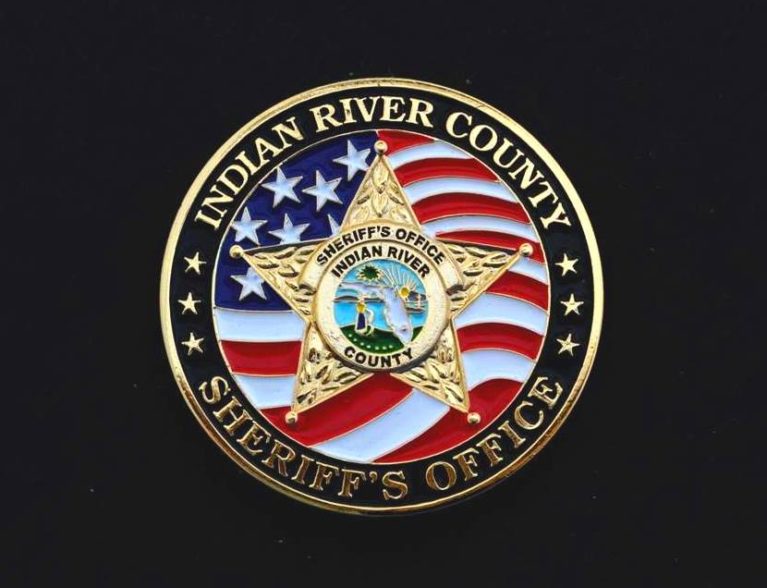 In most instances, there's nothing especially newsworthy about a sheriff's deputy stopping the driver of a car bearing a stolen license plate.
But when the driver that was pulled over turns out to be the sheriff?
That's venturing into man-bites-dog territory, which makes it worth at least a small headline – even if the sheriff was unknowingly the indirect victim of an out-of-town car thief who swapped tags with the auto he was driving.
And that appears to be what happened to Sheriff Eric Flowers on Nov. 25, when a deputy responded to a stolen-tag alert from one of the agency's automated license plate readers and pulled over his boss, who was driving his girlfriend's Hyundai Palisade south on State Road A1A, north of Indian River Shores.
In a video posted on the Sheriff's Office's Facebook page at 10:33 p.m. this past Friday, Flowers addressed the incident, albeit under the guise of giving an update on the license plate reader system he had installed along local roadways more than a year ago.
In fact, he cited his mid-afternoon, day-after-Thanksgiving traffic stop as an example of the system's effectiveness, saying in the video: "Folks, I know this all too well, because it even happened to me."
Flowers then went on to explain that he was returning from Black Friday shopping when he was stopped, and he was "shocked" to learn that the license plates on his girlfriend's SUV had been "switched out."
He said there had been 12 reported cases of license plates being stolen from cars and trailers locally in the past two months.
"Bad guys know that if they steal a vehicle, they also have to steal a replacement license plate to be able to get by our technology," Flowers said, warning that we all should regularly check our tags.
That's good advice.
Why, then, did he wait a week to offer it?
Why didn't he produce and post this video on Facebook with the same sense of urgency as he has done with his agency's happy news, such as those feel-good photographs of him handing out donated Thanksgiving turkeys, and participating in the Vero Beach Christmas Parade?
Was it mere coincidence this video went public two days after Vero Beach 32963 requested from the Sheriff's Office all public records related to the traffic stop – and less than 12 hours after Flowers and his agency spokesman were informed via email that the Indian River Shores Police Department, which also responded to the alert, had provided us with its report?
To be sure, Flowers doesn't appear to have done anything wrong in connection with the traffic stop.
According to the Sheriff's Office's case report, Flowers' girlfriend – her name was redacted under Florida's victim's-rights law – drove to St. Petersburg for a bachelorette party last month and, while there, her license plate was stolen and replaced with the plate from a car stolen in Pinellas County on Nov. 5 or 6.
She claimed in the report to have been unaware of the swap, and one of the responding deputies wrote that the license plate was "barely anchored into the frame."
After the Black Friday stop, Sheriff's Sgt. John Finnegan "escorted" Flowers and his girlfriend to her Vero Beach home, the report states, because deputies confiscated the stolen license plate at the scene.
I can only hope any of us, if put in the same situation, would receive the same accommodation.
Other than that, there's no reason to believe Flowers received preferential treatment or got away with anything. The deputies did their jobs.
Their boss, however, needlessly invited suspicion of this seemingly innocent traffic stop by not immediately addressing it.
Surely, someone as media savvy as Flowers, who served as his predecessor's public information officer for several years, should've known this unusual, deputy-stops-sheriff story would eventually get out.
You'd expect him to handle it better.
Instead, Flowers allowed rumors to spread – some began circulating as early as the following morning – and distrust to grow, especially when the case report on the traffic stop could not be found on the Sheriff's Office website.
Not only were the agency's Nov. 25 case reports posted under the Nov. 23 heading, but all three of the listings during the time frame when the traffic stop occurred were completely blacked out.
Why?
We don't know.
There might be a reasonable explanation, but Flowers didn't provide one. As usual, our sheriff again chose to ignore an opportunity to provide answers to 32963 readers.
So we're left to speculate.
Perhaps Flowers hoped nobody would notice, which would be incredibly naïve, given the sheriff's prominence in our community and presence on social media.
Or maybe Flowers didn't want to say anything because the SUV he was driving belonged to his girlfriend, and he didn't want to remind everyone that their relationship began as an extramarital affair for which he publicly apologized earlier this year.
It's also possible Flowers, elected in 2020, initially kept quiet because he's in the final month of what has been a brutal sophomore year in which his agency has endured controversial shootings, labor issues, internal turmoil and, of course, the affair that convinced his wife to file for divorce last summer.
But this one was a gimme.
All he needed to do was grab a camera and produce one of those happy-news, Facebook-page videos explaining exactly what happened, why it happened and what we can learn from his experience.
He also should've promptly listed the case report on the Sheriff's Office website.
If Flowers had managed this situation in the open and transparent manner we should expect from the county's top law enforcement officer, there would've been no questions, no doubt, no suspicion.
He could've treated us to a very human, "it even happened to me," man-bites-dog story to which we all could relate – and from which we all could learn.
We can only wonder why he didn't.