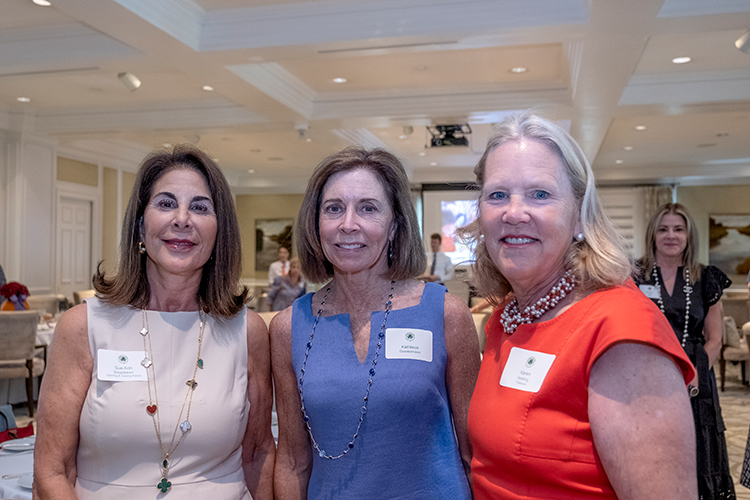 Looking forward to another successful season of philanthropy, members of the John's Island Community Service League gathered for their 43rd annual Fall Luncheon, chaired by Sue Ann Siegelbaum. This year's guest speaker was Carrie Lester, executive director of the Substance Awareness Center of Indian River County, which provides prevention and treatment programs for children and adults.
"It is so great to see so many happy faces and enthusiastic supporters of the John's Island Community Service League," said Karen Drury, JICSL president, in welcome.
Introducing Lester, Hope Woodhouse said JICSL has granted $480,000 over the past 22 years to support SAC youth prevention programs.
"Thank you for the continued funding that our organization has received from this fine group," said Lester, before sharing her own past addiction struggles and speaking about SAC's two primary initiatives.
Prevention Works strives to protect adolescent brains by deterring substance use through evidence-based programs, policies and strategies. Recovery Works provides treatment and recovery assistance programming.
Lester said JICSL helps fund the highly researched and effective Botvin LifeSkills Training program, which "casts a wide net of skills-building for kids" needed to navigate life, such as social, self-management and drug resistant skills.
For recovery, SAC offers a day program and partners with Treasure Coast Community Health to administer approved medications in combination with comprehensive counseling. They also disseminate free Narcan kits, an overdose reversal medication.
Although alcoholism is the No. 1 abuse substance locally among students and adults, she said fentanyl, manufactured in China and laced into most abuse substances now, is fueling overdoses.
"We're not big on scare tactics, but we wrapped a Go Line bus with a DEA initiative called One Pill Can Kill, because our kids are being marketed and attracted to these drugs," said Lester, advising everyone to learn how to recognize signs and symptoms and intervene early. "I say my job is to put us out of business, and I haven't quite mastered that one yet."
After thanking Lester for her eye-opening and informative talk, Drury said the most important component of the JICSL is its members, whose volunteerism, donations and participation in activities are the reasons it has been so successful.
Through the generosity of members and sponsors, she said the JICSL distributed $1,463,000 in grants to local nonprofit agencies and scholarships to John's Island Club employees and their children last year.
Drury explained that JICSL grants fund operating expenses and John's Island Foundation grants cover capital expenditures, in both cases for agencies focused on the health, education and human services affecting women, children and families in need.
Karen Keating, board treasurer, said it had been another record year of donations, with contributions collected via membership dues, fundraising events and the highly lucrative Tambourine Shop.
Of the $1,463,000, she said they awarded $1,186,000 in normal cycle grants to 38 local agencies, some $55,000 in scholarships, and $220,000 in strategic grants for off-cycle needs.
Grant co-chairs Ellen Kendall and Michelle Julian spoke about the energy and enthusiasm of the grant team members and financial advisors, who are reviewing applications from more than 40 agencies.
Julian said their grant process includes on-site visits, listening to presentations, reviewing financial documents and preparing recommendations, with grant amounts ultimately approved by the board and distributed by the end of April.
After hearing from many agencies of the need for volunteers, Julian said they compiled a Volunteer Handbook, which she advised everyone to review, adding, "A simple act of kindness could change one of our neighbor's lives forever."
Kendall spoke about a new Access to Justice collaborative project undertaken with the United Way, Clerk of the Court, local judiciary and Bar Association, that they expect to be implemented in early 2023.
In 2020, JICSL was the catalyst for the HEART (Housing Emergency Advocacy Response Team) program which provided pro bono legal services to county residents experiencing COVID-related housing issues, which exposed a need for greater access to legal services in underserved portions of the county.
"Collectively, we've determined that the best place to start is to develop legal self-help centers that will provide assistance with legal forms, filings and other legal support for self-represented litigants," said Kendall. The initial focus will be on simple wills, residential landlord tenant disputes, small claims and family law, including child custody, divorce, adoption and injunctive relief for domestic violence.
Closing out the luncheon, Drury mentioned the full calendar of events being planned to fundraise for another successful year and noted that the JICSL can even receive contributions as people shop through Amazon Smile.
Photos by Joshua Kodis