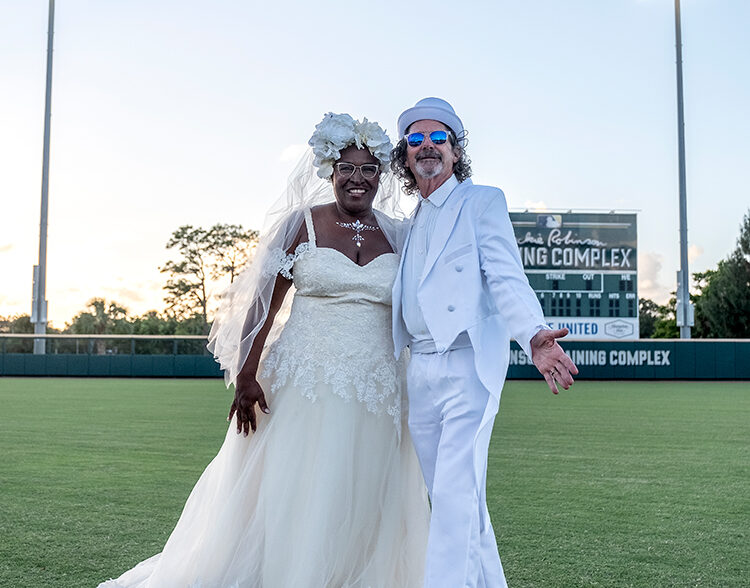 The bases were loaded at the Jackie Robinson Training Complex as guests at the Vero Beach Film Festival's Super Secret White Party took over the field. Rather than the crack of the bat from bygone days, it was the pop of champagne bottles that filled the air at this year's adventure.
Guests had been tasked with creating their own tablescape designs, and they clearly took their duties seriously. Elegantly laid tables were bedecked with baseballs, feathers, lights, flowers, candelabras and Christmas trees. After a mercifully brief shower, guests dined on picnics that included charcuterie platters and, with a nod to the old ballgame, hot dogs, peanuts and Cracker Jacks.
The attendees themselves were adorned in everything from wedding dresses and top hats to Dodger jerseys, their blanc-themed couture creating a stunning scene against the verdant green of the Holman Stadium infield, former home of the Dodgers spring training.
The evening was filled with a variety of entertainment to set the tone, including the screening of vintage film footage, music by Ray Adams and Cathi and Edmund Nalzaro, a Dean Martin impersonator and a visit from the Vocalitas, who were dressed as characters from the iconic film "A League of Their Own."
"We wanted to create a historical look at baseball, and where better to do it than the Jackie Robinson Training Complex," said David Yakir, VBFF executive director, who was thrilled with the "shutout" event, attended by 250 guests.
During the worst of a downpour later in the evening, everyone continued to celebrate in the dugouts. Later, when the rain subsided, people spilled back onto the field to dance the night away.
"Now that's a party!" said Yakir.
Proceeds will support the 2023 Vero Beach Film Festival, planned for June 7-11. Film submissions are currently being accepted.
Yakir said that planning is already underway, and that cinephiles can expect to see partnerships with arts organizations, including the Vero Beach Museum of Art and the Vero Beach Theatre Guild. Changes to the festival include an opening night gala where the Juried Award winners will be screened; a Filmmakers Day featuring classes, workshops, seminars and roundtables; and a film schedule that will enable attendees to see more films and interact with the filmmakers.
Yakir hopes to develop support by hosting events at local nonprofits, such as United Against Poverty and the Environmental Learning Center, to create awareness and raise funds.
Additionally, foreseeing continued growth of the Vero Beach Film Festival, he would like to create a long-term strategy to increase their financial base and obtain permanent office space.
For more information, visit VBFilmFest.org.
Photos by Joshua Kodis