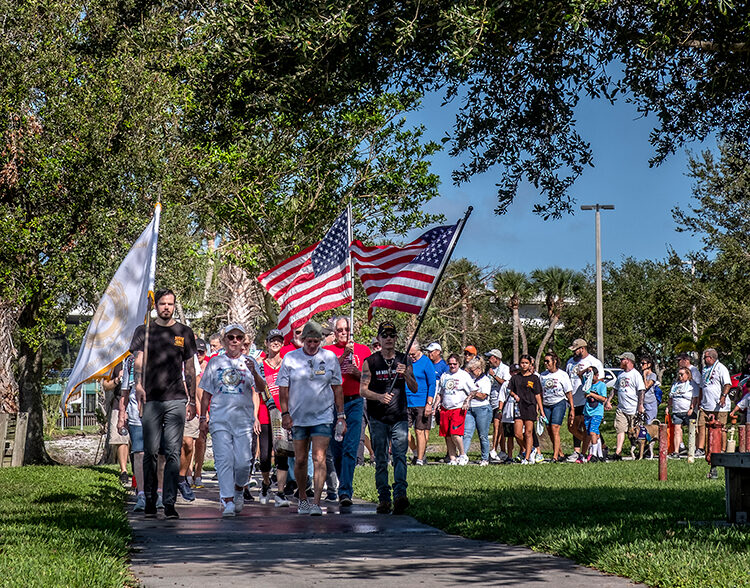 Intermittent sprinkles could not deter the spirits of the men and women who turned out for the fourth annual Walk-a-Thon for Military/Veteran Suicide Awareness at Riverside Park, presented by American Gold Star Mothers of Indian River County.
Proceeds benefited the programs and PTSD support groups offered by Dogs for Life, the Mental Health Association of Indian River County, and Next Generation Veterans of Indian River County which, with Gold Star Mothers, all support veterans and the issues they face, working to avoid the heartbreak of military suicide.
"We want people to be aware that there are 22 veterans who are dying by suicide a day in the United States. One a day is a tragedy, 22 is unacceptable," said Michelle Dale, president of Gold Star Mothers of Indian River County.
"We can't have that. And we are here to let them know that in Indian River County we have sessions at Dogs for Life and the Mental Health Association where veterans can go free of charge, no Social Security Number. They can go and they can talk, and they can share."
Dale pointed out that printed testimonials included in the informational bags they handed out had been written by individuals who had attended some of the PTSD sessions. The free sessions, group or one-on-one, are moderated by facilitators who are veterans themselves. "In one person's story, he said it actually saved his life. And that's what this is all about. Everything that we're doing is to save somebody's life. To let them know that we're behind them," said Dale.
Pointing to a colorful Indian River County Sheriff's Office vehicle, Dale said, "This is our PTSD truck."
The detailing, logos from assistance organizations, was funded by Gold Star Mothers, Next Gen and others to bring awareness to services available to anyone suffering from PTSD.
"We collaborated and we came up with this theme for the vehicle to represent our military and our first responders who suffer from this terrible disorder," said IRCSO Community Affairs Dep. Cliff Labbe.
Dogs For Life, which trains service dogs for veterans with hearing, mobility or PTSD issues, hosts PTSD support groups for male and female veterans and first responders, as well as Veteran Meet Ups. They also have a pet therapy program at the Vero Beach Police Department and are putting a school resource dog at Vero Beach Elementary through the Sheriff's department.
"There is no charge for anything if you're a veteran or first responder, and there is no charge for our service dog training for anyone with a disability," said DFL founder Shelly Ferger.
"What we're really doing is saving lives, both canine and human," said Kathi Schumann, DFL board treasurer.
In addition to its free walk-in centers, where no appointment is necessary, the Mental Health Association hosts Wednesday night meetups for veterans overseen by a registered social worker who is a veteran and former firefighter.
"Anybody can talk about whatever they want. If they want to talk about their mental health or want to ask for some help, they can," said Amy Wagner, MHA marketing director. "If they want to just sit there and hang out with their peers and eat pizza, they can do that too."
For more information, visit IRCGoldStarMoms.org, DogsForLifeVB.org, MHAIRC.org or NGVIRC.org.
A Veterans Resource Expo featured booths with information on a range of veterans' organizations and resources.
211 Helpline: Veterans/Crisis Line, 800-273-TALK (8255), veteran resources and counseling/mental health resources. 211TreasureCoast.org.
American Legion Post 39, American Legion Auxiliary, Sons of the American Legion and American Legion Riders: Supports veterans and the community. FloridaLegion.org.
Dale Sorensen Real Estate: HOME (Heroes on the Move) rebate program for first responders, active military, veterans and educators. Hero.SorensenRealEstate.com.
Homes for Heroes: Home buying payment assistance program for active military, veterans, first responders, healthcare professionals and teachers. HomesForHeroes.com.
Indian River County Veteran Service Office: Will prepare, file and appeal benefit claims at offices in Vero Beach and Sebastian. IRCgov.com/departments/general services/veterans services.
Marine Corps Toys for Tots: Collection boxes are at all IRC fire stations.
Military Officers of America Association: Fundraising for a World War II tribute on Veterans Memorial Island Sanctuary through Cultural-Council.org.
Next Generation Veterans of Indian River County: Mission-based social club with PTSD support groups and community activities. NGVIRC.org.
Veterans Council of Indian River County: Offers numerous outreach programs and transportation to the West Palm Beach VA facility. VeteransCIRC.com.
Vets Claims Plus: Assists with disability claims and appeals. VetsClaimsPlus.org.
Vietnam Veterans of America Chapter 1038: Assists veterans in need and funds scholarships. VVA.org.
Vietnam Veterans of Indian River County: Aids veterans in need, particularly the homeless, assists with benefit claims, and mentors individuals in the Veterans Treatment Court. VVIRC.org.
Wounded Waters: Takes veterans and first responders fishing and diving to help them with PTSD issues. WoundedWaters.org.
Wreaths Across America: Places wreaths on veteran graves. Starting 10 a.m., Dec. 17, at Crestlawn, Sebastian Municipal Cemetery and Veterans Memorial Island Sanctuary. Wreaths AcrossAmerica.org/pages/142500.
Photos by Joshua Kodis