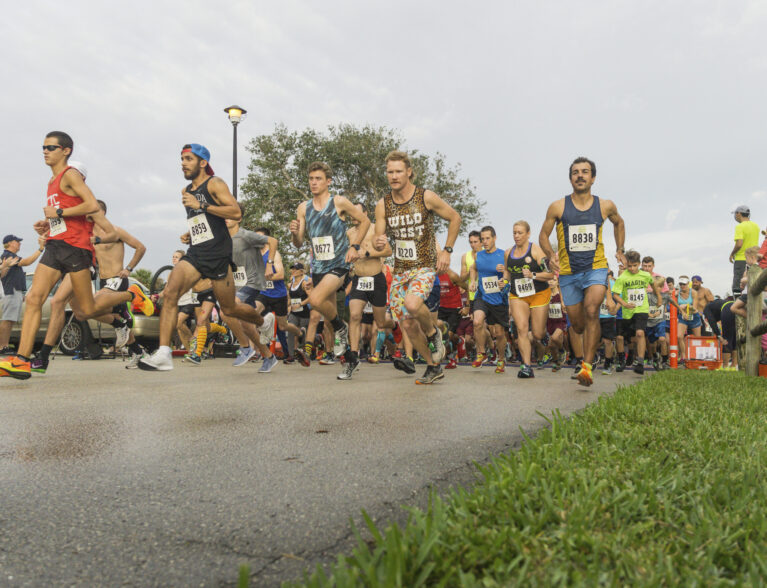 And we're off!
Ready up for the holidays with the Thanksgiving Day Trot Against Poverty 5K for runners and walkers of all ages and all abilities. Registration begins 6 a.m. Thursday, Nov. 24, in Riverside Park. The 5K race starts at 7:30 a.m. There's also a free quarter-mile kids race for ages 6 and younger starting at 7:15 a.m. and a free sweet potato pancake breakfast starting 8:15 a.m. Cost is $40. This is the 15th annual run, which has a professionally timed race. Funds raised help benefit the United Against Poverty charity. It is held in Riverside Park, 3200 Riverside Park Dr., Vero Beach. For more information, visit TrotAgainstPoverty.org.
It can't be a proper holiday season without plenty of music. You have a couple of opportunities to listen to symphonic sounds this weekend. First up is the Brevard Symphony Orchestra, which will present its annual holiday concert, "Sounds of the Season," 2 p.m. Saturday at the King Center, 3865 N. Wickham Road, Melbourne. The concert includes holiday favorites such as "Jingle Bell Rock," "The Polar Express" and "Sleigh Ride." Special guest artists include pianist Rich Ridenour and vocalist Karen Shriner. Tickets start at $19. Call 321-242-2219 or visit BrevardSymphony.com/holiday.
Next up is the Space Coast Symphony Orchestra, which presents "We Gather Together" 3 p.m. Sunday, Nov. 27 at the Vero Beach High School Performing Arts Center, 1707 16th St. The concert features Grammy Award-winning pianist Jeffrey Biegel performing the world premiere of Christopher Marshall's "Thanksgiving Variations." Also on the program is the "Peanuts Concerto," a new three-movement work based on music by Vince Guaraldi, who composed the music for the "Peanuts" specials. Also on the program will be Aaron Copland's "Simple Gifts." Tickets are $30 in advance or $35 at the door. Those aged 18 years or younger or those with a college ID are admitted free. For more information, call 855-252-7276 or visit SpaceCoastSymphony.org.
See the works of two acclaimed area artists in the two-person exhibit "Start to Finish: The Works of Frank Spino and Carol Staub." The exhibit opens Tuesday, Nov. 29, and runs through Jan. 27 at Gallery 14, 1911 14th Ave., Vero Beach. "Our work is very different and should complement each other's well," says Spino, who has received many awards and is known for his very "juicy" images of citrus. He's expanding his repertoire, so don't be surprised to see Florida landscapes as well. For more information, call 772-562-5525 or visit Gallery14VeroBeach.com.
Ballet Vero Beach has launched an online auction of exclusive items to help raise funds for its mission to promote the art of dance. All items have been donated, so 100 percent of the proceeds will go the Ballet Vero Beach, which is celebrating its 10th anniversary season. Some of the items on auction include a private conservation tour of the Indian River Land Trust, original artwork, golf at Windsor, an airboat adventure, food, spa visits, polo, getaways, a family membership at the Vero Beach Museum of Art and so much more. The auction goes until Dec. 11, 2022. You can access the online auction by clicking on BiddingForGood.com/BalletVeroBeach.
This Sunday will be a good time to pick up some unusual and perchance artsy items at discounted prices at the Museum Store in the Vero Beach Museum of Art. They will be participating in an international annual holiday shopping event called "Museum Store Sunday." More than 1,800 store museum stores will offer unique items with purchases helping support the store's museum, its artisans and craftspeople. Enjoy 20 percent off all store-wide merchandise on Museum Store Sunday. Moreover, you do not need a museum admission ticket to shop at the store. However, if you do have that admission ticket, you'll certainly enjoy the museum's current exhibitions, which include "Picasso, Matisse & Friends: Drawings from a Private Collection," which runs through Jan. 8; and "Changing Nature: A New Vision, Photographs by James Balog," which runs through Dec. 31. The Vero Beach Museum of Art is at 3001 Riverside Park Dr., Vero Beach. Sunday hours are 1 p.m. to 4 p.m. For more information, call 772-231-0707 or visit VBMuseum.org.
Learn about the McKee Botanical Garden when it holds a "Magic of McKee" guided tour 10:30 a.m. to 11:30 a.m. Tuesday, Nov. 29. Tour members get a 10 percent discount coupon for that day to the Garden Café. Cost is free to members and is included in general admission, which ranges from $10 to $15. Register ahead of time. Walk-ups welcomed space permitting. The McKee Botanical Garden is at 350 U.S. 1, Vero Beach. Call 772-794-0602 or visit McKeeGarden.org.