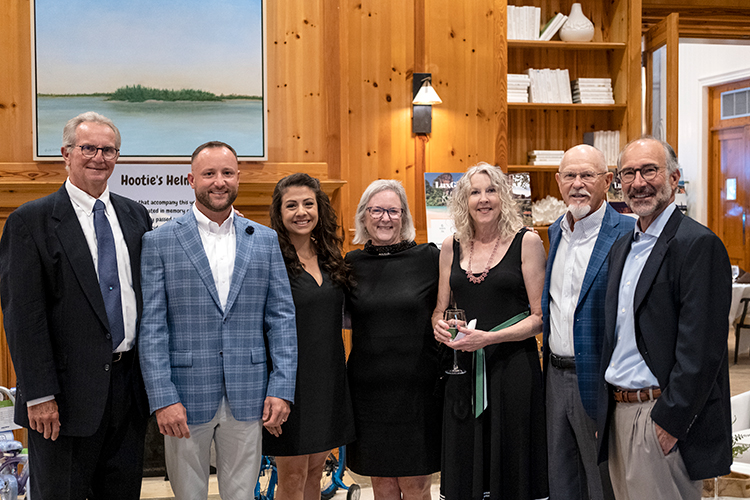 At the annual Chocolate, Champagne and Chefs dinner at the Quail Valley River Club, supporters of Big Brothers Big Sisters of St. Lucie, Indian River and Okeechobee counties, raised their champagne glasses to toast the 'Bigs' who serve as mentors and allies to the organization's 'Littles.'
"How many of you have ever been asked the question, 'Why?' – especially by your children or grandchildren?" asked Debbie Hawley, to chuckles and head nods. As the evening unfolded, Hawley, who became BBBS CEO in July 2022, said guests would discover the 'why' behind what they do.
"Our Bigs are our heroes, because every week they're meeting with their Littles and making such a tremendous difference in their lives. I'm also so proud to be the leader of a fabulous, fabulous group of individuals who make up our staff. We are small but we are mighty," said Hawley.
The organization annually honors a community partner or leader for the good work that they do, and this year's power couple honorees were Lee and John Moore. They were introduced by Lee's mother, Toni Robinson, director emeritus of the Indian River Land Trust, and Randy Brennan who, like John, is a fellow attorney and a U.S. Coast Guard Auxiliary Aircraft Commander.
Brennan spoke of how the pair have been notably proactive in the local community, involved individually or as a couple in organizations such as the United Way, Hospital District, Affordable Housing Commission, Holy Cross Catholic Church, Indian River Land Trust and Impact 100.
Additionally, John has served as master of ceremonies and auctioneer for innumerable nonprofit organizations and received the Florida Bar President's Pro Bono Service Award for his volunteerism.
"The truth is, if we were doing what we should do, in honoring everybody who made a contribution, frankly, we'd just have this giant line of people who are here from the staff to the board, and especially to the Bigs who are here tonight," said John. "And so we gladly accept this, but on behalf of everybody else here."
"And also, John and I would not have learned community service if it weren't for so many people in this room, and from our parents," said Lee, referencing her own mother, as well as John's parents, Pat and John Moore, and others who have inspired them. "So all we're doing is following in footsteps, humbly, and we are grateful to all of you."
Following a gourmet dinner, guests devoured delectable chocolaty goodies from creative chefs: Tim Blouin, Grand Harbor Club; Adrienne Drew, Catering by Adrienne Drew; Shari Pierce, A Kitchen of her Own; Brenda Maerkle, Quail Valley Golf Club; and Matt Piscitelli, Flavored Fork Catering. Among the numerous desserts were an adorable chocolate mouse too cute to eat (almost), Key Lime tarts dipped in white chocolate, chocolate brownies swirled with pumpkin cheesecake, chocolate doughnuts topped with cotton candy, and chocolate flavored ravioli with a pumpkin pie filling.
Later, Hawley related the story of a young girl who, after years of neglect and sexual abuse, was taken away from her addict parents by DCF, who eventually found her paternal grandparents. After moving here in 2018, her grandmother enrolled her in school and counseling, and in March 2018 she was matched with a compassionate Big. Under her tutelage, by the 2021-22 school year, the fifth-grader was on the honor roll and there was joy on her face. As a result of their phenomenal progress, Nancy Esplen was named 2022 Big Sister of the Year for the State of Florida, and together they were named Match of the Year.
"This is our 'why.' This is why we do this every day," said Hawley. She added that they currently serve more than 700 children in this county, and could serve double that number with additional mentors.
For more information, visit BBBSBigs.org.
Photos by Joshua Kodis