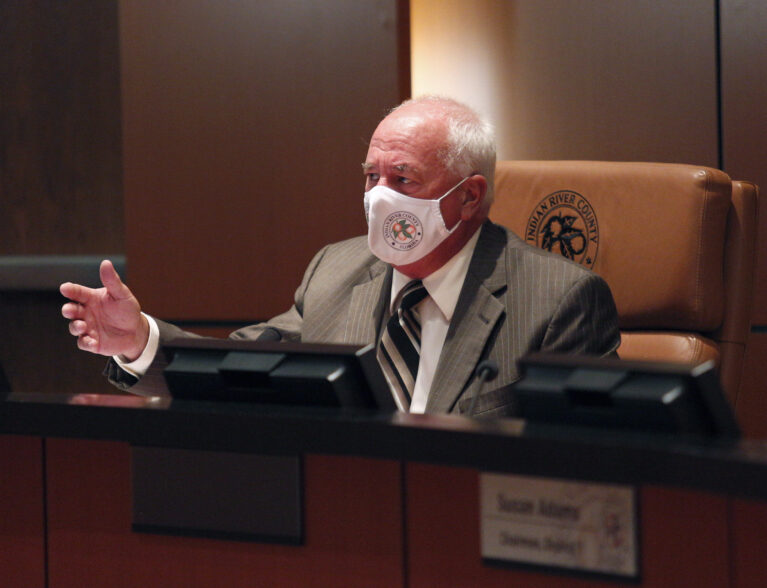 Was retiring County Commissioner Peter O'Bryan using his position as chairman to lobby from the dais for the job as interim county administrator?
Or was he merely being a devoted public servant who, after 16 years on the commission, offered to postpone his retirement and use his experience to oversee the county's operations during the search for Jason Brown's successor?
"I took it as the latter," said Commissioner Susan Adams, who, 2 ½ hours into last week's meeting, unknowingly presented O'Bryan with an opening to make his pitch for the job.
After the commissioners voted to conduct a national search for a new administrator, then discussed the attributes they'll seek from applicants for the job, O'Bryan brought up the need to hire someone in the interim.
He asked whether the conversation should be conducted at that meeting or at a later date.
That's when Adams quipped: "Well, you're retiring …"
Little did she expect O'Bryan to announce that he not only had considered the interim administrator's position, but that he already had discussed it with his wife and the county's human resources director, Suzanne Boyll.
"I think everyone was surprised that Peter was so prepared to talk about it," Adams said. "He certainly has done his homework."
O'Bryan seized the opportunity to make his case for the job, citing the experience he gained during his four terms as commissioner, his institutional knowledge of the county and its operations, and his relationships with department heads and their staffs.
He also argued that having an interim manager "who has no interest in the job on a long-term basis" would enhance the county's search for a new administrator – because applicants would know they're not be competing against someone already doing the job and that the position is truly open.
O'Bryan closed by saying he would be "honored" to be chosen for the interim position.
The other four commissioners seemed to embrace the idea, with Laura Moss saying, "I love the surprise ending. It's surprising but not unwelcome."
Adams, who admitted she was "halfway joking" when she mentioned O'Bryan's imminent retirement, said his offer "sounds very enticing to me."
In a phone conversation after the meeting, Adams said she'd rather not give the interim job to a department head or staff member because doing double-duty could be overwhelming.
"They'd have to do their work as well as the administrator's job, which is very demanding, so I do have concerns about going in that direction," Adams said. "Our staff is already really busy with everything we have going on. Adding extra duties might not be the best way to go."
O'Bryan, 65, did not seek a fifth term – former three-term sheriff Deryl Loar was elected to replace him on the commission – and will preside over his last commission meeting Tuesday. He is scheduled to retire on Nov. 21, but he said he could rescind the date.
Once out of office, O'Bryan said, he would be legally eligible to take the administrator's job, as long as he doesn't withdraw any pension money from the Florida Retirement System.
Brown, 48, announced last month that he planned to resign from his $211,000-plus position, effective Dec. 31. He has worked for the county for 25 years, mostly in the Office of Management and Budget. He has served as county administrator since 2016, when he was promoted from budget director to replace Joe Baird, who retired.
The commission voted 4-1 earlier in the meeting to spend up to $35,000 to hire an executive recruiting firm to mount a national search for Brown's successor.
Commissioner Joe Flescher, elected this year to a fifth term, cast the lone opposing vote. He urged the commission to interview and evaluate any in-house applicants before embarking on a national search that could take up to six months and produce an administrator who doesn't fully understand what makes this county special.
The commissioners, though, created quite a wish list of attributes, ranging from leadership, people skills, and temperament to experience in finance, budgeting, managing community growth, technology, engineering and infrastructure.
That might be too much to ask for, especially for an annual salary just north of $200,000 a year. Professionals with such vast expertise are most likely working in the private sector for five times that amount, or more.
So, either the commissioners lower their expectations or they extend the time frame for their search.
Not that they should settle.
But they need to be realistic.
A national search is likely to produce applicants who are on the way up – younger professionals who will stay for five years and use the experience they gain here to move on to a better job – as well as older candidates who are on the back nine of their careers and are looking for a place to eventually retire.
Preferably, we'll get something in between.
In the meantime, though, someone needs to fill the void created by Brown's departure to the Clerk of Court's finance office.
Baird might've been a possibility, but he's busy defending himself against a criminal charge that he stalked his former girlfriend. Also, there are certainly department heads working at the county offices who could step in for a few months.
Could O'Bryan do the job?
He believes he can.
Why does he want the job?
"My wife asked me the exact same question," O'Bryan said. "And my answer is: I don't really want to do it. But there's a need for me to do it – for someone to keep the county going and still be able to attract great applicants.
"I think I'd do a good job."
As for O'Bryan applying for the job from the dais, County Attorney Dylan Reingold said the commissioner did nothing illegal or in violation of county policy, nor would it be illegal for him to take the job after he leaves office.
And for those wondering: O'Bryan, who said serving as interim county administrator would not increase his pension, claimed it would have been "negligent" for the commission chairman to not ask for a discussion about the position.
The commissioners were scheduled to address the topic again Tuesday.
"I guess I opened a can of worms," Adams said. "As far as I knew, Peter was retiring, getting in an RV and heading to state parks unknown. I was surprised to hear that he had already begun looking into it.
"He brought up the interim position, but, honestly, any one of us could've done it," she added.
"There's no conspiracy."