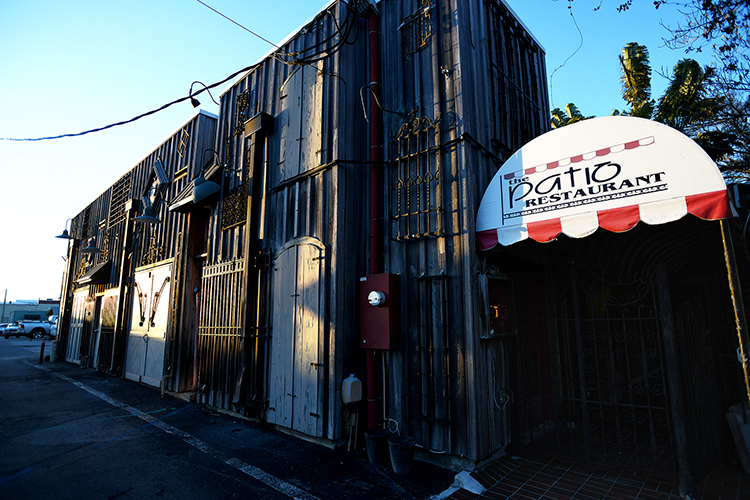 The stodgy old Patio Restaurant building at U.S. 1 and 11th Avenue is on the verge of a decidedly modern transformation.
A group of investors who leased the landmark structure over the summer plan to open the 19th Hole Virtual Golf Bar and Grill there in the first quarter of 2023, according to managing partner Bob Gruber.
"It will have hot and cold food, two bars and three simulators," said Lambert Commercial Real Estate agent Billy Moss, who handled the lease transaction. "They have a good target market, well-to-do people who love golf who will bring a lot of out-of-town guests.
"With all the golfers here, I think it will be a real Vero hotspot when it opens and will do well long term as long as the food is good."
The investment group has a permit application in for electrical and plumbing changes that shows up in county records and Gruber said he hopes to be open in about five months.
"We are excited to announce plans for the only Virtual Golf Bar and Grill on the Treasure Coast," Gruber said in a statement.
"The new facility will have three industry leading Full Swing Golf and Multi-Sport Simulators as well as full-service dining, two full-service bars and abundant outside seating.
"The ownership group has several decades of hospitality and food and beverage experience."
Multi-sport simulators include football, soccer, baseball and hockey simulations as well as golf. The devices Gruber has in mind will allow golfers to play famous courses around there world, hole by hole, with realistic vistas and high-tech feedback on swings and shots.
The multisport and golf simulator business is expanding rapidly with golf bar and grill concepts opening in Jacksonville, Naples, Miami and elsewhere in Florida in the past two years.
All told, golf simulation is an $18 billion industry, according to starterstory.com. Concepts range from a single simulator in a storefront rented out by the hour to large entertainment complexes with bars and restaurants. Part of the lure is that golf can be "played" on simulators regardless of the weather.
Built in the 1930s by iconic Vero Beach developer Waldo Sexton, who also built the Ocean Grill and Driftwood Inn on the island, the colorful, quirky building at 1103 21st St. belonged to the Sexton family for more than 80 years prior to its sale earlier this year.
During its heyday as The Patio Restaurant, the spot was a popular hangout for Dodger players during spring training and for the dining public year-round. The business faltered during the Great Recession after more than 50 years as a Vero Beach landmark.
Since then, several restaurants have come and gone at the location. The last one, a seafood place, closed two years ago and the building has been vacant since then.
The 5,000-square-foot building and .67-acre lot were purchased from the Sexton family in February by Boca Raton restaurant broker Athan "Tom" Prakas, who paid $600,000 in a deal that closed on Feb.17. It was listed with Billy Moss at Lambert Commercial Real Estate for $950,000.
"We didn't really want to sell it," said Michael Sexton, great-grandson of Waldo Sexton and president of the family holding corporation that owned the restaurant. "But we tried for two years to find a good tenant to take it over and couldn't and it became difficult to keep carrying it, maintaining a vacant building."
"The Patio was an iconic Vero Beach restaurant but dining and entertainment tastes have changed," said Moss, who knows the building as well as anyone.
"I have represented The Patio through several owners," Moss said. "The Sextons hired me to lease or sell the patio. After I sold it to Tom Prakas, he hired me to lease or sell it for him."
Moss said interest was lively with a number of Mexican restaurant operators showing interest along with other restaurateurs, but the golf bar and grill group are the ones who got a lease deal inked.
"Everyone has great memories of the place, but it is time for a change," said Moss, who believes the buildings history and nostalgic appeal will help get the 19th Hole Virtual Golf Bar and Grill off to a strong start.