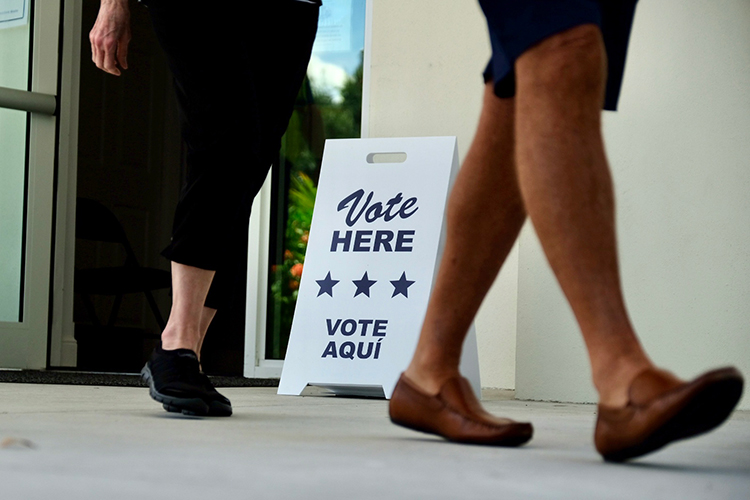 The biggest winner in last week's elections here was Gov. Ron DeSantis, who wasn't on the ballot but whose influence was felt in several of the high-profile local races.
Not that anyone should be surprised:
He's the face of the Republican Party in Florida, and Republicans dominate our local politics.
Despite claiming to be conservative, he hasn't hesitated to sign legislation or issue executive orders restricting the authority of local governmental bodies – especially school boards.
The governor's most obvious triumph in our county was in the School Board District 2 race, where incumbent Jackie Rosario received a better-than-expected 46.8 percent of the vote in a four-candidate race to advance to a November runoff against runner-up Cindy Gibbs, who pulled in only 26 percent.
DeSantis has taken an active role in education since taking office, throwing his support behind the controversial Parents Rights in Education Act and embracing the culture-war efforts of the Moms For Liberty, a hard-right group that wants to seize control of Florida's public schools.
It was his support of the Moms' efforts, in fact, that prompted him earlier this summer to formally endorse 30 school board candidates statewide, ignoring the spirit of the Florida Constitution's mandate that school board elections be nonpartisan.
Each of those candidates championed DeSantis' education agenda, and 25 either won their races or advanced to a runoff. Rosario was one of them.
It was DeSantis' endorsement that enabled Rosario to overcome an avalanche of negative press she received during the final weeks of the campaign.
Being among DeSantis' chosen few also makes her a prohibitive favorite in November, when he will be on the ballot and the tribalism of our national politics will be at a feverish pitch.
By then, Rosario's Moms supporters – she has been the group's lone voice on the School Board – will have made sure voters know that Gibbs is a Democrat.
Hey, if the governor can scoff at the state constitution, why can't they?
"DeSantis will be difficult to overcome in this county, but that's not going to stop me," Gibbs concedes. "I've met with Republicans here who don't want to see Rosario back on the board, and I'm already reaching out to them.
"I hope they get behind me."
Judging by the results of last week's election, however, a sizable majority of local Republicans are loyal to DeSantis, his agenda and, yes, his endorsements.
Even Thomas Kenny, who unsuccessfully challenged School Board Chairwoman Teri Barenborg for her District 4 seat, benefited from Rosario getting DeSantis' endorsement because they ran in tandem, both with the full backing of the local Moms chapter and, by extension, the governor.
Barenborg, by the way, is a Republican, too, and her husband serves as a legislative aide to our state representative, Erin Grall, a Republican who ran unopposed for election to the Florida Senate.
The Moms, however, say she's a "RINO" – a Republican In Name Only – because she doesn't march in lockstep with DeSantis.
Not only did the "Friends of Ron DeSantis" political action committee mail fliers touting Rosario and Kenny, but the two candidates sent out somewhat-misleading fliers that gave the false impression that the governor had endorsed both of them.
Though Kenny, a 55-year-old political novice with no children, didn't win, he managed to get 42.5 percent of the vote in his race against a lifelong educator and effective board member.
In his post-election statement, Kenny wrote that the Moms' parental-rights message "resonates." He went on to thank the group's leaders and Rosario.
Another DeSantis-aligned Moms supporter, Karen Hiltz, put up surprising numbers last week, garnering nearly 40 percent of the vote in her race against Vero Mayor Robbie Brackett in the Republican primary for the District 34 seat in the Florida House of Representatives.
Hiltz moved to Sebastian in 2019, and she was unknown in local political circles as recently as a year ago.
The governor's influence also was felt in the only competitive County Commission race, where Joann Binford received 26 percent of the vote in a three-candidate race against former three-term sheriff Deryl Loar (39.7 percent) and longtime funeral-home owner and operator Tom Lowther (34 percent), who served on the commission from 2002 to 2006.
Loar winning the District 4 seat and Lowther losing by fewer than 2,000 votes wasn't surprising; Binford's showing was an eye-opener.
For the record: DeSantis didn't endorse county commission candidates, but Binford was endorsed by the local We The People group, which has been closely aligned with the Moms.
Still, last week's elections revealed the governor's political clout is growing throughout the state – four years ago, he defeated a weak Democratic nominee by only 32,000 votes.
Supervisor of Elections Leslie Swan said the 32.5 percent voter turnout last week could double in November, when the gubernatorial race will be decided. There are more than 118,000 registered voters in this county.
"It'll probably be upwards of 60 percent," Swan said.