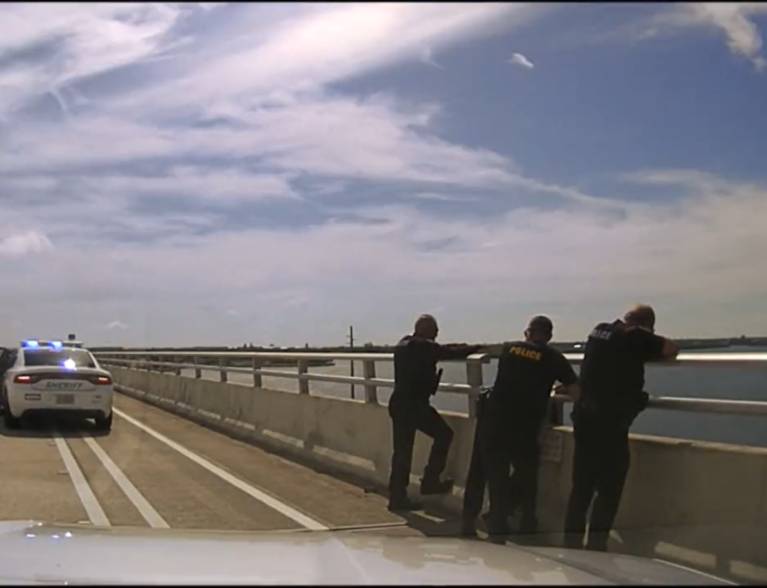 VERO BEACH — Two police officers negotiated with a man to stop him from jumping from the Alma Lee Loy Bridge Monday, officials said. No injuries were reported in the incident, police said.
Today our officers help talk a suicidal male off of a bridge. If you or someone you know may need help, please dial 988 or visit https://t.co/l2QeQ4lXm6 pic.twitter.com/3H1RfklilV

— Vero Beach Police (@VeroBeachPD) August 22, 2022
Vero Beach Master Police Officer Jason Jones and Officer Greg Matakaetis talked with the man for about 25 minutes. The man had climbed down a ladder from the top of the bridge to a platform underneath and threatened to jump into the water, police spokesperson Master Officer Darrell Rivers said.
The man called 911 about 10:30 a.m. Rivers said police lost communication with the caller but were able to ping the man's phone and track his location on the eastbound side of the bridge.
Four officers, including Jones and Matakaetis, responded to the call. Rivers said Jones is trained in crisis intervention and hostage negotiation.
Rivers said Jones and Matakaetis convinced the man to climb back up the ladder to safety. The man was taken to the Center for Emotional & Behavioral Health for a psychiatric health evaluation.
Jones has worked at the Vero Beach Police Department for 32 years. Matakaetis has worked at the agency for one year and a half, but also has 15 years of law enforcement experience at the Clinton Police Department in Connecticut, Rivers said.
Rivers said all Vero Beach police officers attend a 40-hour course on crisis intervention training at Indian River State College. The training also paid off in 2017, when Officers Richard Chimenti and Kyle Eder saved a man from jumping from the Alma Lee Loy Bridge.
Both officers grabbed the man in mid-air after he jumped and pulled him back to safety. Chimenti and Eder were both given Life Saving Awards a month after the incident.