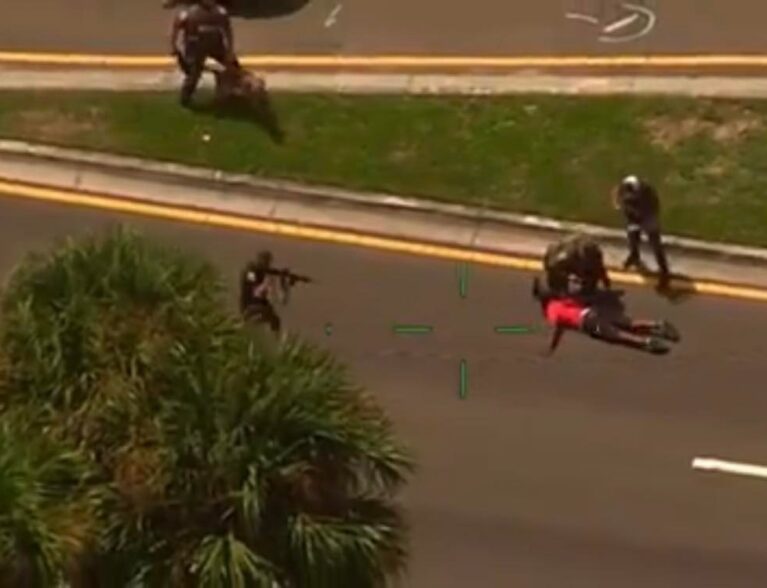 SEBASTIAN — A 34-year-old man was jailed after deputies said he robbed a TD Bank in Melbourne and led officers on a chase Wednesday. Brevard County Sheriff's Office released footage of the multi-agency pursuit on its Facebook page.
Video provided by Brevard County Sheriff's Office
"Earlier today our team members and our great partners from various local law enforcement agencies did an incredible job of taking a bank robber off our streets and putting him behind bars which is exactly where he belongs," Brevard County Sheriff Wayne Ivey said in a statement Wednesday on Facebook.
Bernard Rogers Jr., of the 1100 block of Barber Street, Sebastian, was charged with robbery with a firearm, grand theft more than $750 and fleeing and eluding. Rogers was held Thursday at the Brevard County Jail without bond.
Bank employees called 911 about 11:38 a.m. Wednesday and told dispatchers the business had just been robbed. The employees said a man pointed a black handgun directly at them and demanded money, Brevard County sheriff's officials said.
The man left the bank with a bag containing an undisclosed amount of cash, authorities said. Employees gave officials the man's description.
Law enforcement officers from Brevard County Sheriff's Office, Melbourne Police Department, Cocoa Police Department, Rockledge Police Department and Florida Highway Patrol began searching nearby streets for the man.
Officers saw a man matching the suspect's description driving a blue 2022 Hyundai Genesis. Sheriff's officials said the man, later identified as Rogers, ran several stop signs and made U-turns to escape officers in pursuit.
Rogers eventually stopped the car at the intersection of U.S. 1 and State Road 520 in Cocoa. After being detained by law enforcement, Rogers told officers that "he made bad decisions," sheriff's officials said.
Rogers was arrested and booked into the Brevard County Jail. Investigators later learned Rogers was also wanted for armed robbery in Orange County, authorities said.
"This case is a perfect example of what happens when law enforcement and citizens partner together to take criminals off our streets," Ivey said. "Great job by the TD Bank team in following their protocols and working with us to bring the perpetrator to justice and also by all of the various agencies that worked together to get a violent subject in custody."