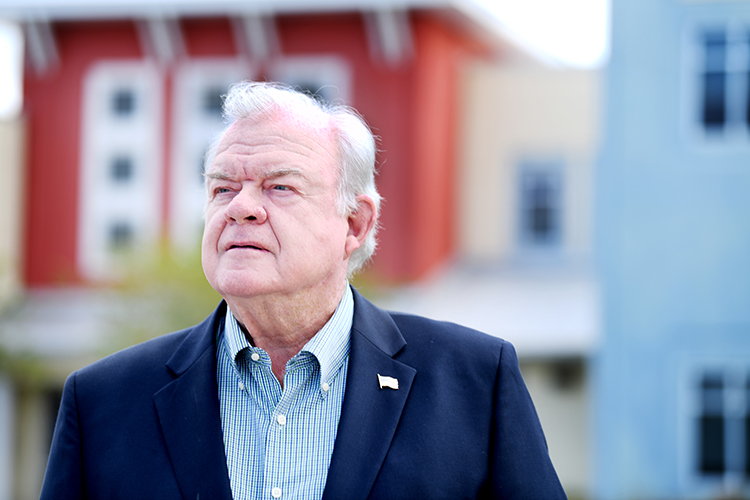 Twenty months into his four-year School Board term, Brian Barefoot said the experience thus far has left disappointed, discouraged and concerned.
The John's Island resident should also feel more than a little unappreciated, given the knowledge, professionalism and leadership he has brought to what was an underachieving school district and a board that, prior to his arrival, was too often in chaos.
As the 79-year-old former Indian River Shores mayor has said on more than one occasion: "I don't need to do this." His impressive business, education, civic and philanthropic credentials speak for themselves. His legacy is assured.
Barefoot, though, chose to serve on the School Board because he cared deeply about our community and believed our children deserved better than a mediocre education.
"I was optimistic," Barefoot said. "I knew how to run an organization. I knew how a board was supposed to function. I knew how to chair a meeting. I thought I could make a difference."
Having easily won election in August 2020 and being voted board chairman in November, Barefoot was especially eager to support the efforts of then-new Schools Superintendent David Moore, a rising star whose statewide reputation as an innovator made him the perfect choice to take on the challenges our district faced.
"I really like Moore," Barefoot said, "and I thought his vision and goals were where we needed to go."
In mid-March 2020, however, the coronavirus arrived and Moore had to reconfigure his plan to accommodate a global pandemic.
Little did anyone know then how COVID-19 would impact the district – or how it would open the door to the politicization of public education and spawn a pair of small-but-vocal fringe groups that thrive on the same polarization that continues to divide America.
"We were making progress as a district, then COVID hit, and that's when the cultural and political noise started to come forward," Barefoot said, referring to birth of the local Moms For Liberty and We The People groups, both of which fiercely opposed the mandatory masking of students in school.
"From that point on, it seemed that's all we were dealing with, and it has gone downhill ever since," he added. "We were never able to talk about improving education and student outcomes. Everything was political, even in 2021, when the Delta variant was everywhere.
"It was all about the culture war."
And Barefoot, who refused to be intimidated by the noise, was seen by these groups as an enemy, merely because he refused to cower to their demands.
For much of the past two school years, the disrespect shown to a man of his stature, esteem and accomplishment has been shameful, beneath the dignity of our community.
Not only has Barefoot been subjected to often-vile verbal attacks on social media – where you could find unflattering photographs posted by low-brow critics in a juvenile attempt to mock him – but the former Babson College president also has been the target of cyberthreats from pseudo-tough bullies.
He has been publicly "censured" by the local Republican Executive Committee, which has been hijacked by the same fringe groups that have wreaked havoc at School Board meetings, where the audience's disruptive and sometimes-hostile behavior has prompted the district to hire a team of sheriff's deputies to provide security.
He was wrongly accused of breaking the law during the pandemic when, as board chairman, he supported a temporary, in-school mask mandate that violated a too-vague-to-enforce, state health department emergency order prohibiting such action.
If that wasn't disturbing enough, School Board member Jackie Rosario told this newspaper earlier this year she was "disappointed" in the outcome of a Sheriff's Office investigation into a criminal complaint that could've resulted in Barefoot, along with three other board members and the superintendent, being arrested.
For those who don't remember: The investigation found that several school-library books cited by Moms For Liberty members were not pornographic and did not violate Florida law, much to the group's dismay.
That concocted controversy – most of the books in question had never been checked out – followed the mask debate, as well as the Moms' trumped-up outrage over the district's now-abandoned plan to hire an equity director and, later, unsubstantiated allegations that critical race theory was being taught in our schools.
The most recent storm was spurred by Rosario, who wholly embraces the Moms group, and swirled around the district's LGBTQ+ Administrative Resource Guide, which, after an unnecessarily lengthy discussion, required some minor rewording.
It was the latest example of the School Board being forced to spend countless hours on culture-war issues that have no direct impact on improving education.
"I'm very disappointed with the unwillingness of people who disagree with the board majority and superintendent to try to work with us, choosing instead to resort to threats and bullying," Barefoot said.
"Those groups might've been well-intended when they started, and I'm all for parental rights," he continued. "Parents should have input in their children's education. But do it respectfully. That's not what's happened.
"When these people don't get what they want, they go on the attack," he added. "They refuse to accept that they're not the majority – that they don't speak for most parents in this county – and they have no interest in finding a middle ground.
"They believe they're right and you're wrong, and if you don't give them exactly what they want, they're going to come after you."
Barefoot said he could better understand the tenacity of the opposition and venomous discourse if the district, which operates in a Republican-dominated county, was pursuing a progressive agenda.
"But that's not the case," he said. "We're not doing anything anyone should consider progressive. The problem is, what's going on here – with these groups – isn't conservative. It's ultra-conservative.
"Where are all the moderates?"
Barefoot said the board's priorities should be improving students' literacy and math scores, "but we never get to those topics because we have one School Board member who aligns with these groups and she would rather talk about cultural issues and challenge the superintendent's authority."
Clearly, he was singling out Rosario, who regularly finds herself on the losing side of most of the board's 4-1 votes.
Her insistence on putting divisive cultural issues on the agenda has bogged down many of the board's workshops and meetings, and Barefoot said he has "no more tolerance for such distractions."
He's worried that these board meetings, where the tone during public comment is often combative and people in the audience hold up derogatory signs, are setting a poor example for our children.
"It's very discouraging," he said. "With all this negativity and all the distractions, I sometimes wonder why anyone would want to run for school board."
Dr. Gene Posca, in fact, was the lone candidate for the District 1 seat being vacated by Mara Schiff, who chose to not seek a second term. Only two candidates – board chair Teri Barenborg and Moms-endorsed outsider Thomas Kenny – entered the District 4 race.
In District 2, however, Rosario is being challenged by three political newcomers: LaDonna Corbin, Cynthia Gibbs and Josh Post.
Barefoot said his view of what it may be possible to achieve in the next two years will be decided by the coming elections.
"Right now, I'm concerned," he said. "If we elect people who don't want to work together, I'm going to go from disappointed and discouraged to 'Am I wasting my time?'"
Barefoot said he's also concerned about the election's impact on Moore's future here, particularly if the Moms-endorsed candidates take control of the board.
"If I were him and the election goes the wrong way, I'd have my resume out there," Barefoot said. "To have to endure personal attacks from these people – just for doing your job well – I wouldn't blame him one bit if he left."
When he ran for his District 5 School Board seat, Barefoot said he planned to serve only one term. It appears nothing has changed.
"I sit on several boards, and I get some satisfaction from it because I see the benefits of the time I invest," Barefoot said. "On this board? I get zero satisfaction."