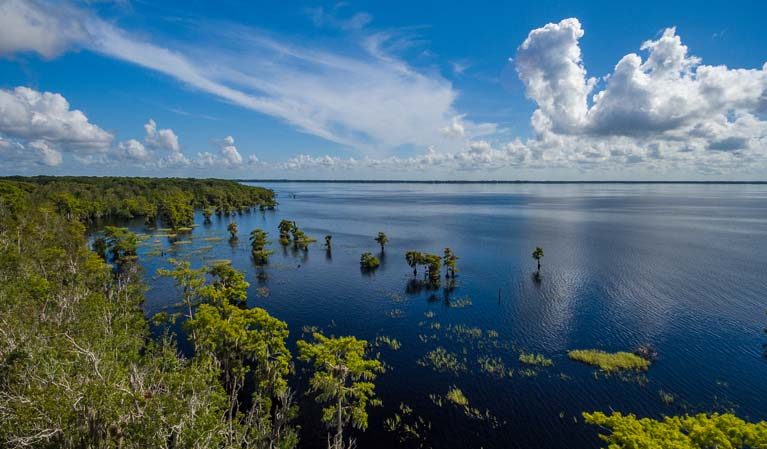 INDIAN RIVER COUNTY — Swimmers, boaters and fishers should use caution after health officials recently detected harmful blue-green algae blooms in the Blue-Cypress Lake area, authorities said. The health alert is in response to a water sample taken at the lake on May 23.
"Many types of blue-green algae can produce toxins," Florida Department of Health officials said in a statement. "The public should exercise caution in and around the Blue Cypress Lake area."
Blue-green algae are a type of bacteria that are common in Florida's freshwater habitats. A bloom happens when fast-growing algae leads to the buildup of individual cells that discolor water and create floating mats that carry a foul smell, health officials said.
Some contributing factors for algae blooms include sunny days, warm water temperatures, still water conditions and a surplus of nutrients. Blooms can appear year-round, but are more constant in the summer and fall, health officials said.
Precautions for residents and visitors:
Do not drink, swim, wade, use personal watercraft, water ski or boat in waters where there is a visible bloom.
Wash your skin and clothing with soap and water if you have contact with algae or discolored or smelly water.
Keep pets away from the area. Waters where there are algae blooms are not safe for animals. Pets and livestock should have a different source of water when algae blooms are present.
Do not cook or clean dishes with water contaminated by algae blooms. Boiling the water will not eliminate the toxins.
Eating fillets from healthy fish caught in freshwater lakes experiencing blooms is safe. Rinse fish fillets with tap or bottled water, throw out the guts and cook fish well.
Do not eat shellfish in waters with algae blooms.
The Florida Department of Environmental Protection collects and examines algal bloom samples. Anyone who sees a bloom should report the information by contacting the department's toll-free hotline at 855-305-3903 or by filling out the algal bloom reporting form online.