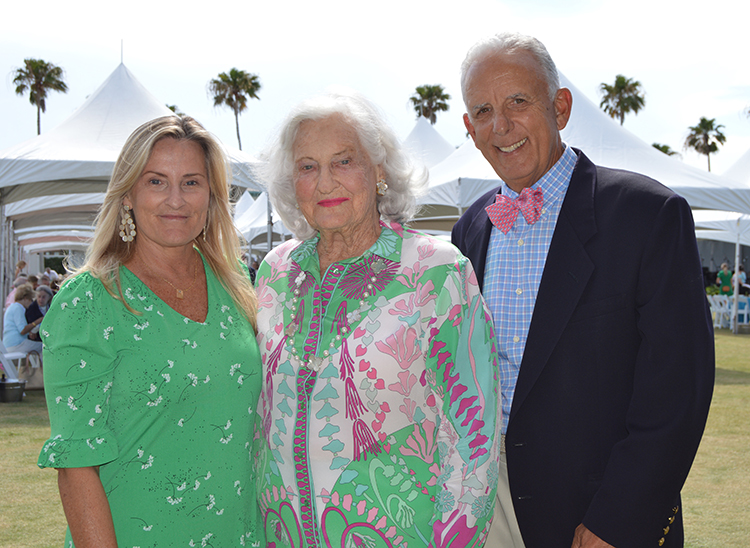 After two years of COVID cancellations, and two rain-challenged years before that, supporters of the Cleveland Clinic Indian River Foundation were thrilled to be back at the Windsor polo field on a picture-perfect afternoon for the 31st annual May Pops.
Presenting sponsors this year were Marlynn and Bill Scully, in honor of the Post family, who had sponsored the event its first 30 years.
Once again, the Brevard Symphony Orchestra, under the direction of Maestro Christopher Confessore and joined by celebrated vocalists Dee Roscioli and Ben Davis, dazzled as folks celebrated "with good friends for a cause," at what has long been considered the traditional end-of-season finale. Proceeds from the annual event help to enhance the technology, facilities and patient care at Cleveland Clinic Indian River Hospital.
VIP ticket holders enjoyed a lavish buffet luncheon sitting at elegant sponsor tables in cabanas at the northern end of the field, while on the southern side of a low picket fence, general admission concert-goers picnicked in their own, equally grand, style.
"Over the years, Bill and Marlynn have been extremely generous to the hospital and have helped fund many initiatives, most notably the Scully-Welsh Cancer Center and the Scully Endoscopy Center. We are immensely grateful for their support," said Dr. Gregory Rosencrance, president of Cleveland Clinic Indian River Hospital, welcoming and thanking everyone for their support.
"Lastly, but certainly not least, many thanks to all of our volunteers and supporters for their personal dedication to making this beautiful event possible. Everyone associated with the hospital and the foundation appreciates what you do."
Tony Woodruff, chairman of the board at the Cleveland Clinic Indian River Foundation, paid tribute to Helen Post and her late husband Dick, pointing out that many of the gentlemen in the audience had continued the custom that began in 2014 by sporting the jaunty bow ties Dick was known for.
Thanking Windsor as the venue host, Woodruff noted, "It's just a magnificent place to have a party like this. I also want to thank the Cleveland Clinic Foundation itself, the board, and all the work they've done, and all the people that are part of the Malloy and Eagle Society members and continue to support the hospital. Your time and effort and generosity truly means so much."
"We're blessed to have such a beautiful day today to be back here at Windsor for the May Pops concert. The Brevard Symphony Orchestra is thrilled to be here in support of Cleveland Clinic," said Confessore.
"While the majority of our program today is music from Broadway, we'd like to get things started by paying tribute to one of the greatest composers of our time. Film composer John Williams celebrated his 90th birthday back in February. Mr. Williams is still actively writing music, still conducting orchestras around the world, and so we're happy to pay tribute to him at the top of the program today, with a collection of some of his greatest hits."
Photos provided