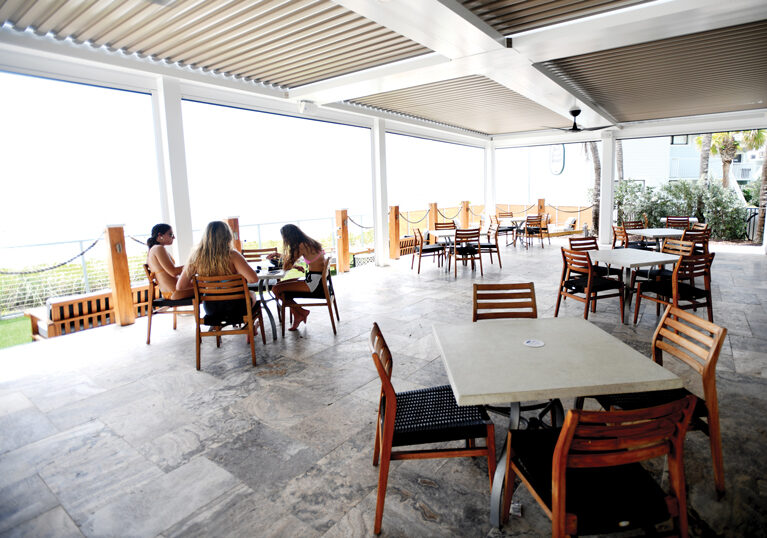 Welcome the summer with the Summer White Party running Friday, June 3, at Heaton's Vero Beach. This is quite the sophisticated spot where you can enjoy wonderful cuisine, sparkling drinks, great music and get that seaside vibe, all in one. And at night, there's even a fire pit! The Summer White Party kicks off Heaton's whole "Soundtrack for the Shore" lineup of events for this summer. There will be a live DJ, light bites and a welcome cocktail at the swanky event, which runs 7 p.m. to 10 p.m. Tickets to the Summer White Party are $50 in advance and $55 at the door, if there are any left. And plan ahead for Heaton's Rock & Rose Beach Party, running 1 p.m. to 5 p.m. Friday, July 8. That event includes games on the beach (bring your own chairs) and live music. Tickets to that are $15 in advance or $25 at the door. The final big to-do is the "End of Summer Luau" running 7 p.m. to 10 p.m. Friday, Aug. 19. There will be light bites, a welcome cocktail and live entertainment. Tickets are $50 in advance. If you just want to pop into Heaton's without all the party hoopla and admission tag, there are some attractive offerings this summer. You can stay cool with Heaton's "Summer Sundays with Casa Noble." Those events are every Sunday beginning June 5 and running through Sept. 4 until 5 p.m. There will be live music and drink specials running 1 p.m. to 4 p.m. And of course, there's always Heaton's Taco Tuesdays with $5 tacos and $5 drinks and margaritas. Heaton's is at 3500 Ocean Dr., Vero Beach. Call 772-469-4444 or visit HeatonsVeroBeach.com.
The Space Coast Symphony Orchestra String Quartet will perform Franz Schubert's string quartet No. 14 in D minor, D 810, known best as "Death and the Maiden," on Sunday, June 5, at the First Presbyterian Church of Vero Beach. Schubert composed the work in 1824, when he knew he was not much longer for this world. Also on the program will be Vaughan Williams' String Quartet No. 1 in G minor. The string quartet features Joni Roos on violin, Konstantin Dmitrov on violin, Michael de Jesus on viola and Paul Fleury on cello. The concert begins at 3 p.m. Admission is free but a $20 donation is suggested. The First Presbyterian Church is at 520 Royal Palm Blvd. Call 855-252-7276 or visit SpaceCoastSymphony.org.
Like it or not, hurricane season has started and officially runs through Nov. 30, although it's not nice to give Mother Nature a schedule. So, best be prepared by heading to the Hurricane Expo, running 10 a.m. to 5 p.m. Saturday, June 4, at the Indian River Mall. This is designed to educate you on hurricane preparedness with informational booths by local businesses and organizations, including Indian River County Emergency Management. But there will also be a couple of celebrity meteorologists in attendance: Mike Lyons and Glenn Glazer of WPBF-25 ABC who will speak from 2 p.m. to 4 p.m. The Salvation Army will serve free lunch to the first 100 people starting at noon, outside Entrance One, where you can also register to win a generator. The Indian River Mall is at 6200 20th St., Vero Beach. For more information, call 772-770-9404, Option 3, Ext. 102; or visit IndianRiverMall.com.
Get the younger ones involved in summer activities at the Environmental Learning Center. The organization's "Young Explorers Summer Camp" runs July 18-22. Hours are 8:30 a.m. to 3 p.m. The ELC will introduce campers 6 to 10 years of age to the great outdoors, nature-themed scavenger hunts, and arts and crafts. They'll also explore touch tanks, bugs and butterflies and get their toes wet by wading a pond where they'll try some dip-netting. Registration is $270 for ELC members and $300 for non-members. A June 6-10 camp is sold out, so hop to now and get your child enrolled for the July 18-22 camp. There are other camps for children up to age 14. You can choose from SENSational Summer, Survivor Camp, Bug Out, Week on the Water, Fishy Friends and so much more. But best take a look at the offerings and sign up now. The Environmental Learning Center is at 255 Live Oak Dr., Vero Beach. It's on the western base of the Wabasso Bridge on the 510 Causeway. For more information, call 772-589-5050 or visit DiscoverELC.org.