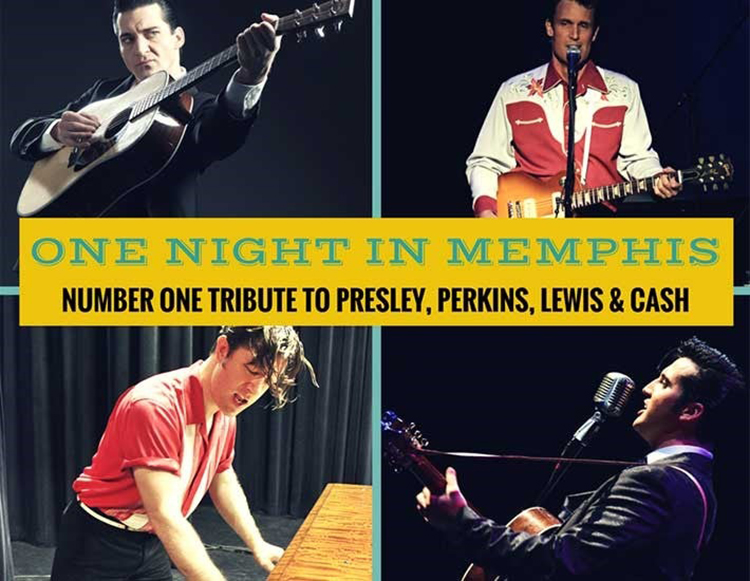 Culture vultures will be busy this weekend. From rock 'n' roll to classical, and ballet to stand-up comedy, there will be plenty to do.
See the music that set society on its ear with "One Night in Memphis: Tribute to Elvis Presley, Carl Perkins, Jerry Lee Lewis and Johnny Cash." This acclaimed show features former members of the smash Broadway hit "Million Dollar Quartet." It starts 7 p.m. Thursday, April 7, at the Emerson Center, 1590 27th Ave., Vero Beach. It is presented by Live! From Vero Beach. Tickets are $35 to $80. For more information, call 772-777-9321 or visit
MusicWorksConcerts.com.
On quite the other end of the musical spectrum is the Brevard Symphony Orchestra, which features pianist Joyce Yang performing Chopin's Piano Concert No. 1, in E Minor, Op. 11 on Friday, April 8. The concert is sponsored by the Indian River Symphonic Association and also features Berlioz's "Roman Carnival Overture," Respighi's "The Fountains of Rome" and his "The Pines of Rome." Maestro Chris Confessore conducts. The concert begins at 7:30 p.m. at the Community Church of Vero Beach, 1901 23rd St. Tickets are $60. Call 772-778-1070 or visit IRSymphonic.org.
Another classical concert which promises to be quite something features Russian pianist Sergey Belyavski and German violinist Christoph Seybold. The concert is a benefit for the Gifford Youth Orchestra, which provides education, performance experience and training in an array of performing arts including music, drama, dance and the vocal arts for the youth of Gifford. The organization has a core focus on mastering stringed instruments. Both performers are virtuosos who have performed in major concert halls throughout the world. The concert begins 7 p.m. Saturday, April 9, at the Emerson Center (address above). Admission is a suggested donation of $10. To see videos of past performances of these two artists, visit TheEmersonCenter.com/GYO-Benefit-Concert. For more information, call 772-778-5249.
Ballet Vero Beach takes a light look at "the dance" in its next show, "Studio to Stage." This is described in part as a "comedic skewering of ballet schools." The organization's artistic director, Adam Schnell, says the fun ballet, "Ecole de Ballet," reveals how dancers can have a good time poking fun at themselves. "(It) shows we don't take ourselves too seriously," Schnell says. "We strive to be exciting, engaging and entertaining. And with all that is going on in the world, I think that is more important now than ever." The ballet performs 7:30 p.m. Friday, April 8 and 2 p.m. and 7:30 p.m. Saturday, April 9 at the Vero Beach High School Performing Arts Center, 1707 18th St. Tickets are $10 to $75. The ballet company also is getting ready for its gala fundraiser, "Ballet Under the Stars," which is scheduled for 6 p.m. Friday, April 22 at the Tree House Vero Beach, 8010 43rd Ave., Vero Beach. You need to RSVP for it by Monday, April 11 because of limited space. The event includes a casually elegant cocktail party, sumptuous bites, an open bar, a performance by Ballet Vero Beach, a deluxe live auction and dancing to the Dave Capp Project. Tickets to that start at $150. For more information on either this weekend's performance or for the gala, or to purchase tickets to either event, call 772-905-2651 or visit BalletVeroBeach.org.
The Sally Wilkey Foundation will hold a gala this Saturday called "Give. Laugh. Love." The event features comedian Gina Brillion and includes an open bar, dinner, prizes and entertainment. Funds raised help the organization as it helps underserved youth through tennis instruction and life skills development. The organization was created in honor of the late Sally Wilkey, a graduate of St. Edward's Academy and collegiate tennis player who died tragically of brain cancer in 2019. "Give. Laugh. Love" starts 6:30 p.m. Saturday, April 9 at the Heritage Center, 2140 14th Ave., Vero Beach. Tickets are $250. Call 772-643-3510 or visit SallyWilkeyFoundation.org.