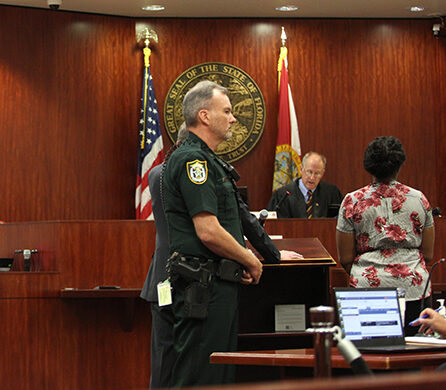 Former nursing assistant Chiquita Lashae McGee, 33, had a wild ride while it lasted – stealing more than $300,000 in cash and luxury goods bought on the credit card of two 80-something-year-old John's Island residents in her care.
Last week, she found out she'll be 45 when she gets out of state prison, will miss her oldest daughter's high school graduation this spring, and just about every major milestone of her two younger daughters' lives.
"I hope it was worth it," Circuit Court Judge Dan Vaughn told McGee.
Vaughn doubled security before handing down the stiff 12-year sentence in a courtroom filled with two dozen McGee supporters and close friends, who testified to her good character, to her involvement in her Ft. Pierce church and to her being a good mother to her three daughters.
In what appeared to be an effort to deflect blame for the crimes onto McGee's older sister, co-defendant Sophia Monae Shepherd (aka Sophia Brown), who is yet to be tried, several of those who came to the courtroom portrayed McGee as the good sister led astray by a bad influence.
McGee's pastor and longtime landlord said she had warned McGee against "following her sister," and a longtime family friend said he'd watched all four of the daughters in McGee's family grow up in tough circumstances, and that McGee and two others had become productive citizens, while the older sister had seemed to take the "wrong path."
The two sisters' cases have been handled separately because the alleged fraudulent purchases were all made on separate platinum credit cards, McGee using one card and Shepherd/Brown using a credit card on a different bank, according to court records.
The case against Shepherd/Brown has been continued until late April due to several recent changes in defense attorneys.
McGee's supporters cleared out of the courtroom after the sentencing, one of McGee's daughters screaming and crying. Other family members were visibly shaken, one collapsing to the ground in the parking garage.
Last month, on the morning that jury selection for her trial was to begin, McGee pleaded no contest to a first-degree felony charge of exploitation of the elderly and a second-degree felony charge of defrauding a financial institution. As it was too late for a negotiated plea deal, McGee took an open plea, meaning that she could have been sentenced to up to 45 years in state prison, with a minimum sentence of 37 months.
"Regarding the sentencing, I am very happy, as justice has been served. The sentence fits the crime. Those inclined to prey on the elderly will think twice before committing such crimes in Indian River Shores and elsewhere in the county," said Indian River Shores Public Safety Director Chief Rich Rosell, whose detectives handled the case.
"I am grateful to the State Attorney not only for the prosecution of this case but for their assistance from the very beginning," Rosell said.
Assistant State Attorney Lev Evans, who for four years prosecuted the case against McGee and Shepherd/Brown, said "McKee systematically stole an obscene amount of money over nine months. She got what she deserved."
Evans' retirement is effective today. The case against Shepherd/Brown will be handled by Assistant State Attorney Michelle McCarter.
More than $85,000 in cash, plus tens of thousands spent on trips, hotel stays, a cruise and cosmetic procedures could not be recovered, but bank records show the money benefitted McGee. Evidence seized in the case included clothing, dozens of pairs of high-end athletic and dress shoes, gold jewelry, cellular phones, Apple watches and televisions. The Indian River Shores Public Safety Department is holding that property.
Susan Shea, daughter of victims Alfred and Michelina Martinelli, said McGee "destroyed their golden years." Shea testified that her parents' spending on the credit cards went from $2,000 to $3,000 per month to $10,000 per month, and that she got suspicious when she saw charges to the Hollister and Abercrombie and Fitch stores, which cater to a younger demographic.
Shea reflected on her father's two tours in Korea and how he had worked multiple jobs to provide for their family. She said her father was totally confined to a chair during the time McGee worked for the family, and that he obviously had not been in a position to rent the Rolls Royce and other exotic cars charged to his credit card.
"No one should have to tolerate elder abuse," Shea said. "It was a nightmare for my family."